These crispy smoked chicken wings are marinated in a lemon and garlic marinade, then slow smoked, before finishing in a hot oven or grill. They're crispy on the outside and tender and juicy on the inside and loaded with an absolutely amazing smokey, savory flavor!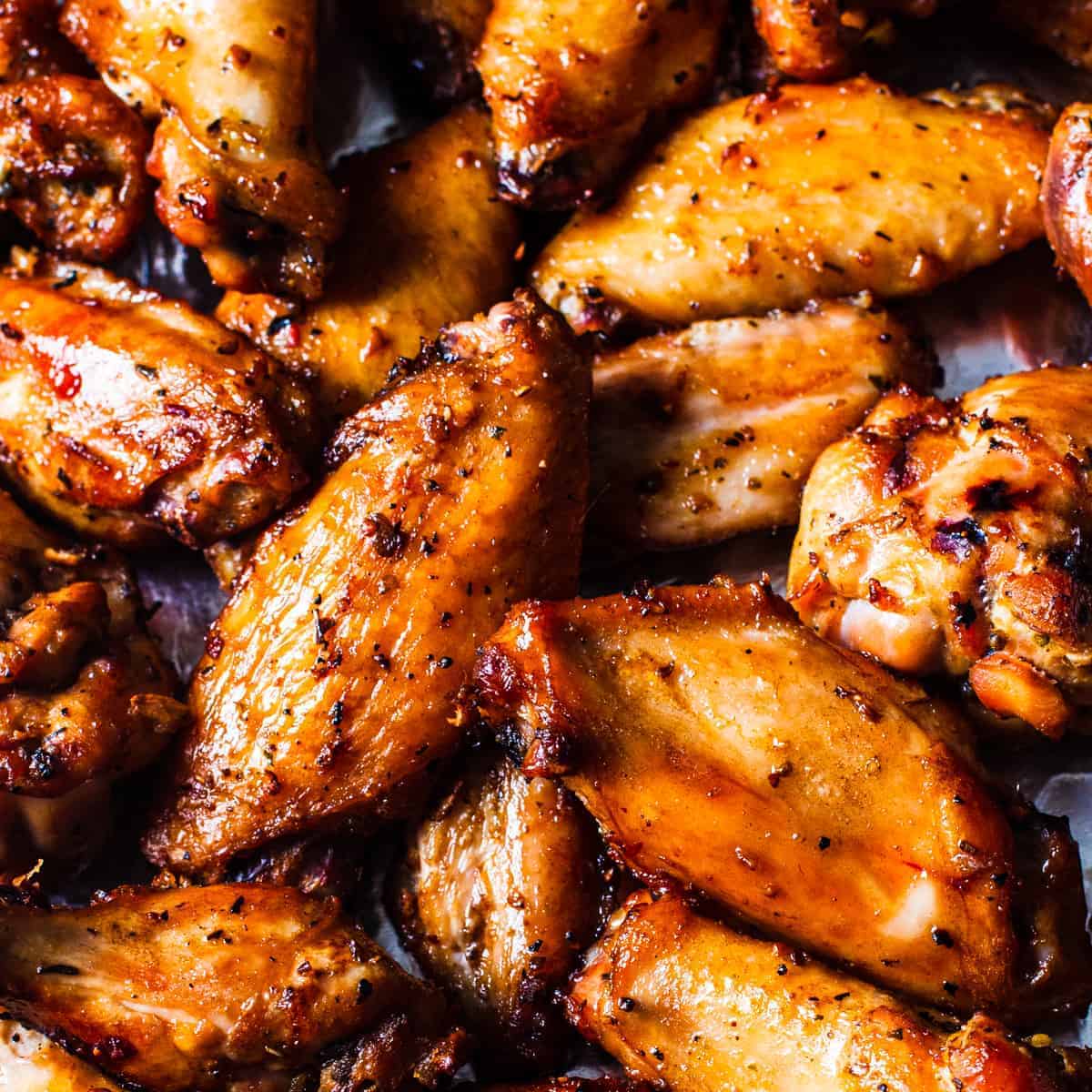 Jump to:
Everyone loves classic buffalo wings on game day, but another great option is to cook your chicken wings in a smoker. And learning how to smoke chicken wings isn't hard to do. There are a few tips and tricks I'll teach you below to achieve that perfect smoky flavor and crisp outer skin.
For more great recipes for your smoker check out my Smoked Pork Butt, Smoked Pork Tenderloin, and Smoked St. Louis Ribs!
Why this Recipe Works
This recipe for smoked chicken wings packs in loads of flavor. My favorite things about this recipe are:
Chicken Wing Marinade - I use a flavorful lemon garlic marinade for these smoked wings. It brings an awesome amount of flavor and helps keep the meat tender and juicy.
Smokey Flavor - Cooking chicken wings in a smoker gives them a deep smokey flavor.
Crispy Skin - The extra step of crisping the skin at the end of cooking is a game changer for smoked wings, which can sometimes have rubbery or tough skin. But not these wings!
Ingredients
4-5 pounds chicken wings
4 cloves garlic, minced
zest and juice of 2 lemons
½ cup olive oil
1 teaspoon Italian seasoning
1 teaspoon kosher salt
½ teaspoon freshly ground black pepper
Preparing the Chicken Wings
Fresh chicken wings often come whole, with the drum, flat, and wing tip all attached. Wings are much easier to eat if you break them down, and I prefer to do this before cooking.
To break down the wings you can use kitchen shears or a sharp chef's knife.
Begin by cutting off the wing tip at the joint with the flat.
Next spread the drum and the flat apart and cut at the joint to separate them.
If desired you can also trim off some of the extra skin that joined the flat and drum.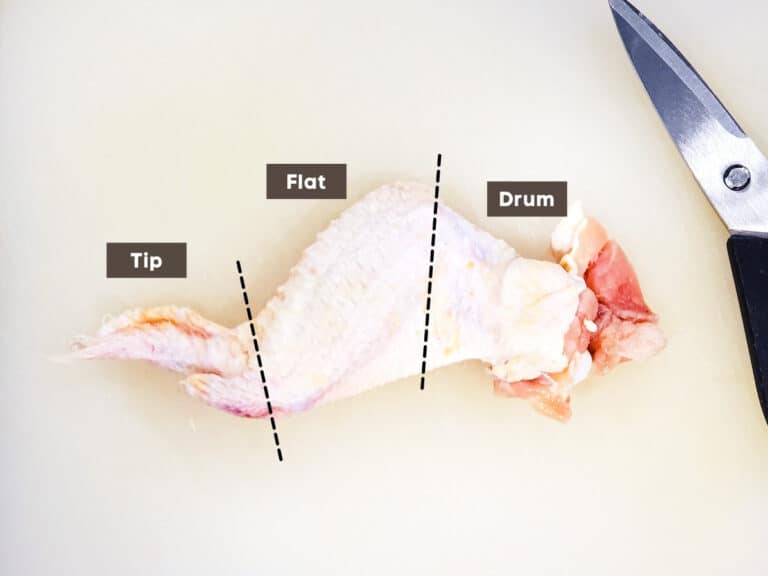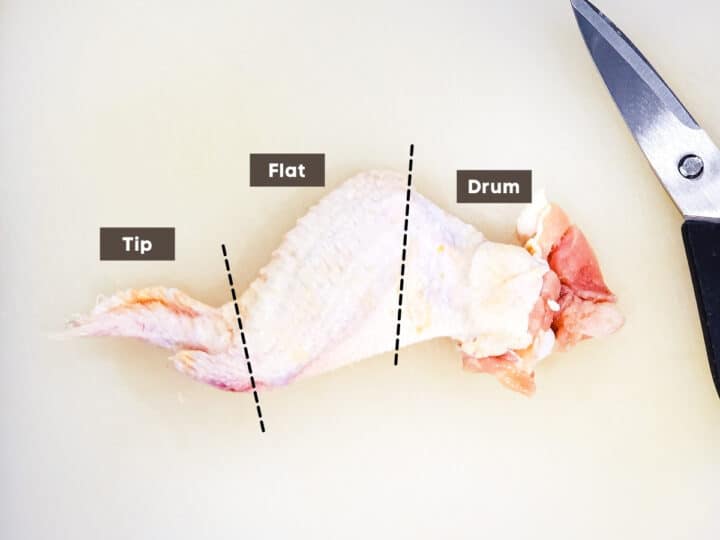 Marinade for Smoked Chicken Wings
This marinade is similar to my Greek chicken souvlaki and sheet pan lemon garlic chicken marinades, but smoking the chicken wings changes the flavor profile to a much more savory flavor.
To make the marinade:
Add all of the marinade ingredients to a mixing bowl then whisk to combine.
Add the wings to a large resealable plastic bag and pour the marinade over top.
Seal the bag and give it a good shake to ensure all of the wings are coated.
Refrigerate for at least 2 hours and up to overnight, flipping occasionally to redistribute the marinade.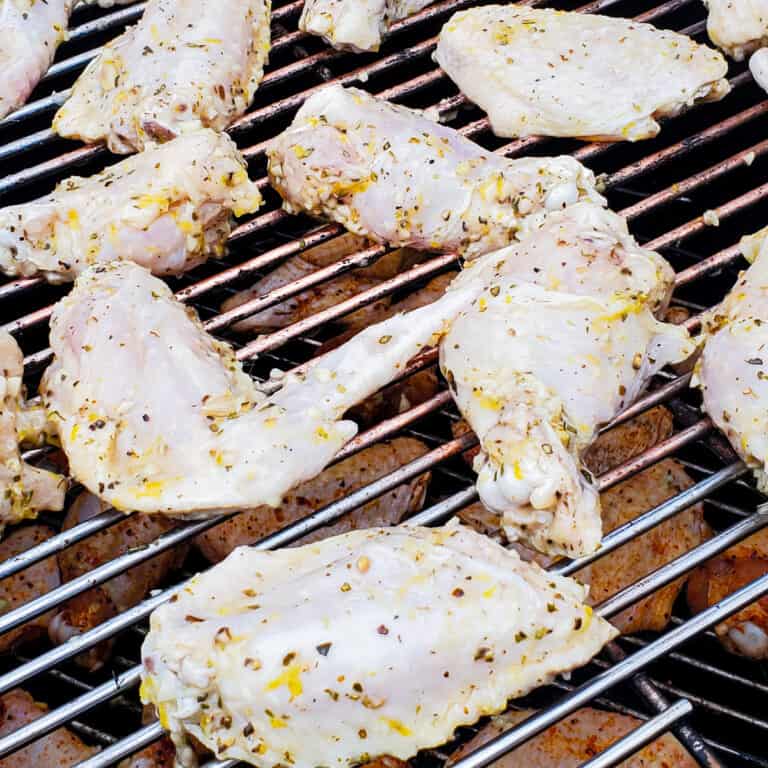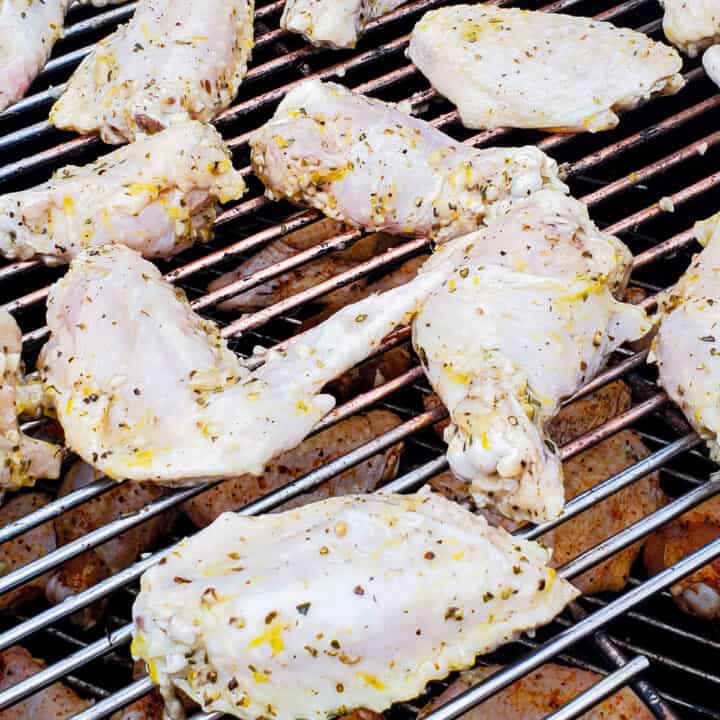 How to smoke chicken wings
I typically use a Weber Smokey Mountain smoker, but this recipe will work with any smoker or pellet grill, such as a Traeger. You can also use a charcoal grill or kamado style grill like a Big Green Egg.
To smoke chicken wings, preheat your smoker to 250-275°F. Then place the wings in the smoker, leaving a little space between each one to allow for airflow.
Add your wood chunks to your heat source to get a fairly heavy amount of smoke to start.
Try to maintain an even temperature around 250-275°F and a clean, steady smoke level throughout the cook.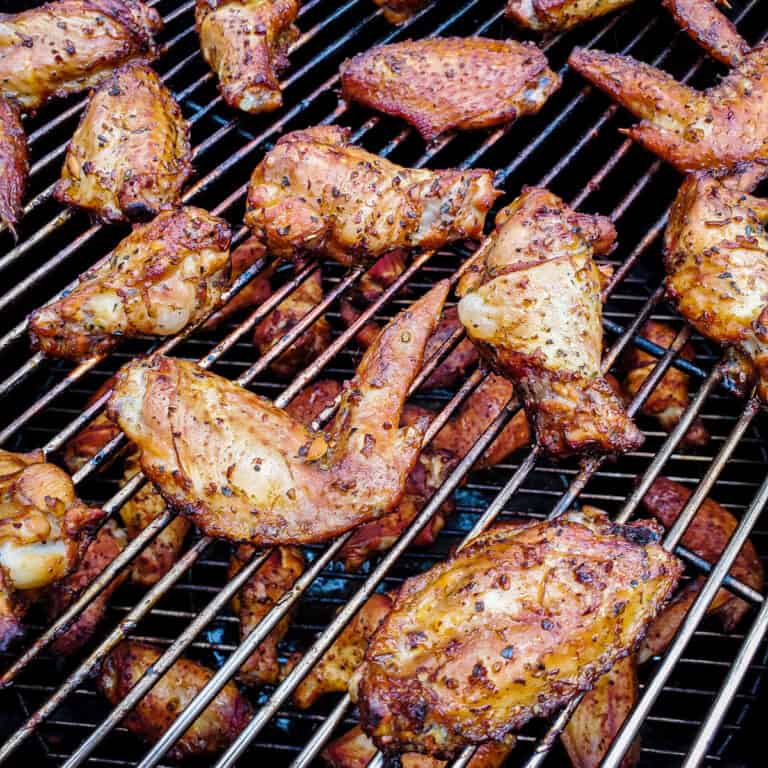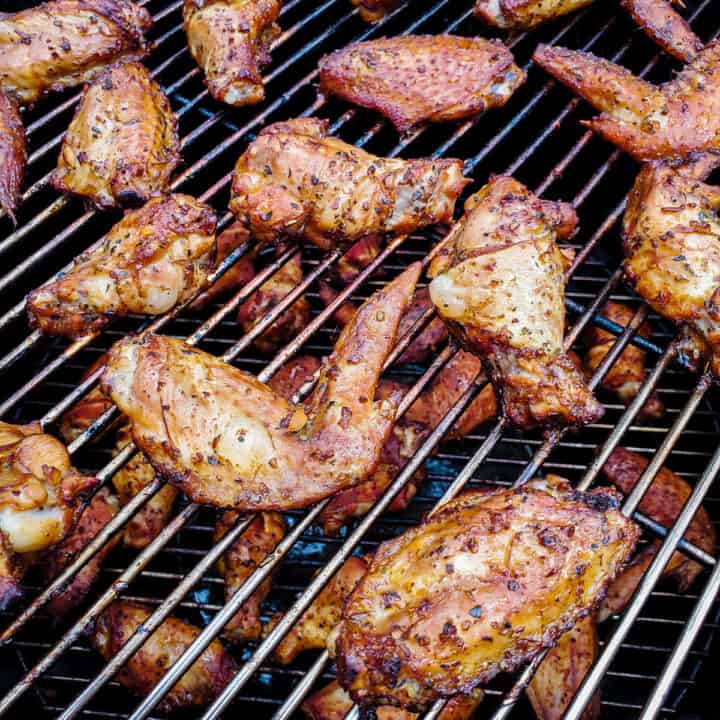 How Long to Smoke Chicken Wings
Smoking chicken wings will usually take around 2 hours. But when smoking meat there are many factors that can affect the cook time. The most important thing is to cook your chicken wings until they reach an internal temperature of 165 degrees F.
Pay close attention to the internal temperature using an instant read digital thermometer. Chicken wings can vary quite a bit in size and smaller wings will cook a little quicker.
To make smoked wings with crispy skin I recommend pulling the wings from the smoker about 5-10 degrees shy of the finished temperature, around 155°F. They will come up to the final temp while they crisp in the oven or grill.
How to Make Crispy Smoked Chicken Wings
To get crispy, crackly skin on your smoked chicken wings you'll need to expose them to high heat while the fat is rendering out of the meat and skin.
Some smokers will allow you to crank up the heat, but typically a hot oven or grill works best.
I find the oven method gets the crispiest skin. But, if it's a hot summer day and I don't want to heat up the house by using the oven, I go with the grill.
On the grill you'll also get a little char on the wings for some extra flavor.
How to Crisp the Skin
When the wings have reached around 155°F, preheat your oven or grill to 450°F.
If using an oven I reccomend placing your chicken wings on a wire rack set in a rimmed baking sheet lined with foil.
Transfer the wings to the oven or grill and finish cooking for another 5-10 minutes, flipping halfway through, until they're reached 165°F and the skin is crispy.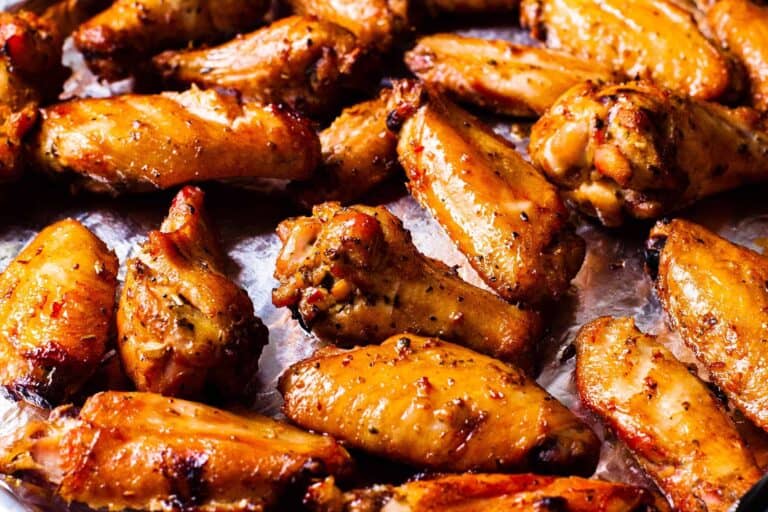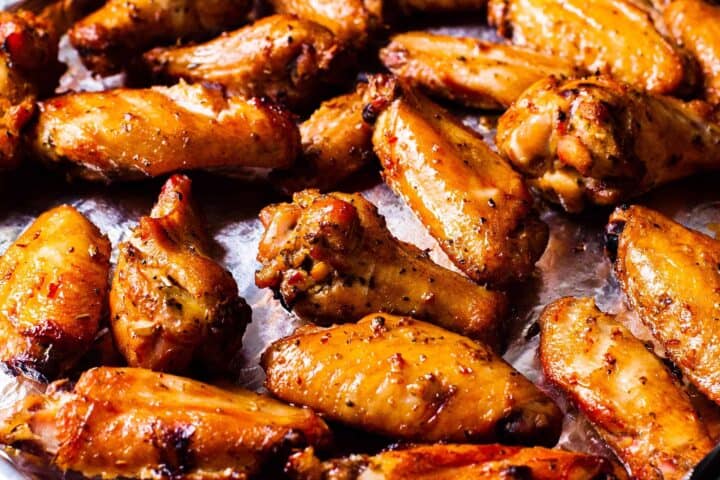 How to Serve Smoked Chicken Wings
If we're being honest there's not really a fancy way to serve chicken wings. It's all about digging in with your hands and tearing into the wings. If serving them for guests I typically use a large platter or rimmed baking sheet and serve dipping sauces alongside.
My favorite dipping sauce with these wings is ranch dressing, but barbecue sauce, honey mustard, hot sauce, and blue cheese are good options as well.
Tips for Making Crispy Smoked Chicken Wings
For most chicken wings it's key to get the chicken wing skin very dry to get crispy skin, but with smoked wings you'll be cooking low and slow. This allows us to pack in tons of flavor using a wet marinade. During the slow cook the skin has more time to dry out, but the marinade keeps the meat moist and juicy.
For crispy skin make sure to keep your smoker temperature even at around 250°F to 275°F. Many recipes for smoked wings cook at 225°F, but at lower temperatures the cook will take longer and the skin will dry out too much and become tough.
Pull your wings from the smoker when they reach an internal temperature of around 155°F.
Then immediately place into a hot oven or grill and cook until they reach 165°F. This last minute dose of high heat will heat the rendering fat and crisp up the skin.
If using the oven, set a wire rack in the baking sheet to allow for more air circulation.
If using the grill, be sure to rotate your wings frequently to avoid burning the skin.
Smoked Chicken Wing FAQs
Storage and reheating instructions
Store leftovers in the refrigerator in an airtight container for up to 4 days.

Reheat leftovers in a toaster oven at 400 degrees until warmed through for the crispiest skin, or in the microwave.
What wood to use for smoked chicken wings?
When smoking chicken wings I prefer to use apple wood for a mild sweet smoke flavor. Hickory will also work well, but its flavor is a little more aggressive.
Can you put frozen chicken wings in a smoker?
No, the wings should be thawed before adding them to your smoker. They will not cook evenly if they are frozen.
Can you freeze smoked chicken wings?
Yes, once you smoke the wings, you can add them to the freezer. Just let them cool all the way and then store them in a freezer-safe bag.
How do you tell if smoked wings are done?
Checking the internal temperature is the best way to make sure the chicken is done. Insert the meat thermometer tip into the chicken and look for a temperature of 165°F.
More Chicken Wings and Game Day Favorites
📖 Recipe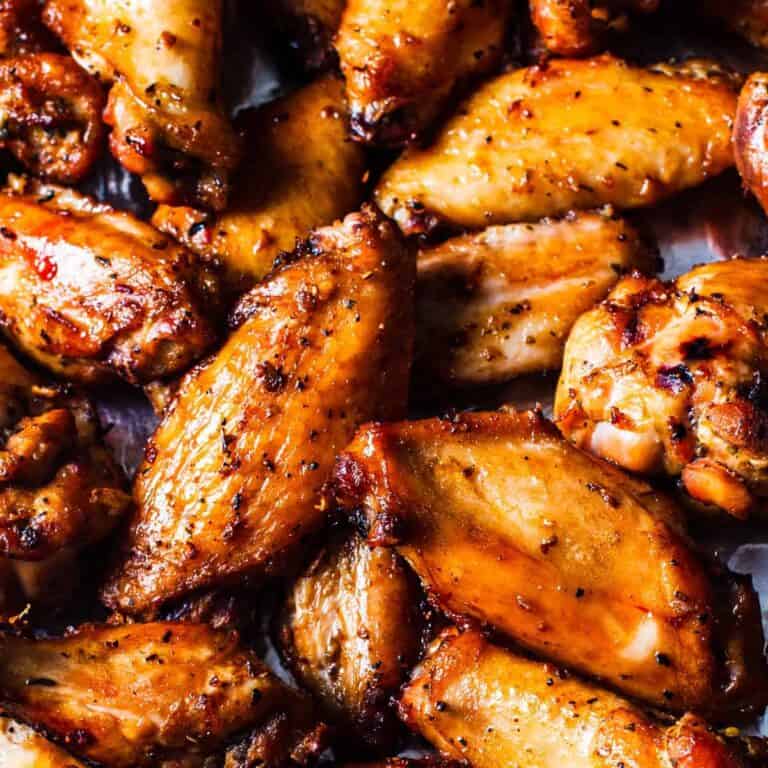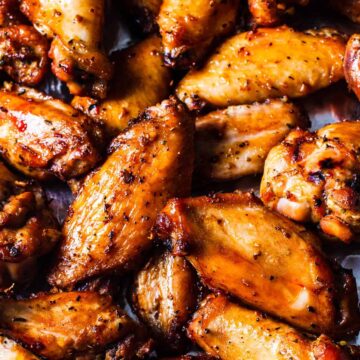 Crispy Smoked Chicken Wings
These chicken wings are marinated in a lemon and garlic marinade then slow smoked before crisping in a hot oven or grill.
Print
Pin
Share
Rate
Ingredients
4-5

pounds

chicken wings

½

cup

olive oil

2

lemons

,

zest and juice

4

cloves

garlic

,

minced

1

teaspoon

Italian seasoning

1

teaspoon

kosher salt

½

teaspoon

freshly ground black pepper
Instructions
Marinade
Add all ingredients except the wings to a mixing bowl and whisk to combine.

Add chicken wings to a large resealable bag and pour marinade over top. Seal the bag and shake to ensure the wings are well coated. Refrigerate for at least 2 hours, up to overnight.
Wings
Smoke the wings at 250°F for approximately 2 hours or until the internal temperature reaches around 155-160°F.

Remove wings to a wire rack set in a rimmed baking sheet and place in a 450°F oven for 5-7 minutes or longer until they reach and internal temperature of 165°F and the skin is crispy.

Alternatively, if you like more char, you can transfer the smoked wings to a grill over medium-high heat and cook for 2-3 minutes per side until they reach the finished temp of 165°F.
Nutrition Facts
Calories:
656
kcal
Carbohydrates:
1
g
Protein:
61
g
Fat:
55
g
Cholesterol:
391
mg
Sodium:
1147
mg
Potassium:
15
mg
Sugar:
1
g
* All nutrition information we provide are estimates based on third party calculators. We encourage you to calculate these on your own for accurate results.
More Recipes for the Grill and Smoker