These smoked St. Louis spare ribs are perfect for your next backyard barbecue or summer holiday. They're tender, juicy, and always a crowd favorite!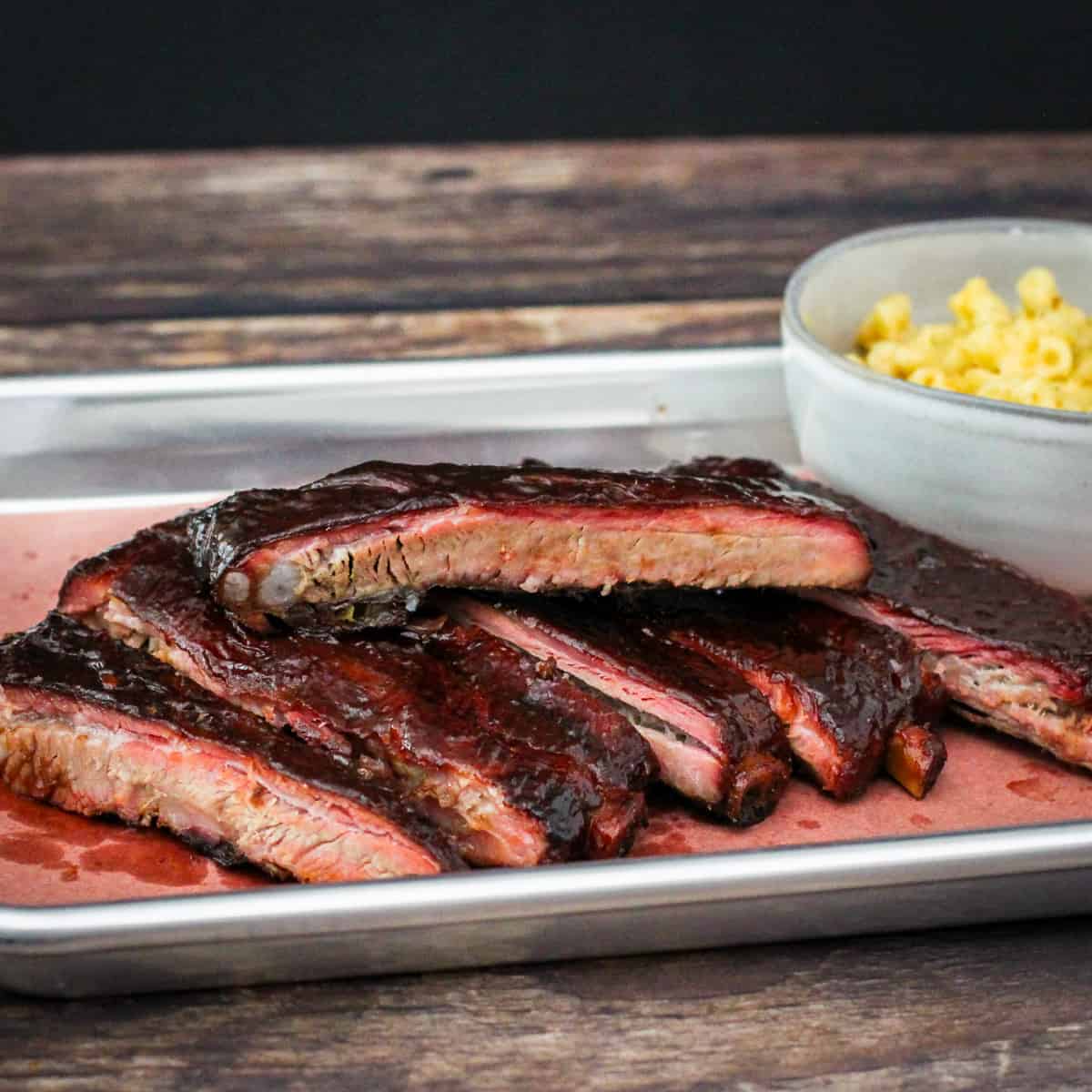 Jump to:
Why this Recipe Works
I love summer barbecues, but sometimes a 12 to 16 hour cooking time, such as brisket or pulled pork,won't fit in the schedule. For those days, smoked pork spare ribs are my go to. They give you all of those delicious smokey, salty, and sweet barbecue flavors in around 6 hours!
In this smoked spare ribs recipe, we'll talk about the most common cuts of pork ribs and the pros and cons of each type. And I'll show you how to prepare and season your ribs, how to smoke ribs using the 3-2-1 cooking method, and answer some of the most common questions about smoking pork ribs.
What's the Difference Between Spare Ribs and Baby Back Ribs?
There are two types of pork ribs; spare ribs and baby back ribs. And there are a few differences you should know about when choosing your ribs.
Spare ribs come from the underside of the hog, after the pork belly (mmm...bacon!) has been removed. They are larger, flatter, and a little more fatty that baby back ribs.
You'll often see spare ribs labeled St. Louis ribs. This means the spare ribs have been trimmed into a more rectangular shape by cutting off some of the cartilage and bone.
I recommend using St. Louis spare ribs over larger, untrimmed spare ribs. The flatter and more uniform shape, along with the extra fattiness helps make them easier to cook.
Baby back ribs are shorter ribs that come from the upper part of the hog's back, near the spine, where the loin is. They are tender and have more lean meat than spare ribs, especially if they still have a good bit of the loin meat on top.
Baby backs are more irregular in shape, tapering towards the end, and the bones are curvier. They are usually a good bit more expensive than spare ribs and can be a little less forgiving to cook due to their irregular shape and leaner meat.
Which Cut of Ribs is the Best?
The "best" cut of pork ribs is a personal preference. Baby backs and spare ribs are both delicious when properly cooked.
Baby back ribs are the most popular, likely due to their popularity on chain restaurant menus. But some people also prefer slightly leaner meat.
I find spare ribs to be more flavorful and more forgiving to cook. So I recommend saving a few bucks and going with the cheaper spare ribs. But again, I do highly recommend St. Louis cut spare ribs and not a full, untrimmed rack of spare ribs.
How to Prepare Spare Ribs for Smoking
To prepare spare ribs, first remove the membrane from the underside of the ribs. Just a warning, there is debate in the BBQ world about the membrane affecting smoke penetration.
I've had them both with and without the membrane and don't feel there is much difference in flavor. But I am not a big fan of the texture of the membrane after cooking, it can be dry and tough, so I remove it for that reason.
To do this, use a knife to get it started by prying a corner away from the meat. Then use a paper towel to get a good grip and pull the membrane away from the ribs.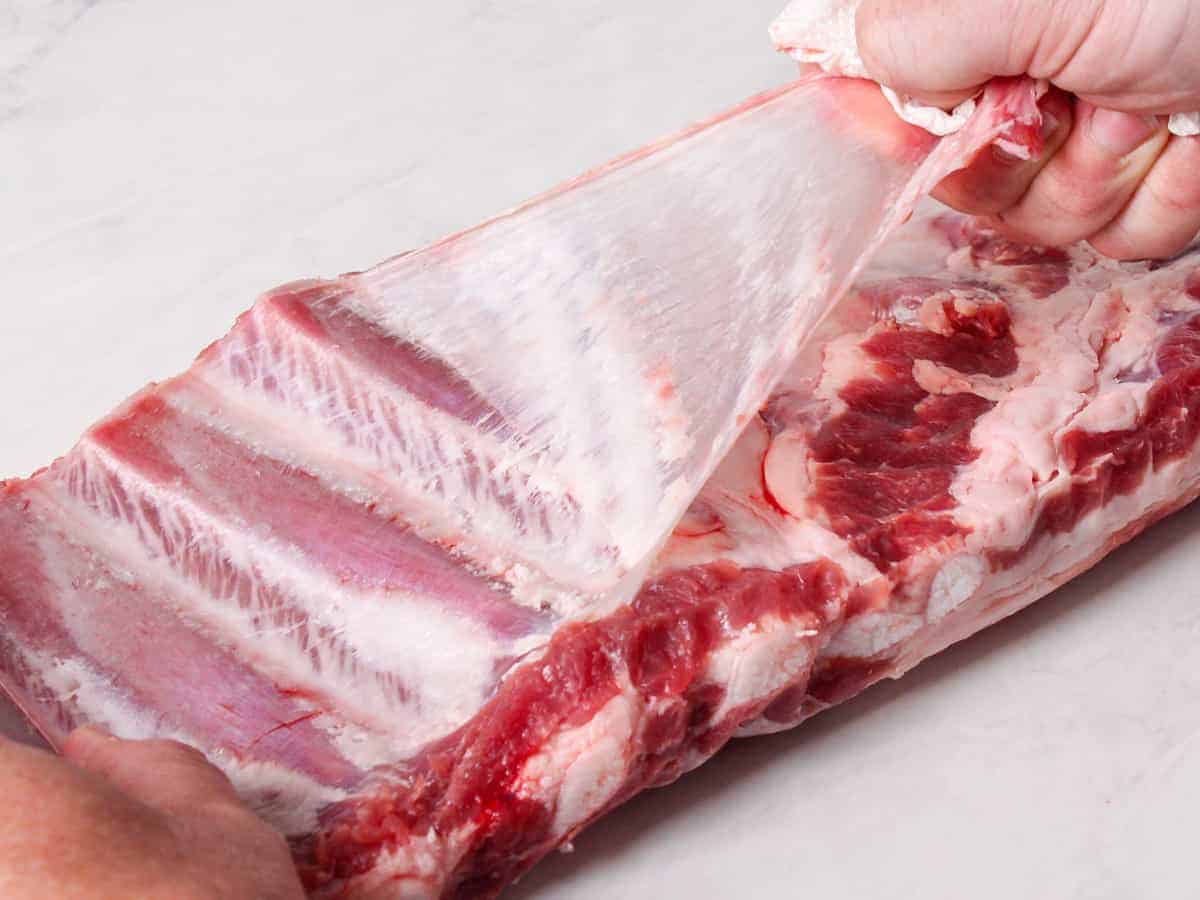 How to Season Ribs
For maximum flavor, you'll need to apply your favorite barbecue dry rub seasoning to the spare ribs on all sides. If possible, do this the night before to allow the rub to penetrate the meat.
To apply the rub, place the ribs on a foil-lined sheet pan and liberally coat your dry rub on all sides.
Then cover loosely with foil or plastic wrap and refrigerate overnight. The salt in the rub will pull the moisture from inside the meat out to the surface. Over time that moisture will be reabsorbed, pulling in some of the seasoning along with it.
The next day, remove the ribs around 30 minutes before cooking and let them sit at room temperature. Just before cooking dust again with additional rub.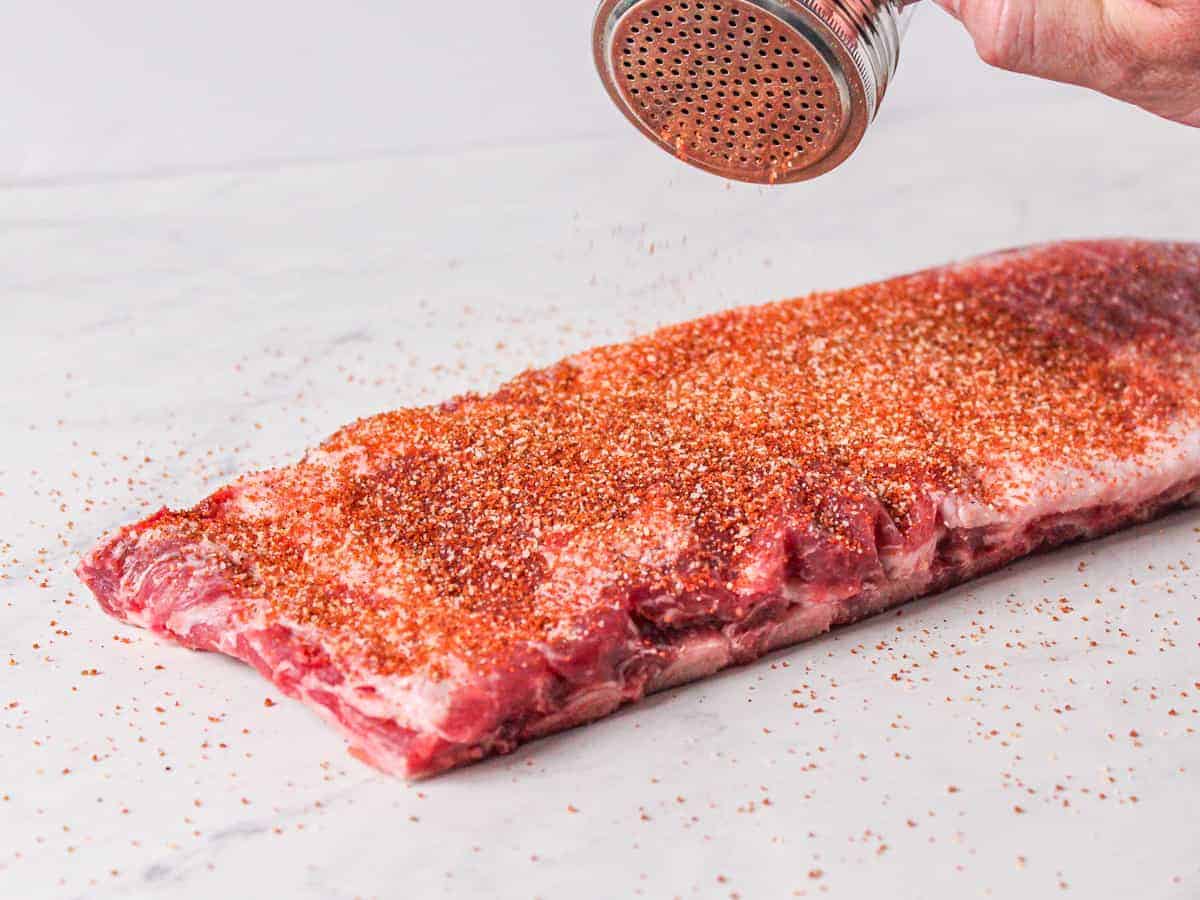 What Type of Wood to use for Smoking Ribs?
I reccomend a mix of hickory and applewood for smoked spare ribs. Hickory gives a classic, mild to medium smokey flavor and the applewood carries a sweeter, fruity flavor.
Cherry is another good choice. Avoid aggressive flavored wood like mesquite, which is better suited for beef.
I also reccomend using wood chunks over wood chips. The larger chunks will produce a cleaner, longer lasting smoke and are less likely to flame up and burn.
What Temperature to Smoke Spare Ribs?
I recommend a temperature of around 225-235°F when smoking ribs. This low temperature will allow the fat and collagen to render out and produce tender, juicy meat with a delicious bark on the outside.
I highly recommend using a separate digital thermometer with a probe to monitor your cooker temperature and the meat. The thermometers built into most smokers are typically not very reliable and good temperature control is key to great barbecue. I use the Thermoworks Signals to monitor both the cooker temp and the meat temp throughout the cook.
How Long to Smoke Pork Spare Ribs?
Time will vary based on a number of factors, but plan on around 6 hours for spare ribs to cook. Baby back ribs will be a little shorter, in the 5 hour range. If you're short on time, increasing the temp to 250-275°F during the wrapped time (more on that below) can shave off some time, but I don't recommend starting off at temps that high.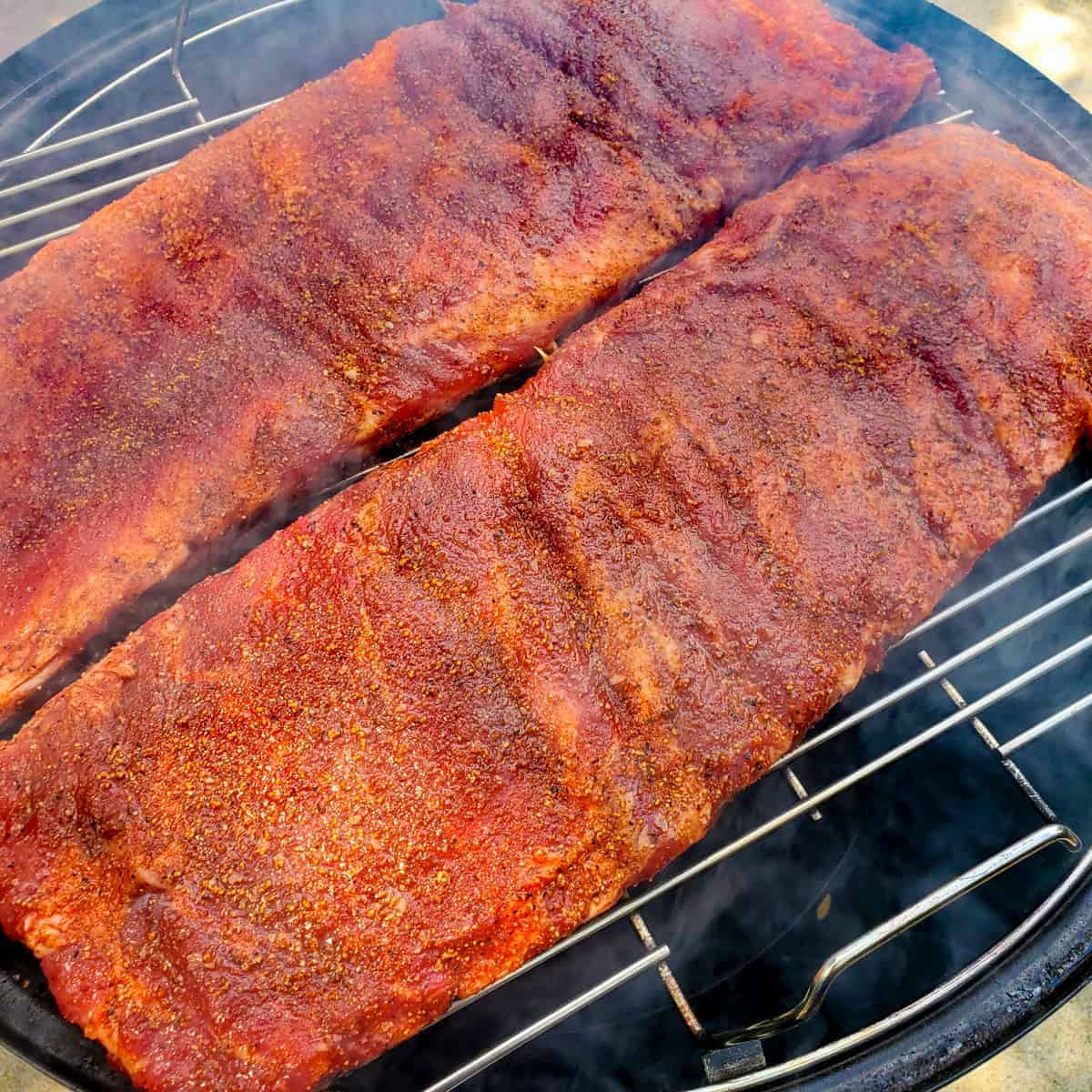 3-2-1 Method for Smoking Ribs
Many barbecue cooks swear by the 3-2-1 method for cooking ribs. This popular method breaks up the cooking into three phases:
3 hours unwrapped with the

bone side down

and a fairly heavy amount of smoke.
2 hours, wrapped tightly in aluminum foil or butcher paper, possibly with liquids added, such as around ¼ cup of apple juice or a coating of yellow mustard or butter and brown sugar.
1 hour unwrapped, basting occasionally with sauce if desired.
During the initial phase, the outer portion of the meat will begin to dry out and brown, forming the flavorful bark.
The wrapping stage helps to speed up the cooking time by pushing the meat through the "stall" phase. This is where the fat begins to render and evaporate, causing the meat temperature to rise very slowly or even completely stall out.
It also allows the meat to braise in its own juices, making them super tender. Smoking ribs using the 321 rib method is the easiest way to achieve "fall off the bone" ribs that many people love and associate with delicious, perfectly cooked ribs.
If you are serving the ribs sauced, baste them for the last hour of cooking with your favorite barbecue sauce. Or you can serve them dry. For dry ribs, I spritz them occasionally with apple juice in a spray bottle for the last hour so they don't dry out.
Variation on 3-2-1 Ribs
I like just a little more "chew" or bite to the meat like you would find in competition-style BBQ ribs, so I go for around 4 hours unwrapped, around 1 hour wrapped, and unwrap for the last hour.
Reducing the amount of time in the wrap produces meat that stays on the bone when you bite through it.
I've also had success with cooking for 3 hours, wrapping for an hour, then unwrapping for the last 2 hours. You can vary the wrap time to your liking and experiment with adding liquids to the wrap to see what you like the best.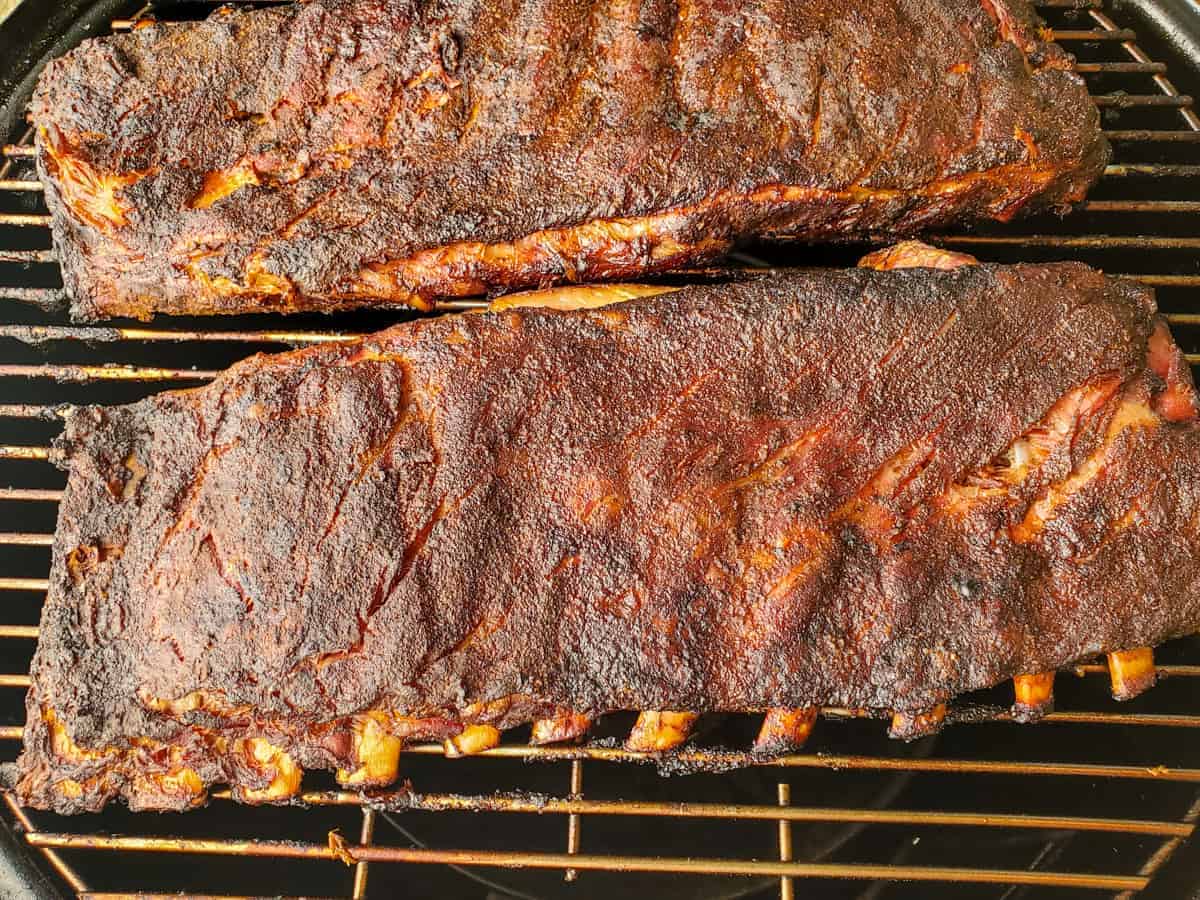 Finished Internal Temperature for Ribs
Ribs are done when they reach an internal temperature between 190 and 200°F. An instant-read digital thermometer is the best way to check this. At this temperature much of the fat and collagen has rendered out and the meat will be tender and flavorful.
Another indicator that your ribs are done is when the meat has pulled back from the bone around ¼ to ½ an inch as shown in the photo above.
How to Serve Smoked Spare Ribs
After cooking, let the ribs rest for around 15 minutes, tented loosely with foil. Then slice them individually about halfway between each bone. A plate with a half rack of ribs looks impressive, but slicing them individually makes them much easier to eat. Slicing them is also better when you're serving a crowd so everyone can grab how many they want.
For sides you can't go wrong with BBQ classics like my Instant Pot Baked Beans or Baked Macaroni and Cheese. My Instant Pot Southern Style Green Beans are a good choice if you want a green vegetable. And my Greek orzo pasta salad is another tasty option.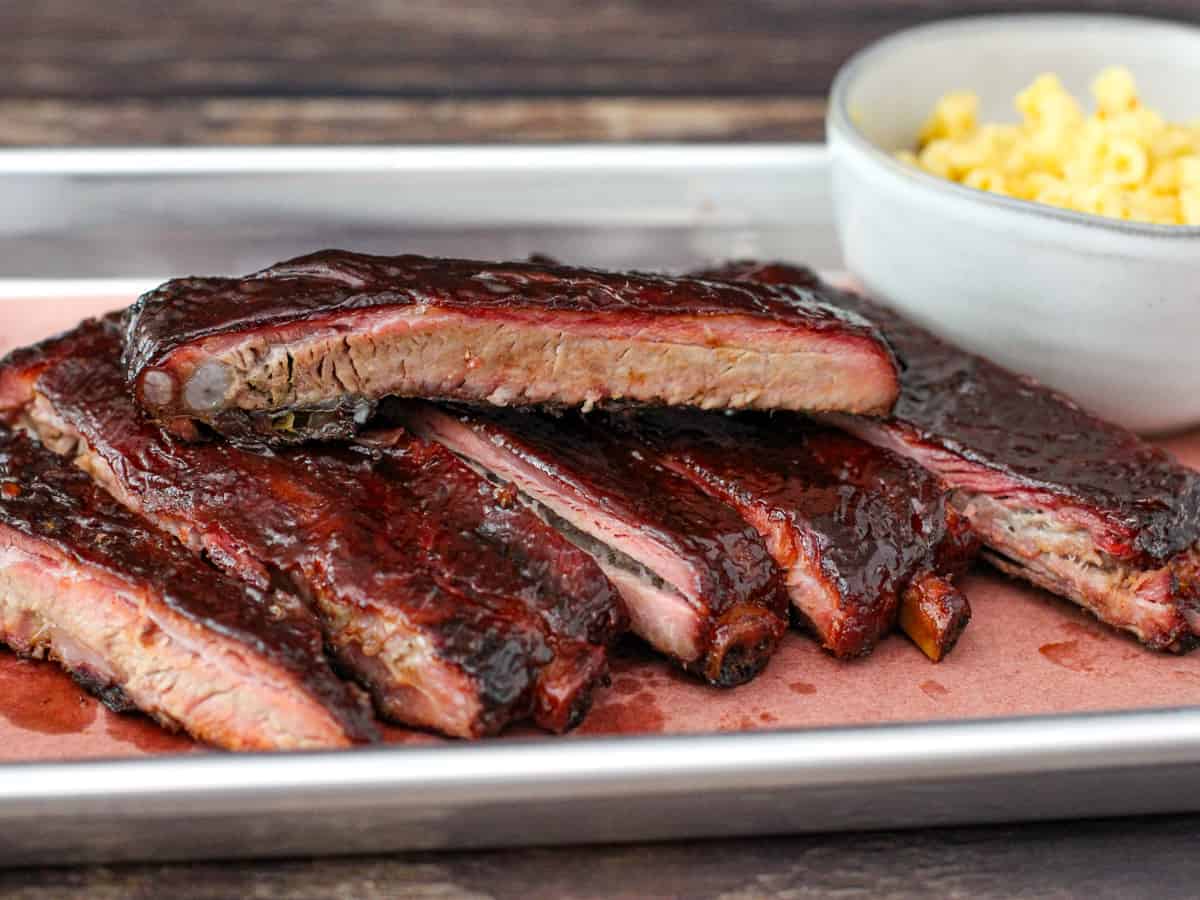 More Summer Barbecue Ideas
📖 Recipe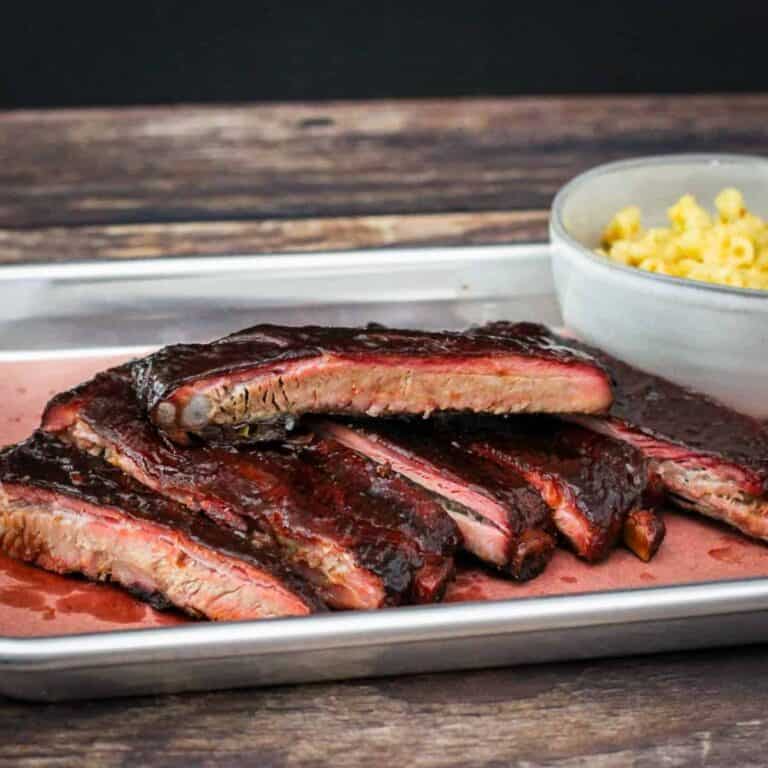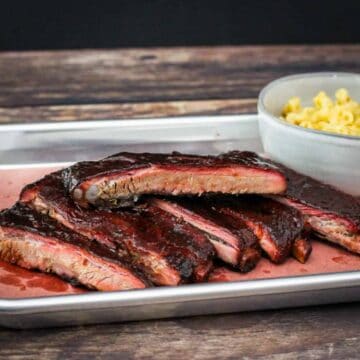 Smoked Pork Spare Ribs Recipe
These tender and juicy slow smoked pork spare ribs are a great choice for your next summer holiday or backyard barbecue.
Print
Pin
Rate
Instructions
Rinse the ribs and dry with paper towels. Remove the membrane on the underside of the ribs by loosening the end with a knife, then using a paper towel, pull the membrane away from the ribs.

Season liberally with dry rub on all sides. Optionally, cover and refrigerate overnight. If refrigerating overnight allow the meat to sit at room temperature for around 30 minutes before cooking then dust again with your rub.

Preheat your smoker to between 225-235°F then add the ribs. Cook for 3 to 4 hours, depending on preference (See note), then remove and wrap tightly in foil or butcher's paper and return to the smoker. If desired add liquid such as ¼ cup of apple juice when wrapping.

After around 1 to 2 hours, again depending on preference (See note), remove the ribs and unwrap then return to the smoker.

Cook for another hour, basting with sauce if desired, until the internal temperature is between 190-200°F. Remove and let rest for 15 to 20 minutes.

Slice the ribs individually, between the each bone before serving.
Notes
Total cook time will be around 6 hours. If you prefer "fall off the bone" ribs where the meat is super tender and falls off the bone when biting into it, cook for 3 hours unwrapped, 2 hours wrapped, followed by 1 more hour unwrapped. You can also add liquid such as apple juice during the wrapping stage if desired. 
If you prefer a little more chew to the meat, where you can bite through the meat on the bone, cook for 4 hours unwrapped, 1 hour wrapped, followed by 1 hour unwrapped. 
Nutrition
Calories:
540
kcal
Carbohydrates:
18
g
Protein:
33
g
Fat:
36
g
* All nutrition information we provide are estimates based on third party calculators. We encourage you to calculate these on your own for accurate results.
You May Also Like