This delicious main course salad features balsamic marinated steak kabobs that are grilled to perfection and served over baby arugula, heirloom tomatoes, and burrata cheese and topped with a drizzle of sweet balsamic glaze. It's a perfect summer salad!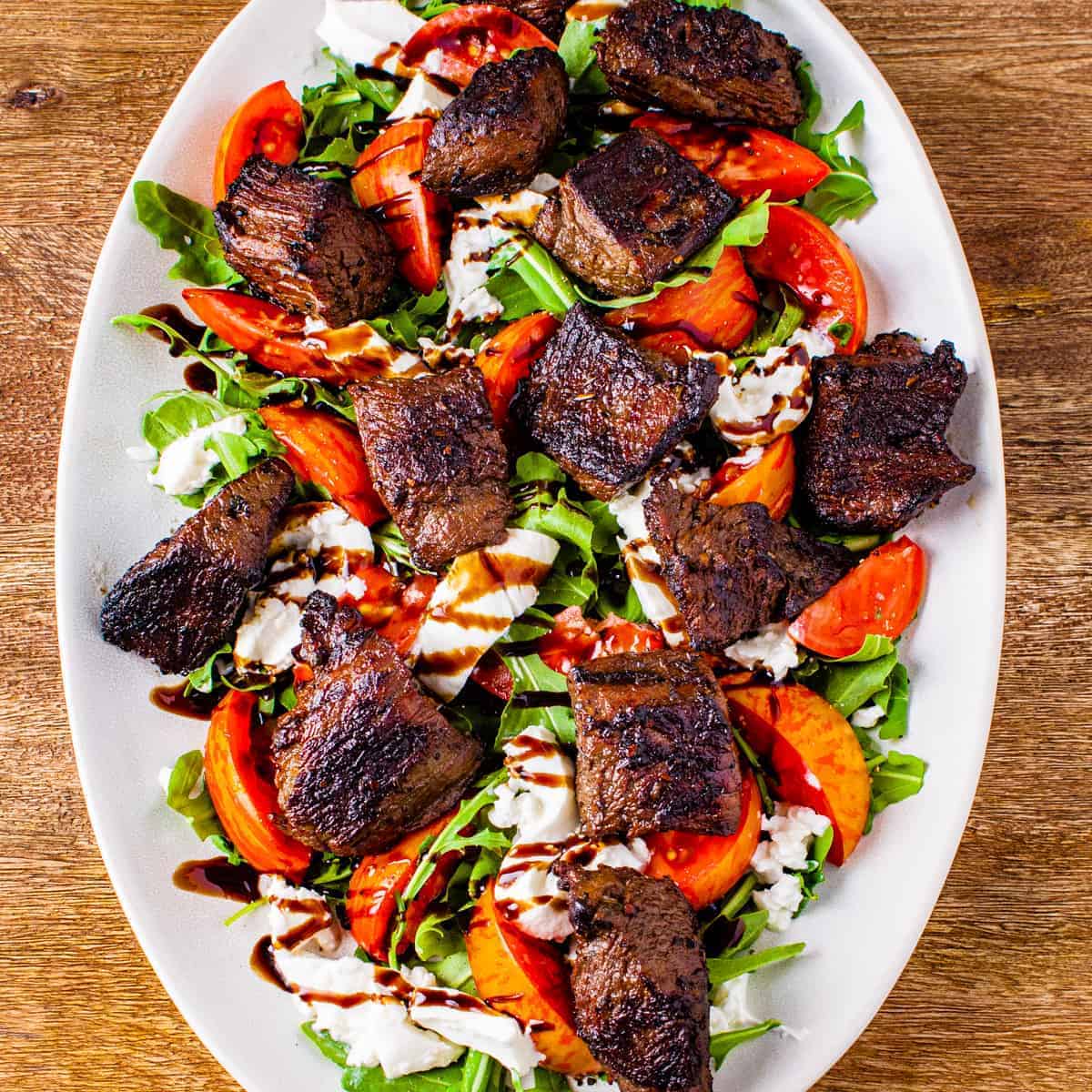 Ingredient List
Salad Ingredients
Chuck Roast or Sirloin Steak
Baby Arugula
Heirloom Tomatoes
Burrata Cheese
Marinade Ingredients
Olive oil
Balsamic vinegar
Low sodium soy sauce
Worcestershire sauce
Minced garlic
Minced onion
Light brown sugar
Salt and freshly ground black pepper
What kind of steak to use
For this recipe I'm using steak kabobs to top the salad, and my favorite cut of beef for kabobs is chuck roast. It's got a great deep beefy flavor and usually will have some nice marbling to help keep your kabobs from drying out.. Sirloin will also work well for Kabobs but is typically a bit leaner.
Flank steak will also work really well in this grilled steak salad recipe, just skip the skewers. For flank steak marinate in the balsamic marinade, then cook your steak for 2-3 minutes per side over medium high heat. Let rest for at least 5 minutes. Then slice against the grain into ¼ to ½ inch slices and serve on top of the salad.
The BEST Steak Kabob Marinade
This marinade is one of my all time favorite grilling marinades for beef, chicken, and pork chops too. The steak kabobs are great with a simple side of rice and vegetables but they are the perfect addition to this salad. The balsamic marinade really compliments the balsamic glaze dressing.
To prepare the marinade simply add all of the ingredients to a mixing bowl and whisk to combine. Trim and cut your steak into roughly 1 to 2 inch cubes. Try to keep them sized about the same so they cook evenly. Then add the steak to a large resealable bag or glass dish and pour the marinade on top. Give them a good stir to ensure they're all covered then refrigerate for at least one hour and up to overnight.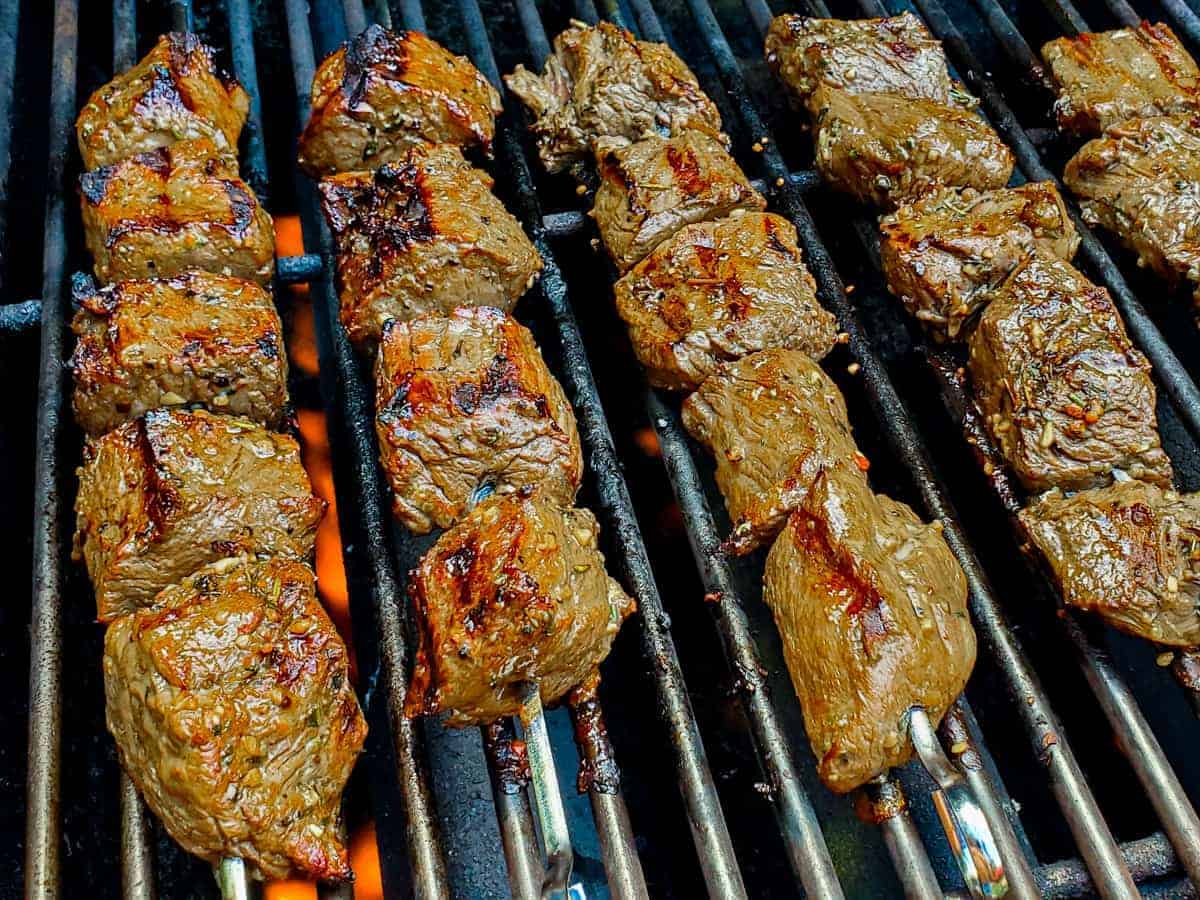 How to grill steak kabobs
Clean and oil your grill grates then preheat to medium high. While the grill preheats, thread the chunks of meat onto skewers and discard the marinade. If you want to top the salad with the meat still on the skewer portion out each skewer to a serving size, typically around 4 to 5 cubes depending on the size.
Cook the kabobs for around 7 to 8 minutes for medium rare or until they reach your desired doneness. While cooking, turn the kabobs frequently to ensure even cooking on all sides.
After cooking remove to a plate and tent with foil then allow the meat to rest for at least 5 minutes before serving.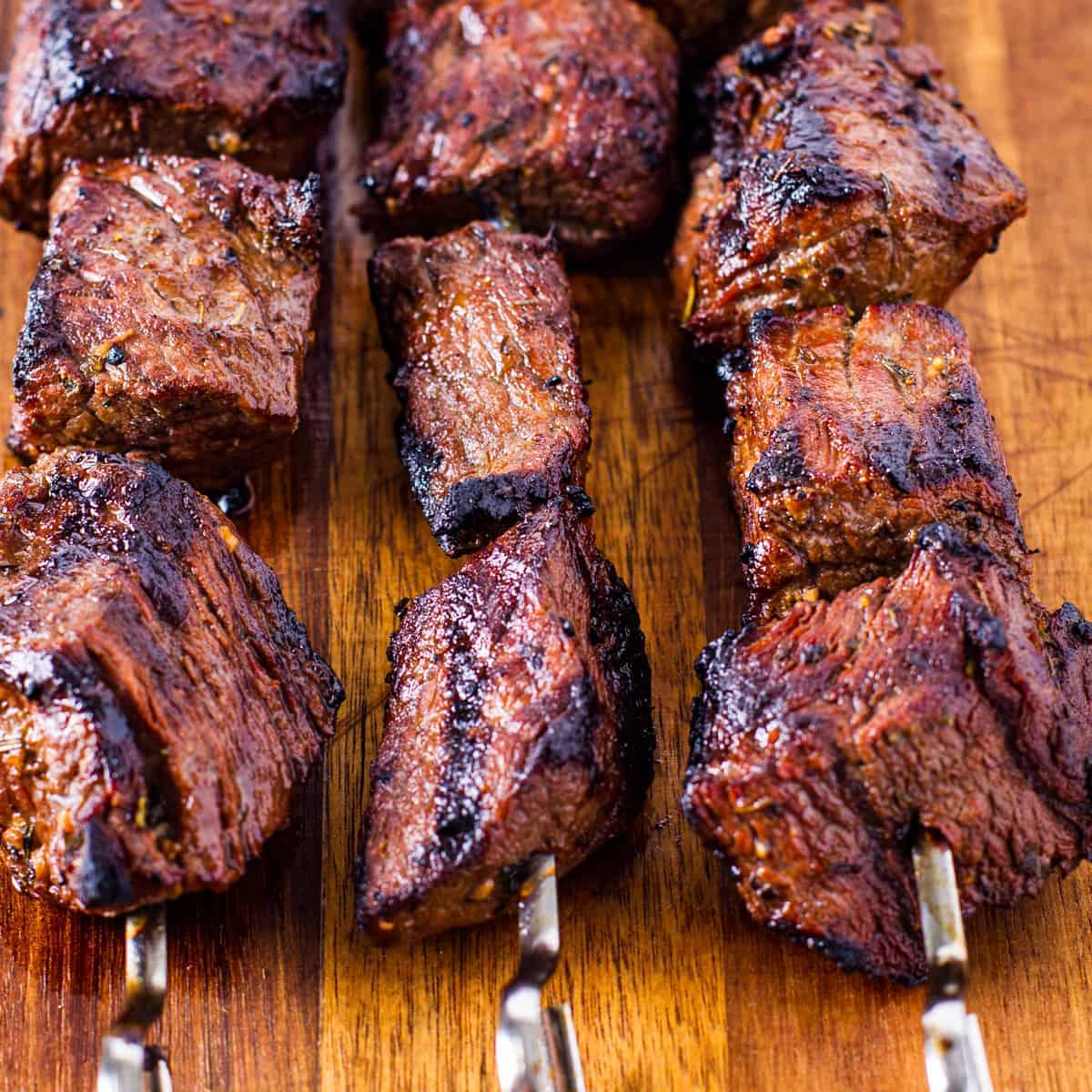 Preparing the steak kabob salad
To make the salad begin by placing your baby arugula on a platter or serving dish then arrange the cut tomatoes and burrata evenly around the greens. Drizzle with the balsamic glaze.
Next you'll top the salad with your steak. There are two ways I recommend serving the salad. You can leave your steak on the skewers if each one is portioned out to a serving size. This way your guests can take a skewer and scoop up the salad. Alternatively you can remove the meat from the skewers before adding to the salad. Then everyone can scoop up as much, or as little, as they want.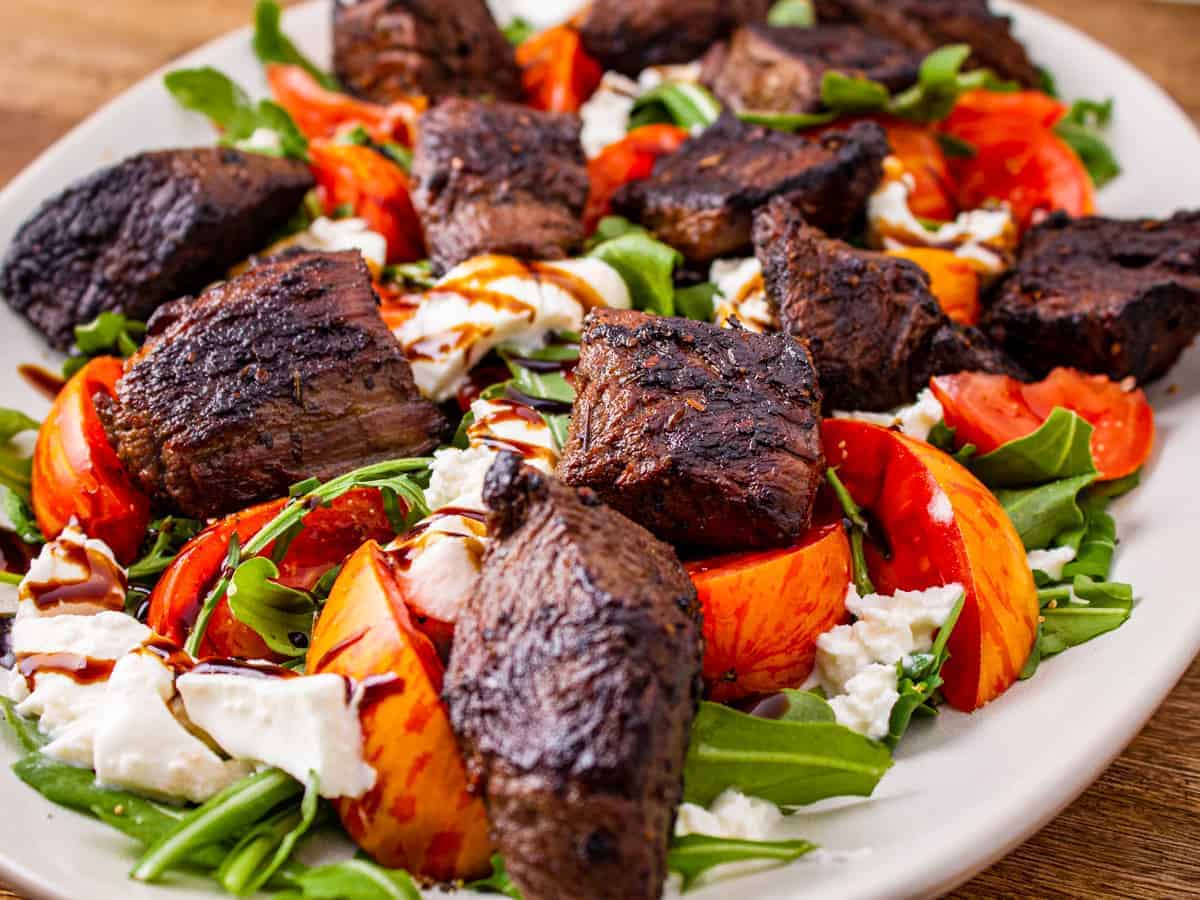 What is a Balsamic Glaze?
The dressing for this salad is a balsamic glaze which is balsamic vinegar that has been reduced into a thick syrupy consistency with a concentrated flavor. A little goes a LONG way so don't over do it! It's great drizzled over salads, fresh tomatoes, grilled chicken and meats, and more. I use store bought but you can also make your own if you prefer.
To make it just simmer 1 cup of good quality balsamic vinegar over low heat, stirring occasionally, until it is thickened and reduced by at least half. You can let it keep going longer if you want an even more concentrated flavor. The sweetness of balsamic can vary by brand. If you want a little extra sweetness you can add around 1-2 tablespoons of brown sugar while cooking. After cooking allow the mixture to cool to room temperature before using. Keep refrigerated in a glass jar or other container for up to one month.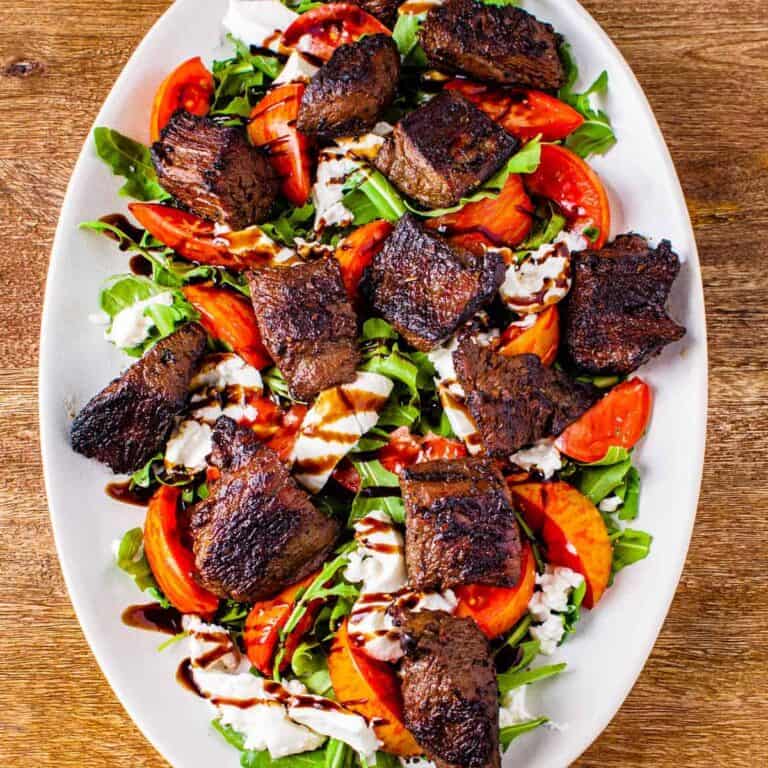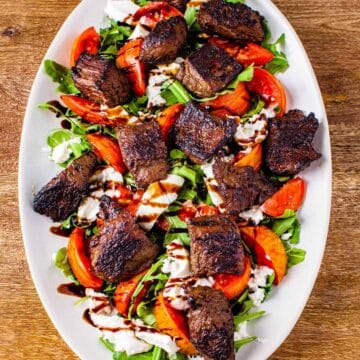 Grilled Steak Kabob Salad
A simple salad that's perfect for summer featuring grilled marinated steak kabobs over baby arugula, heirloom tomatoes, and burrata cheese topped with a sweet balsamic glaze.
Print
Pin
Share on Facebook
Rate
Ingredients
Marinade
½

cup

olive oil

⅓

cup

balsamic vinegar

¼

cup

low sodium soy sauce

1

tablespoon

Worcestershire sauce

2

tablespoons

minced garlic

¼

cup

minced onion

¼

cup

light brown sugar

1

teaspoon

freshly ground black pepper

1

teaspoon

salt
Salad
2

pounds

Chuck Roast or Sirloin

trimmed and cut into 1-2 inch cubes

5-6

cups

baby arugula

1

pound

heirloom tomatoes

3-4 medium, cut into wedges

8

ounces

burrata cheese

2 small balls, quartered
Instructions
Marinade
Add all marinade ingredients to a medium bowl and whisk to combine.

Place steak in a glass container and pour marinade over top. Stir meat to ensure even coverage then cover and refrigerate for at least 1 hour up to overnight. If marinating for longer than an hour, stir the meat and marinade occasionally to redistribute.
Steak Kabobs
Clean and oil grill grates then preheat to medium high.

Thread marinated steak onto skewers and discard marinade.

Cook kabobs until meat reaches desired doneness, around 7-8 minutes for medium rare, turning often to ensure even cooking.

Remove from grill and tent with foil then allow to rest for 5 minutes while preparing the salad.
Salad
Add baby arugula to a platter then arrange cut tomatoes and burrata cheese and drizzle with balsamic glaze. Top with cooked steak and serve.
* All nutrition information we provide are estimates based on third party calculators. We encourage you to calculate these on your own for accurate results.
Check out my other salad recipes