Chicken Souvlaki is a Greek street food classic that is bursting with flavor. It consists of chicken kebabs marinated in lemon, garlic, herbs, and olive oil. It's delicious served with a classic Tzatziki sauce in a pita wrap, on top of a Greek salad, or as skewers with your favorite Greek side dishes.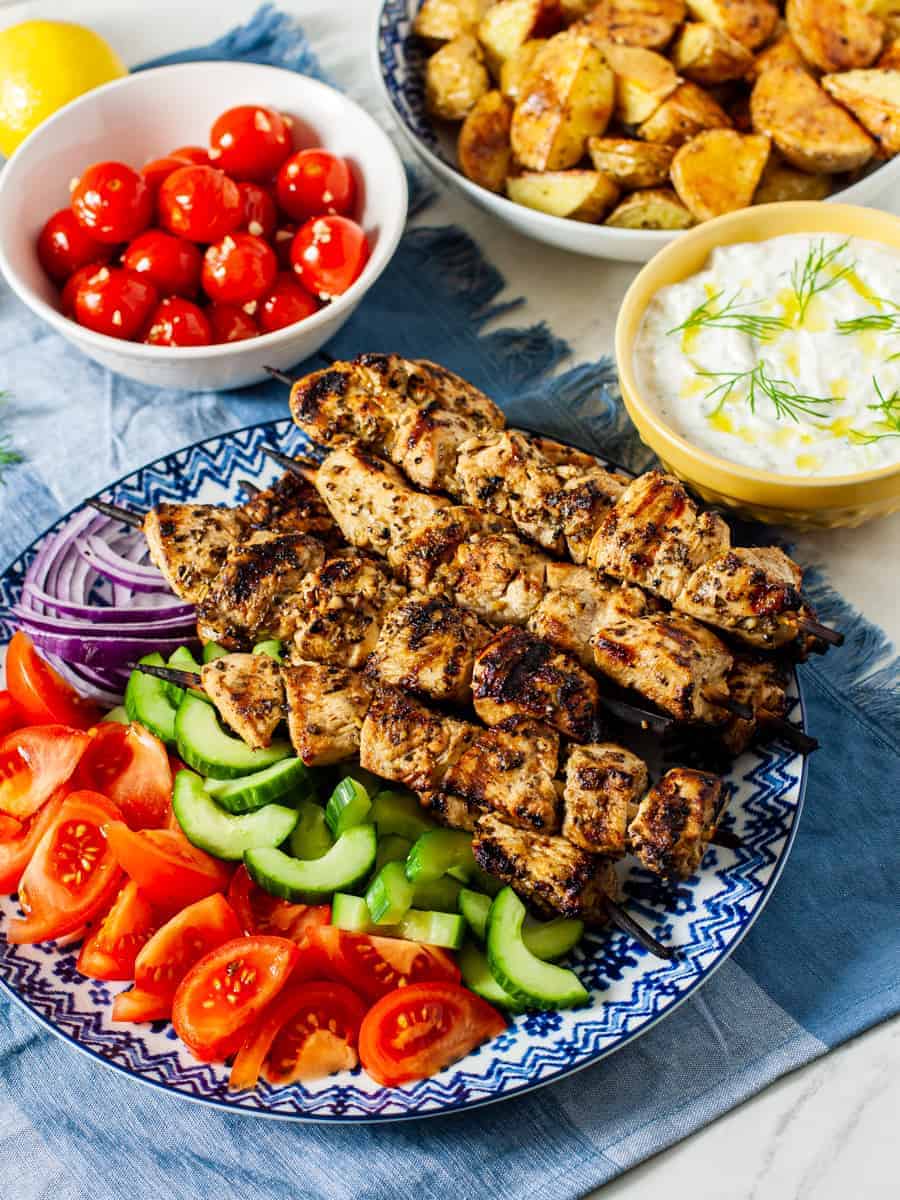 How to prepare the marinade
This marinade is a really simple mix of classic Greek flavors, you'll need:
Olive Oil
1 large lemon
4 large cloves of garlic
dried oregano
dried thyme
Kosher salt
Fresh ground black pepper
You'll simply combine all of the ingredients in a mixing bowl and stir until their well combined.
How to prepare the chicken
I typically use chicken breast for this dish, but boneless skinless chicken thighs will work too. You'll want to cut your chicken into bite sized pieces, trying to get them evenly sized. I aim for around 1 inch cubes.
Once your chicken is cut add it to a large resealable plastic bag, pour the marinade over top, then seal the bag. Toss until all of the chicken is well coated and refrigerate for around 1 hour, up to 4 hours. Turn occasionally to redistribute the marinade.
Some recipes call for marinating the chicken overnight but the acicidty from the lemon juice will affect the texture of the chicken. If possible it's best to make this same day.
When you're ready to cook you'll thread the marinated chicken onto skewers. Try to keep the pieces on each skewer around the same size so you can cook them evenly. I usually end of with one or two skewers of smaller pieces depending on how well I planned out my cuts.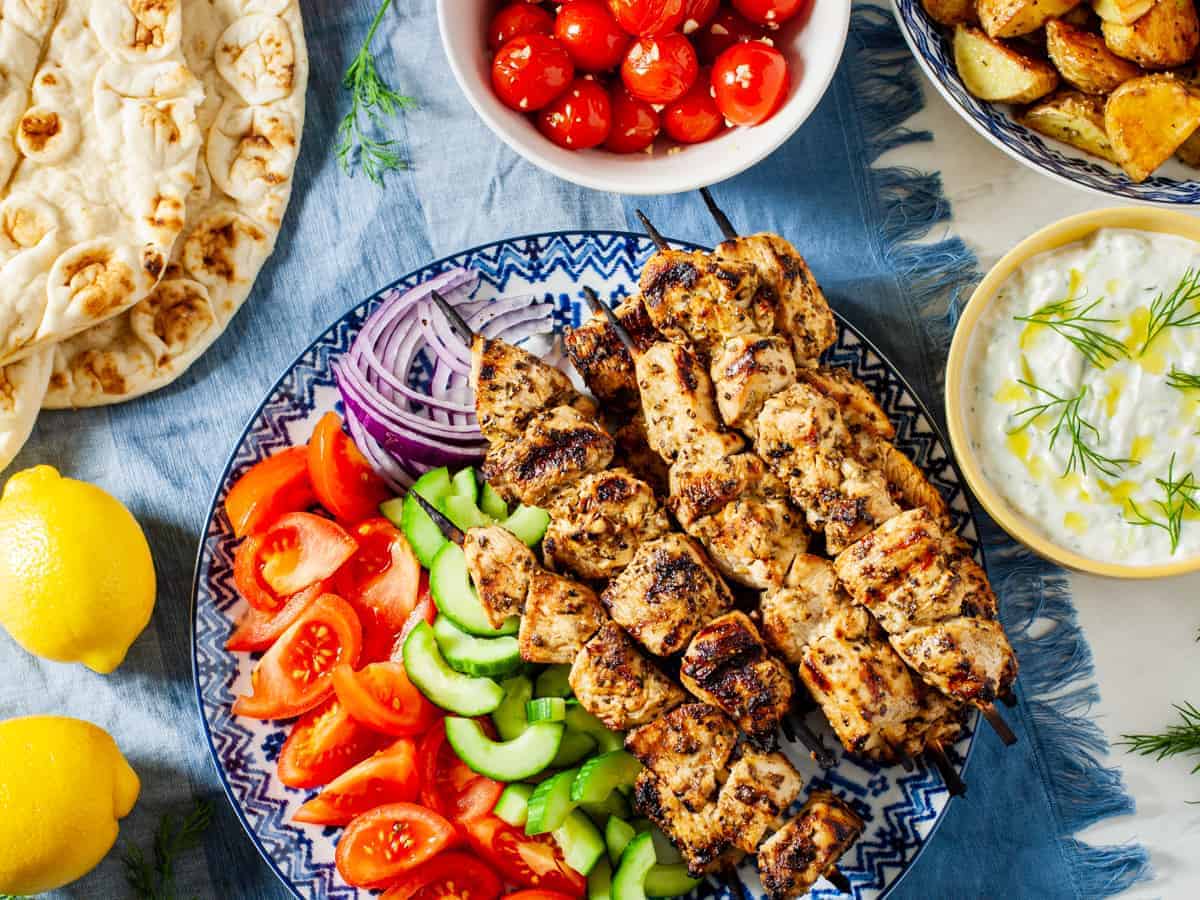 How to cook chicken souvlaki kebabs
Heat a grill to medium high heat or if using coals spread in an even layer in your grill. Cook the skewers for around 10-12 minutes rotating them every few minutes so all sides get evenly cooked.
The dish is traditionally grilled but broiling works too. To broil in the oven, place an oven rack in the top position then preheat your broiler. Place the skewers on a broiling pan or on a sheet pan with a wire rack. Cook for around 8-10 minutes turning occasionally until they're cooked through.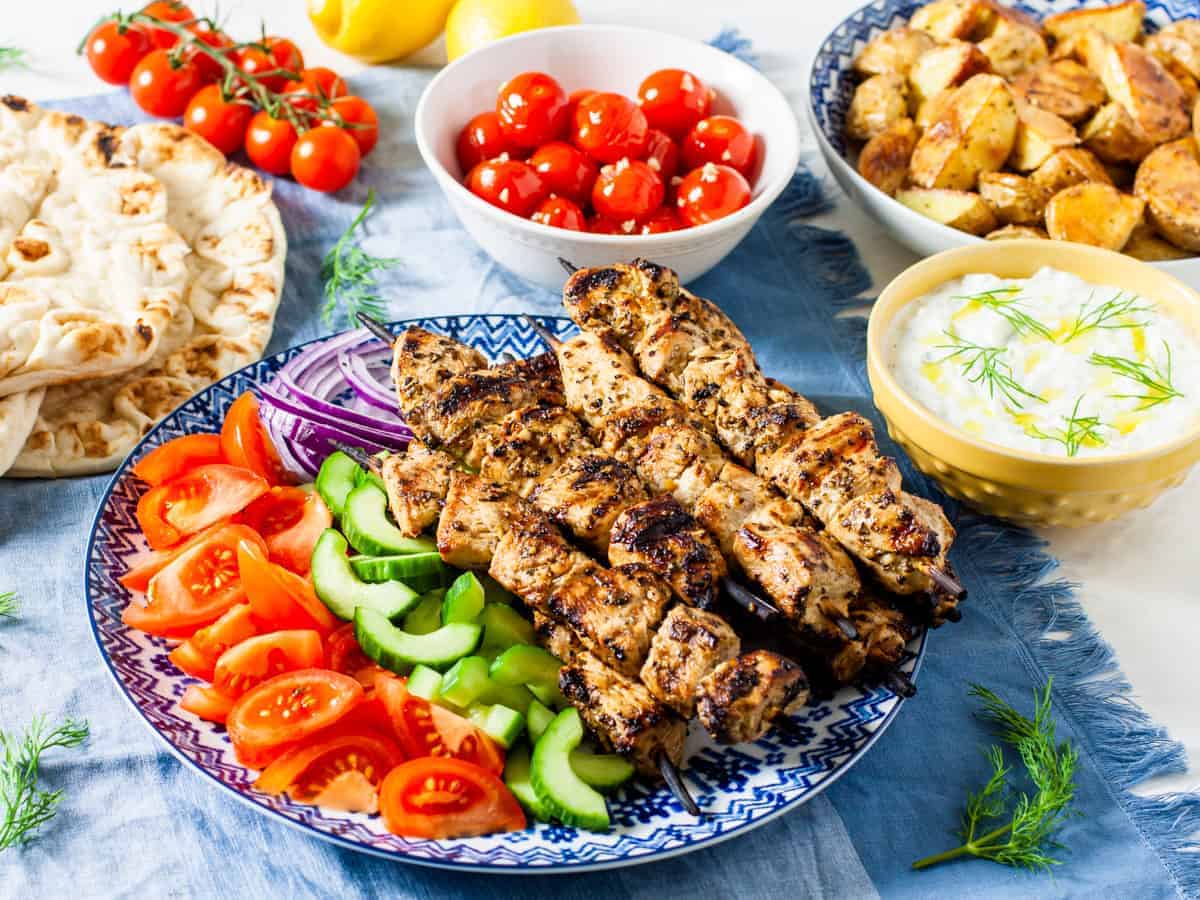 How to make Tzatziki sauce
No chicken souvlaki would be complete without a side of tzatziki sauce. The creamy sauce goes so well with the chicken it's a must have and it's really simple to make.
For the sauce you'll need around half of a large English cucumber, a cup of greek yogurt, lemon juice, olive oil, garlic, and fresh dill. Make sure to use fresh dill for this recipe if at all possible. Dry will work in a pinch but it won't be quite the same.
Grate the cucumber on the large holes of a box grater. Then put into a fine mesh strainer and drain the liquids. You want to get as much of the liquid as possible. I usually use the back of a spoon to squeeze out as much as I can and then dump the cucumber onto a few paper towels and squeeze out the rest.
Then put the cucumber and the rest of the ingredients into a small bowl and stir to combine. It's best to refrigerate the tzatziki sauce for at least 30 minutes to an hour before serving to allow the flavors to combine. I typically go ahead and make the sauce when I make the marinade. It's a lot of the same ingredients and will give you plenty of time to let it rest in the fridge before serving.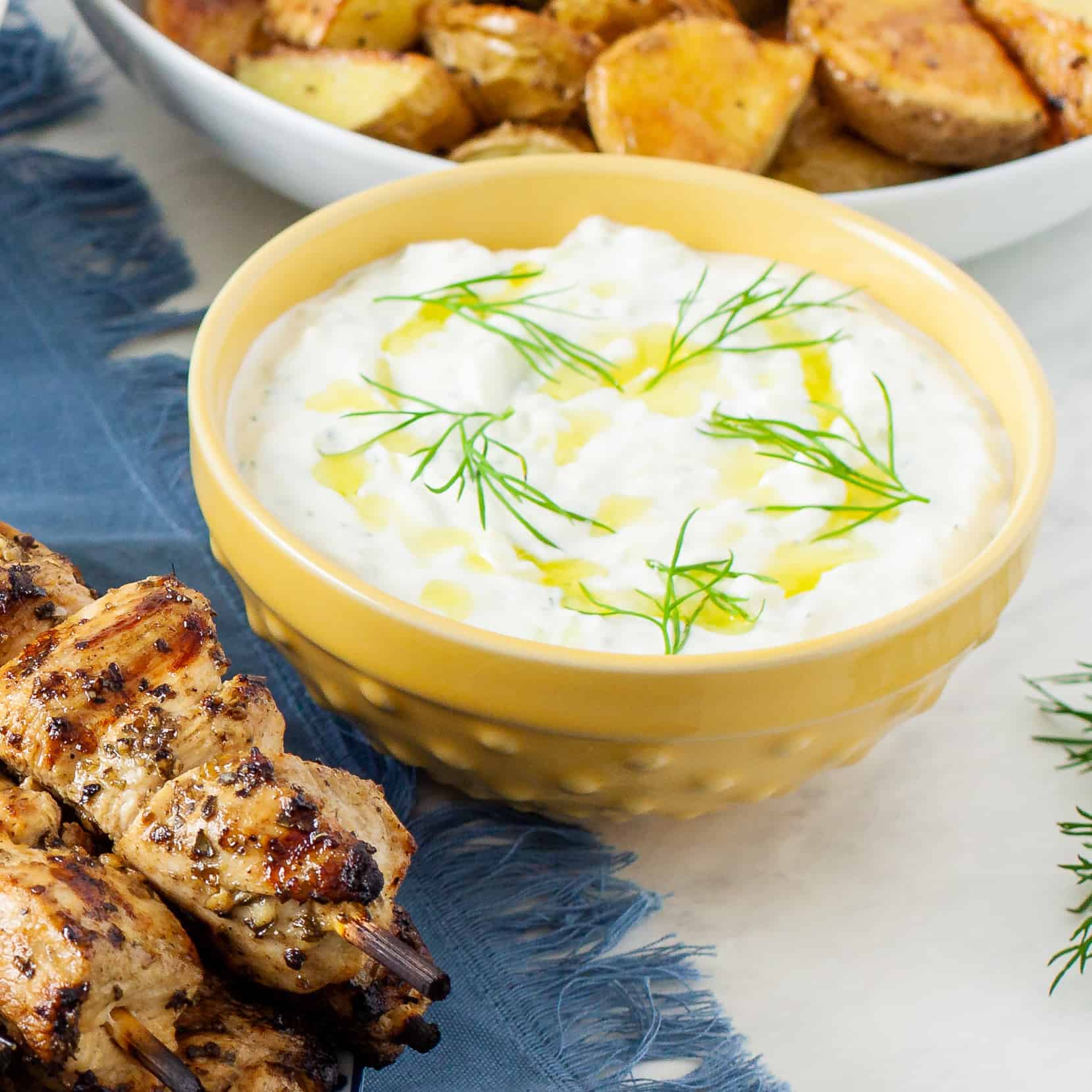 How to serve your souvlaki chicken kebabs
My favorite way is to serve it up family style on a large platter with warm pita, chopped tomatoes, cucumbers, red onions, feta, lettuce and of course the tzatziki sauce. From there you can put the chicken and veggies into a pita to make a wrap, use the veggies to make a salad and top it with the chicken, or just eat it right off the skewers! If you have leftovers it also goes great on top of a Quinoa Greek Salad the next day.
For sides try my herb roasted potatoes with a little squeeze of lemon juice. They go great with this dish!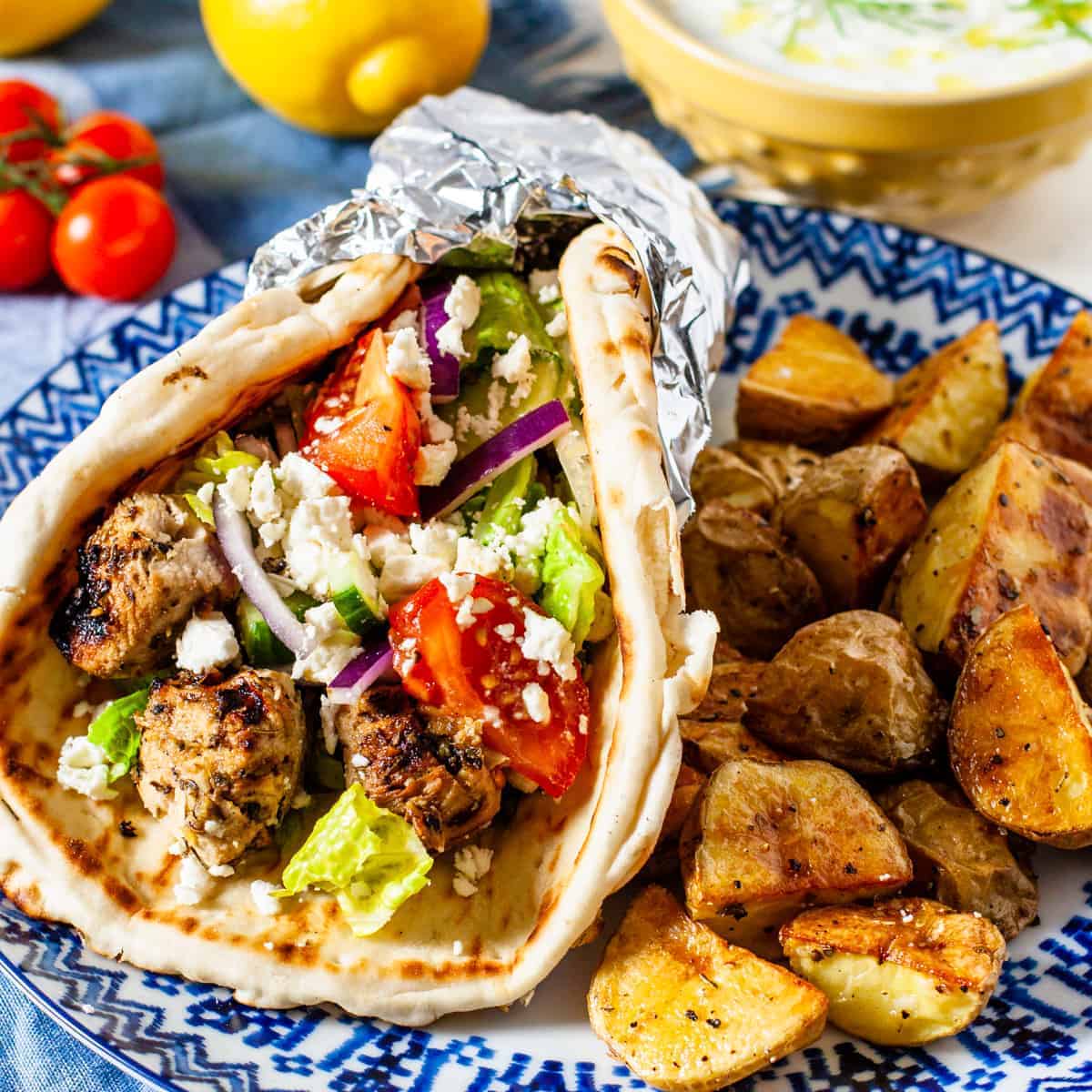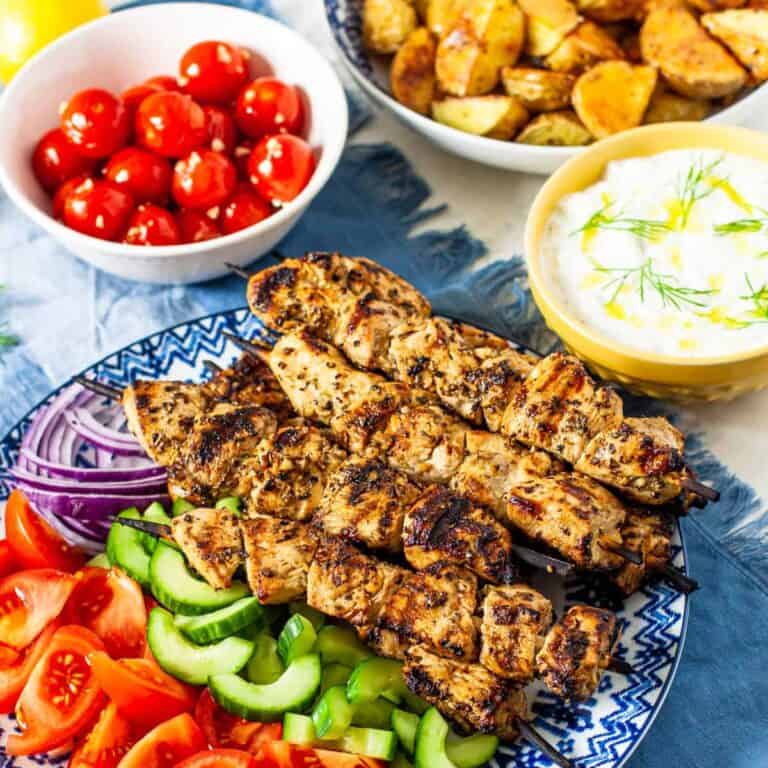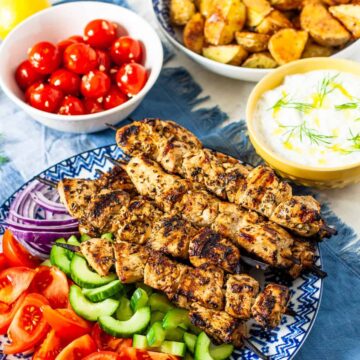 Chicken Souvlaki
This Greek street food classic is bursting with flavor from a marinade of lemon, herbs, and garlic. It's delicious served as a pita wrap or as skewers along with tzatziki sauce.
Print
Pin
Share on Facebook
Rate
Ingredients
⅓

cup

olive oil

zest from 1 lemon

juice from 1 lemon

around 2 tbsp

2

tsp

dried oregano

½

tsp

dried thyme

4

cloves

garlic

minced

1

tsp

kosher salt

½

tsp

freshly ground black pepper

2

lbs

chicken breast

cut into bite sized pieces
Tzatziki Sauce
½

large

English hothouse cucumber

1

cup

plain Greek yogurt

1

tbsp

lemon juice

2

tbsp

olive oil

1

large clove

garlic

minced

1

tbsp

fresh dill

chopped
Instructions
For the Chicken
Combine all ingredients but the chicken in a medium bowl and stir until well combined. Place chicken in a large resealable bag and pour marinade in then seal the bag and toss until the chicken is thoroughly coated. Refrigerate for at least 1 hour up to 4.

Preheat a grill to medium high heat.

Remove the chicken from the marinade and thread onto skewers. Discard any remaining marinade.

Grill the chicken for around 10-12 minutes until cooked through, rotating the skewers occasionally so that all sides are evenly cooked.
Tzatziki Sauce
Grate the cucumber on the large holes of a box grater then drain in a fine mesh strainer pushing out as much liquid as possible with the back of a spoon. Use a kitchen towel or paper towels to soak up any remaining moisture.

Combine the cucumber and the remaining ingredients in a bowl and stir to combine. Refrigerate for at least 1 hour before serving to allow flavors to combine.
* All nutrition information we provide are estimates based on third party calculators. We encourage you to calculate these on your own for accurate results.
Check out some of my other dishes