This pulled pork barbecue is seasoned with a delicious dry rub that's salty, sweet, and just a bit spicy and then it's smoked low and slow until the meat is fall apart tender. It takes some time to do it right, but the results are so worth it!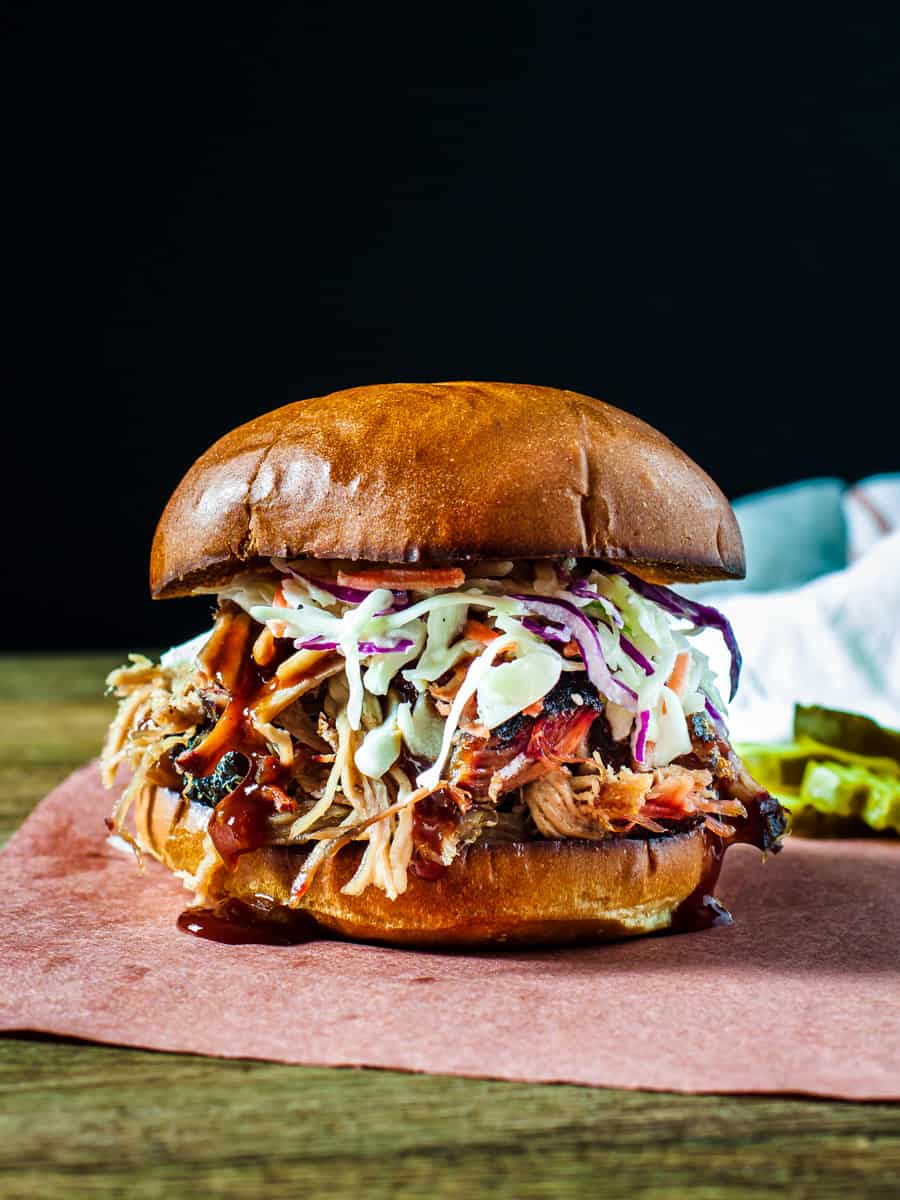 Jump to:
What cut of pork should you use?
Most barbecue restaurants use whole pork shoulder, which is cut from the front leg at the shoulder down to just above the foot. You can occasionally find them in supermarkets or at warehouse clubs but they're pretty large, typically weighing in the range of 14 to 18 pounds.
More often you'll see them cut in half and sold separately. The top portion is called the pork butt, also known as Boston butt. The lower portion is typically called a picnic shoulder.
For most home cooks the pork butt is the best cut for pulled pork bbq. They are typically in the 6-8 pound range for bone-in or 4-6 pounds for boneless. It should have a fat cap on one side and be well trimmed on the other sides. Look for a piece that is a dark pinkish-red and well marbled for the best flavor.
How much do I need?
Plan on around ⅓ to ½ pound of meat per person, depending on how you are planning to serve the meat. If you're serving it for lunch, making sandwiches, or having a lot of side dishes ⅓ pound should do. For a pork plate dinner lean towards ½ pound per person.
How to trim pork shoulder
Start by trimming any large chunks of fat, any veins, or bloody spots from the pork butt. Don't go too crazy trimming. The fat and connective tissue will mostly render out in the cooking process and it gives the meat a great deal of flavor and also supplies the moisture that it needs for the long cook. I prefer to leave the fat cap on and trim to about ⅛ in thickness. If you want a leaner end product and more bark you can remove the cap completely. A pork butt is made up of many different muscles that have fat in between them. If you do go wild trimming out the fat between the muscles, you may need to tie up the butt with kitchen twine to keep it from falling apart.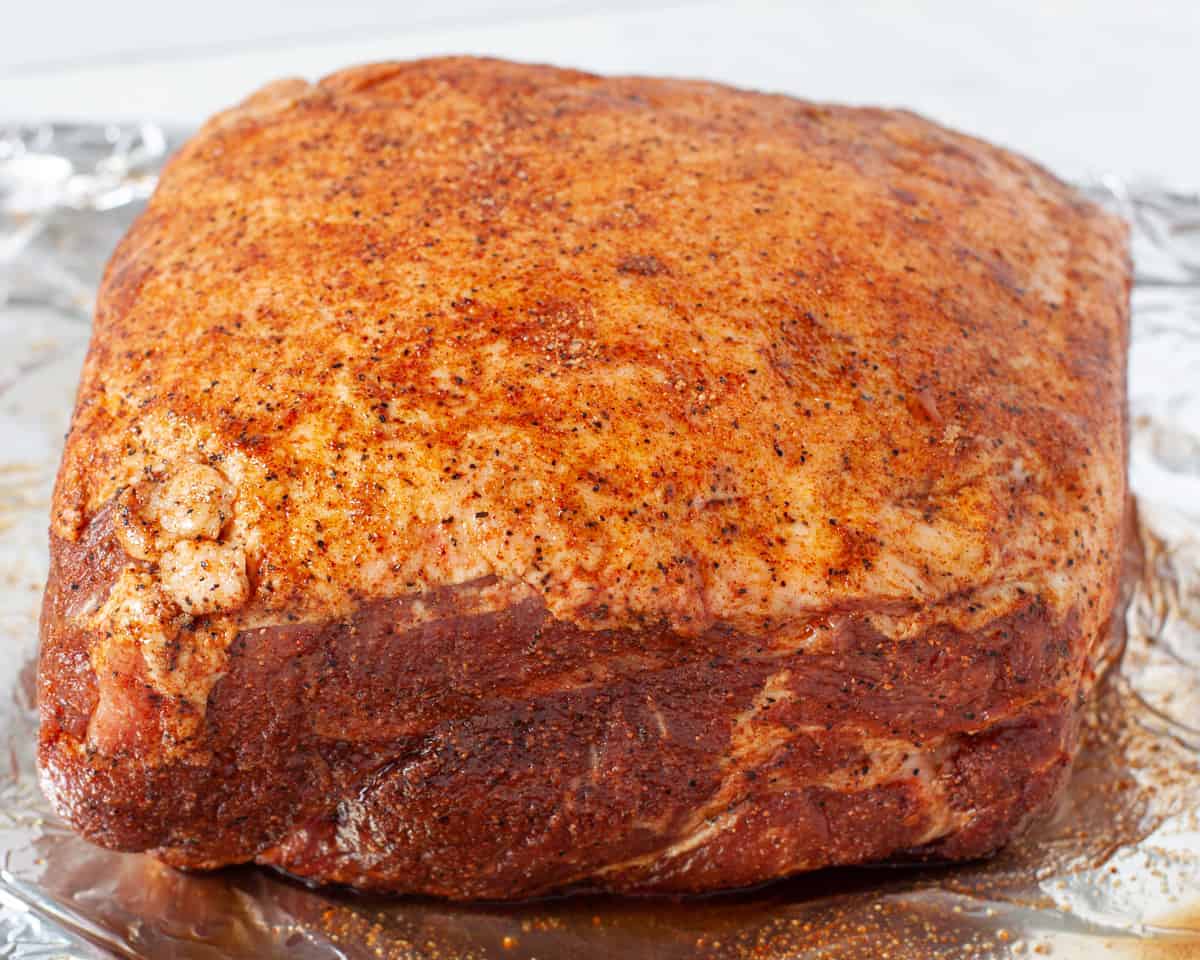 What is a barbecue rub?
The seasoning for barbecue is typically called a "rub". It's mix of spices that you'll apply to the meat to season it before cooking. There are an endless amount of barbecue rubs in the market place. It seems nearly every barbecue restaurant and spice company sells their own. For the most part, they're pretty similar and use common spices you likely already have. In fact, in Texas barbecue it's simply a blend of Kosher salt and coarse ground pepper. I usually prefer to make my own rub and customize it to my taste and avoid the mark up of store bought rubs.
Ingredients for the rub
2 tbsp brown sugar
2 tbsp sweet paprika
2 tbsp kosher salt
1 tbsp black pepper
1 tsp garlic powder
1 tsp onion powder
½ tsp ground mustard
¼ tsp cayenne pepper
This is a basic all-purpose barbecue rub that goes well on pulled pork, chicken, and ribs. It will make enough for 2 to 3 pork butts depending on how heavily you season them.
You can easily customize it to your taste too. If you like more heat you can up the amount of cayenne pepper or add in chili powder. If you want a smokier flavor you can use smoked paprika. Cumin will add a little Southwestern/Mexican flavor. The options are endless.
Seasoning your pork
After trimming the meat, sprinkle a generous amount of the rub all over until it's well coated. Despite the name you don't actually need to rub it in but if there are any crevices I try to work the seasoning into those.
You can cook it immediately after seasoning the meat, but I like to trim and season the meat then cover and refrigerate it overnight the night before cooking. That allows the salt to penetrate the meat and lets it soak up the flavors of the rub. I typically add a little more rub the next day just before cooking. If you refrigerate the meat, remove it one hour before cooking to allow it to come up to room temperature.
Some people, including many competition barbecue teams, like to coat their pork butt in yellow mustard before applying their rub. It will help bind the rub to the meat. Since I typically season my pork the night before cooking I don't use mustard but it's definitely worth trying to see how you like that method.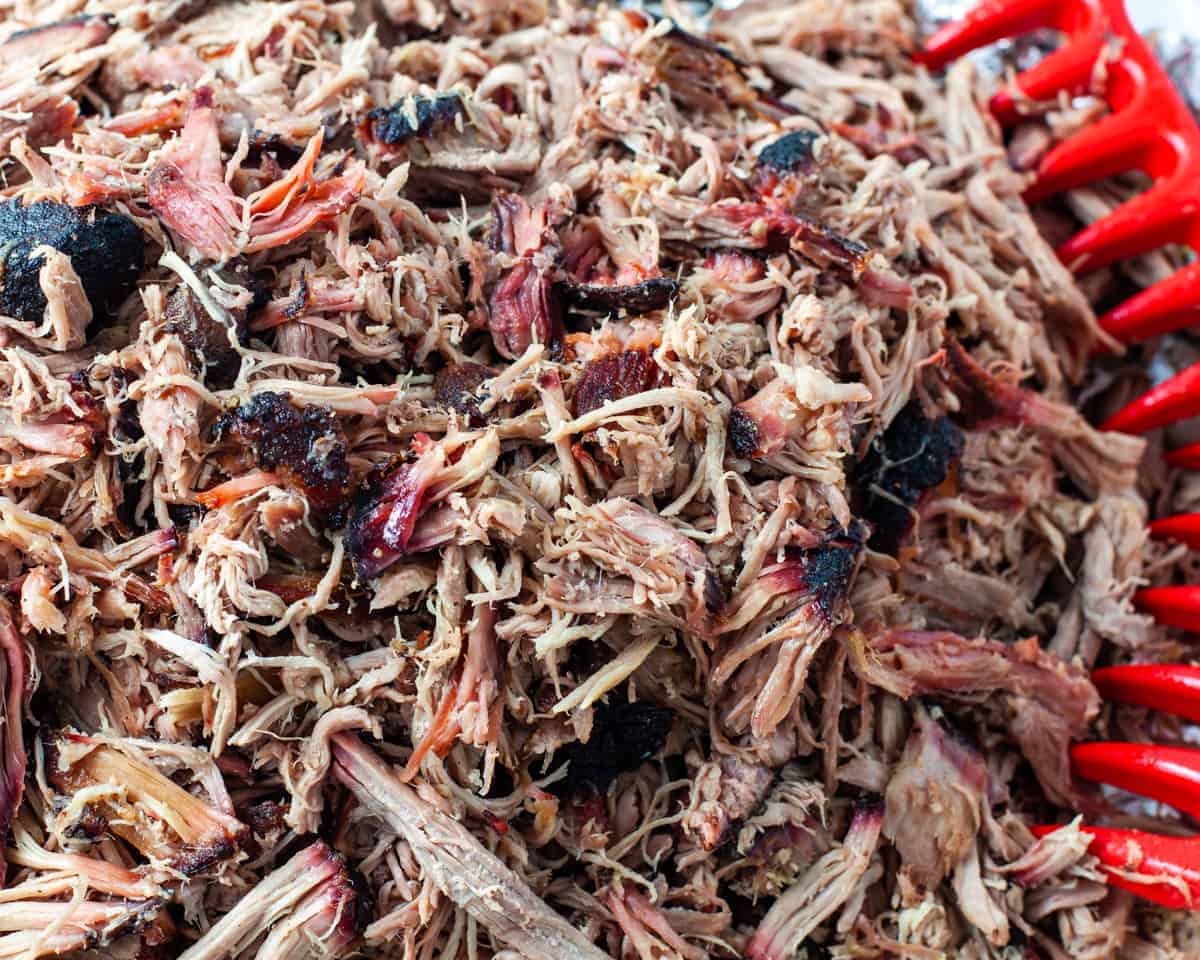 What wood to use for smoking pork
I prefer a mix of hickory and apple wood. They are both easy to find at hardware stores and most large supermarkets. The hickory has a nice mild flavor and the apple is a little milder and sweeter. I would avoid mesquite for pulled pork as the flavor is pretty aggressive and can overpower the flavor of the meat. I like to use larger wood chunks and not the smaller chips. The chunks will last longer and produce a cleaner smoke.
Smoking your pulled pork barbecue
The cooking process is simple. Just heat your smoker to around 225°F. Then add your wood chunks, place your meat on the smoker, cover, and let it cook. You will need to monitor the smoker temperature and the meat temperature throughout the cook.
I highly recommend using a digital thermometer with a leave in probe so you can easily monitor the temperature during the cook. Many have multiple probes and some will have a probe for the cooker temperature as well. These are typically much more accurate than the thermometers built into your grill.
Cooking time and temperature
Any experienced barbecue cook will tell you that cooking time can vary widely when cooking a pork butt. Plan on around 1 ½ to 2 hours per pound, so about 12-16 hours for an 8 pound pork butt.
You'll likely see the meat temperature rise to around 145°F and then slow dramatically from there to around 165-170°F. This phase is called the "stall". At this stage the fat begins to render and evaporates which cools the meat. It can sit in this range for several hours. I like to ride it out if I have time to produce the best "bark", the dry flavorful, dark brown crust on the exterior.
If you need to speed up the process you can wrap the meat tightly in foil or butchers paper and return it to the smoker then up the heat to around 275°F. This does have an impact on your bark as it will retain the moisture and slow down the evaporation but really helps push through the stall. This is known as the "Texas crutch" in the barbecue world.
When the meat reaches about 175°F unwrap the meat and continue smoking to around 195-200°F. Use an instant read thermometer to check the temp in a few locations when it's close to the final temperature. At this point most of the fat, collagen, and connective tissue will have rendered and the meat will be extremely tender.
Resting the meat
After cooking wrap the meat in foil and let it rest for at least 30 minutes. This lets the meat relax and re-absorb some of the juices which makes it moister and easier to shred.
If you want to keep it longer, place the foil wrapped pork in a cooler and cover it with towels then close the cooler. This is known as a "faux cambro". It will keep the meat at a safe, warm temperature for several hours and allows you to time your meal better. With the wide variation in cook time, you can have the meat ready a few hours ahead of time and hold the meat until needed.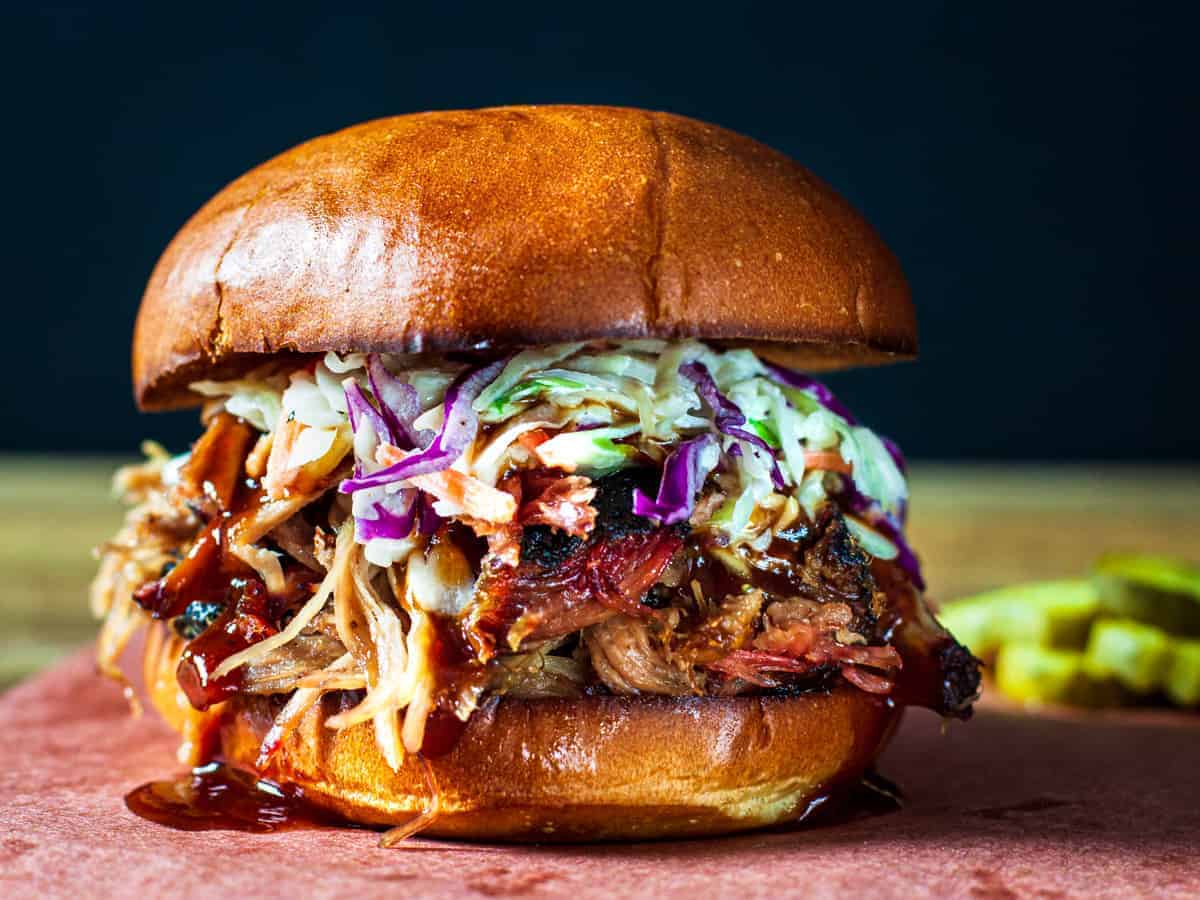 How to pull pork
Just before serving break the meat up by pulling apart large chunks. Remove and discard the bone (if present) and any chunks of fat or gristle.
Shred the meat with two forks by pulling the meat apart in separate directions. I highly recommend investing in shredding claws if you make pulled pork a lot. They make the job so easy!
You can also pull it apart by hand after it has cooled slightly or chop it with a large, heavy knife or cleaver.
After shredding the meat toss it lightly with sauce and serve.
How to serve pulled pork
You can use the pulled pork in many ways. My favorite way to serve it is as a simple pork sandwich topped with creamy coleslaw.
You can also serve it as a plate with sides such as potato salad, baked beans, or macaroni and cheese.
Pulled pork nachos or pulled pork tacos are some other great serving options.
How can I store and reheat leftovers?
Store the leftovers in a sealed plastic bag or airtight container in the refrigerator. The USDA guidelines suggest using the leftovers within 3 to 4 days. Reheat smaller amounts in the microwave. For larger amounts, wrap in foil and reheat in a 250 degree F oven until warmed.
If you want to store it for longer I recommend freezing it in batches. I wrap mine tightly in plastic wrap and squeeze out any air pockets, then place it in a freezer bag. When properly stored it will last 3 to 6 months in the freezer or longer if you vacuum seal it.
To reheat frozen pork let it thaw overnight in the refrigerator. Then reheat in the microwave or a 250°F oven until warmed through.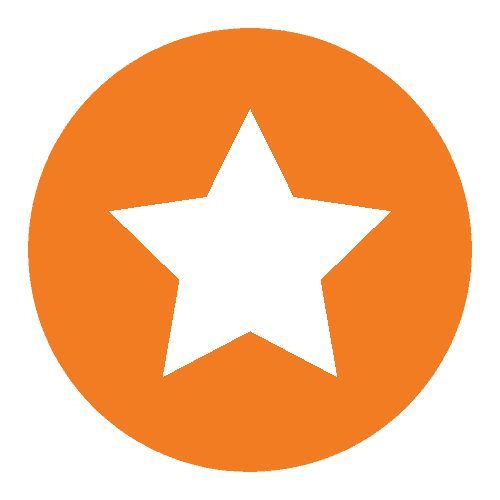 What to serve with your barbecue
📖 Recipe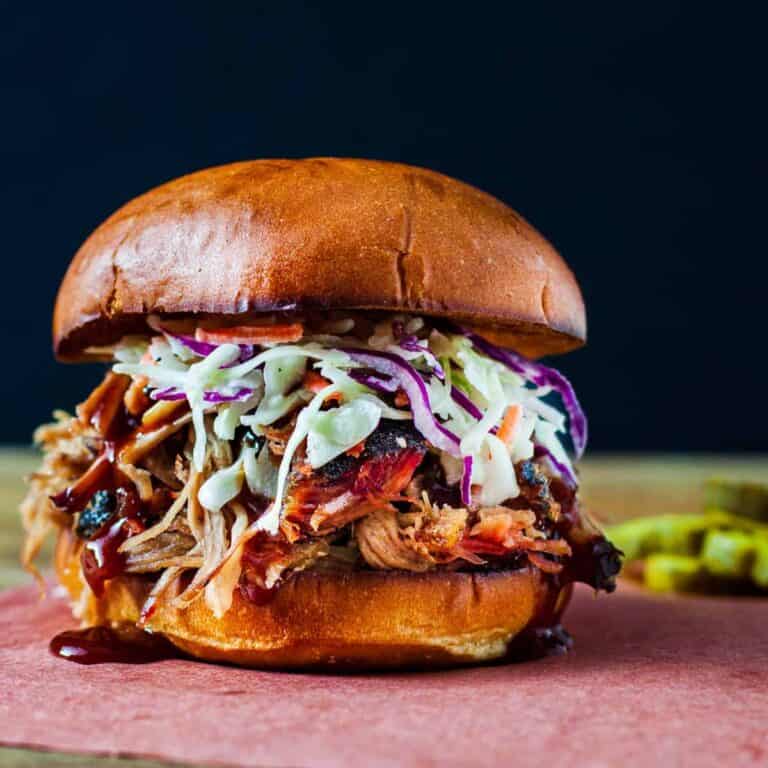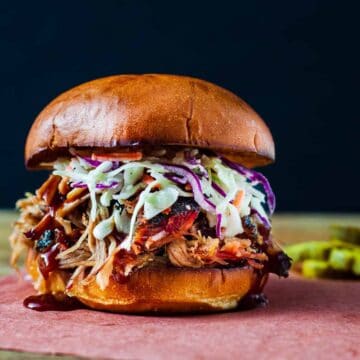 Ingredients
6-8

pound

pork butt

aka"Boston butt"

2

tbsp

brown sugar

2

tbsp

sweet paprika

2

tbsp

kosher salt

1

tbsp

black pepper

1

tsp

garlic powder

1

tsp

onion powder

½

tsp

ground mustard

¼

tsp

cayenne pepper
Instructions
Combine all of the seasonings in a small bowl and stir well.

Trim any large chunks of fat from the outside of the meat, leaving around ⅛ inch of the fat cap in place. Then thoroughly coat with the seasoning mix on all sides and inside any crevices. If possible wrap the meat in plastic, then set on a rimmed baking sheet and refrigerate overnight.

Preheat your smoker to around 225°F and place the pork in the smoker with the fat cap side up, then cover the smoker.

This step is optional, but if you want to speed up the cooking process, when the pork reaches around 150-160°F remove and wrap tightly in foil or butchers paper and return to the smoker. Raise the heat to 275°F. When the internal temperature reaches around 180°F, remove the foil and return to the smoker.

Continue cooking until it reaches an internal temperature of 195-200°F then remove from the smoker and wrap in foil and let rest for 30 minutes to an hour. After it has rested and cooled slightly, shred the meat and sauce lightly before serving.
* All nutrition information we provide are estimates based on third party calculators. We encourage you to calculate these on your own for accurate results.
You may also like