Smoked chuck roast is full of rich, beefy flavor, and the meat gets super tender when smoked low and slow. It's great for slicing or making pulled beef and a great alternative to brisket for your next barbecue. In this post, I'll walk you through step-by-step how to make smoked chuck roast and answer common questions on how to prepare it.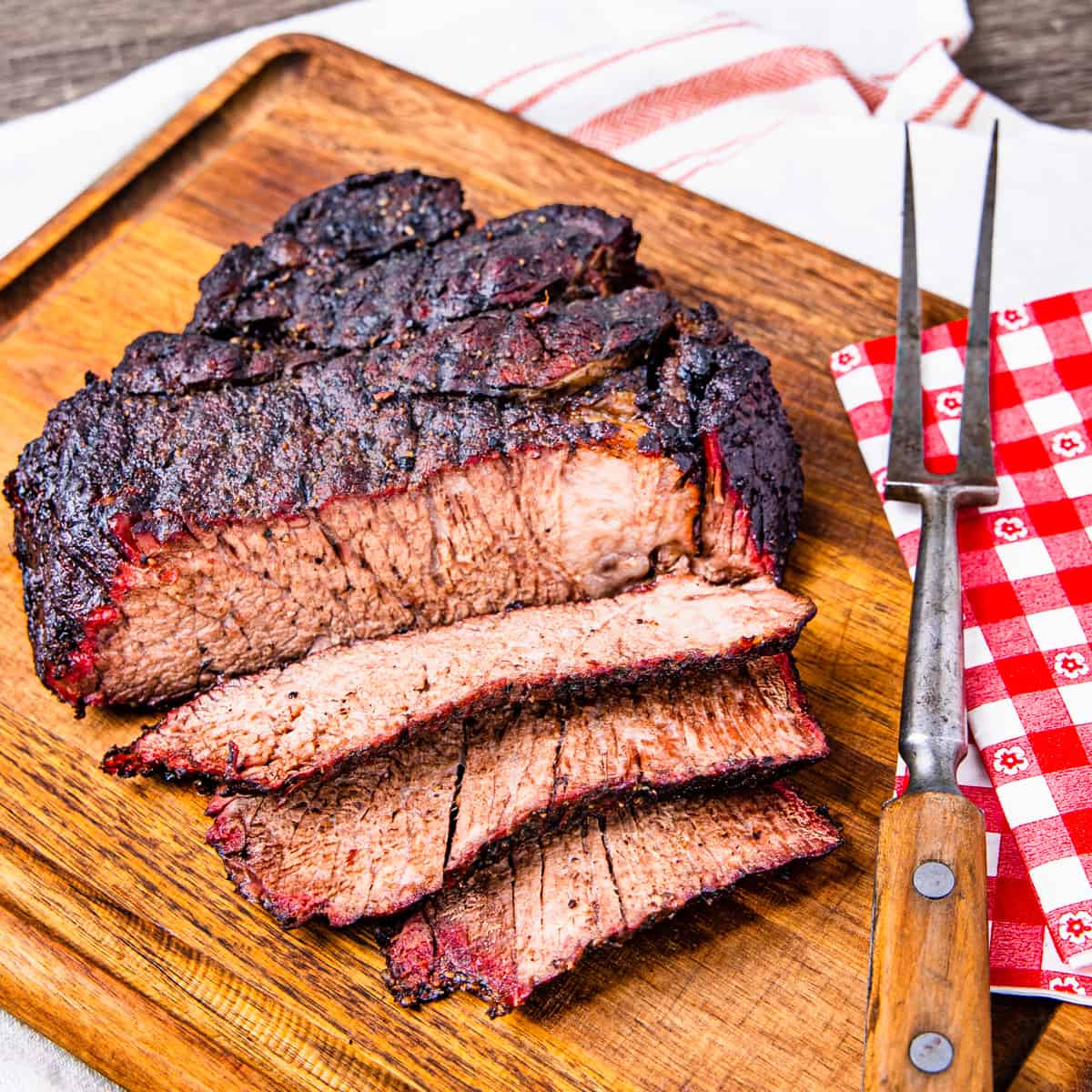 Jump to:
Why This Recipe Works
Chuck roast is commonly used for braised dishes like pot roast, beef stew, and is also a good choice for beef kebabs. But if you haven't tried a chuck roast smoked, you're missing out! This cut of beef is rich and flavorful and gets almost fall apart tender during a long slow smoke.
In this post I'll give you tips on selecting and seasoning your roast and answer common questions about cooking chuck roast in a smoker. And I'll give you step-by-step instructions on how to make a perfect smoked chuck roast. So let's get started!
What's the Difference Between Chuck Roast and Brisket?
Smoked beef chuck roast is sometimes called the poor man's brisket because it has a similar beefy flavor and tends to be a little cheaper cut. They're both hard-working muscles, and they both come from the front portion of the cow.
Brisket comes from the lower chest area of the cow, between the front legs. A whole brisket typically weighs between 10 and 20 pounds and is made up of the thinner, leaner "flat" portion and the thicker, fattier "point" portion. It typically has a fatty layer on one side and a good amount of intramuscular marbling.
The primal chuck comes from the shoulder area of the cow and is broken down into several smaller cuts, one being the chuck roast. An average chuck roast is around 5 pounds. Like brisket, it's also a well-marbled cut but it typically has more connective tissue.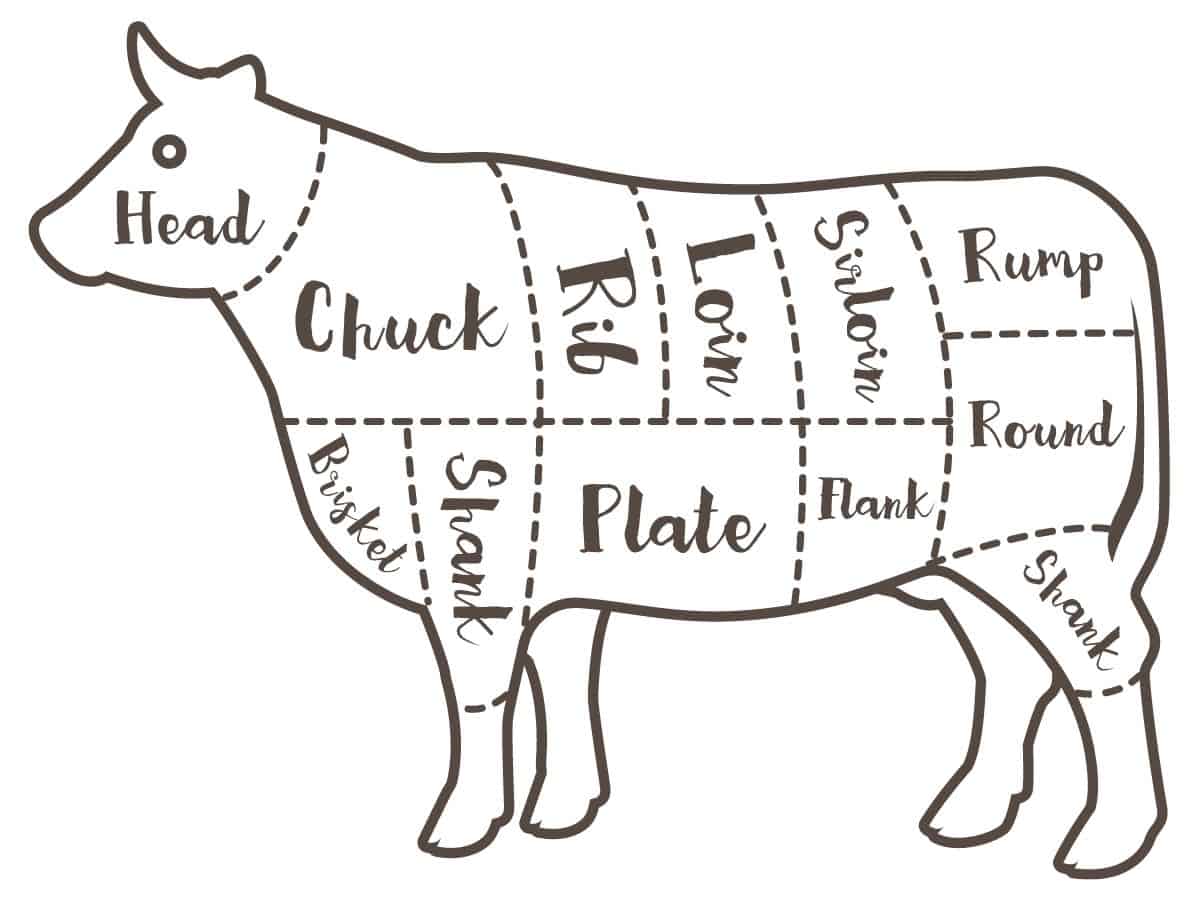 Selecting Your Chuck Roast
When choosing your chuck roast, look for a 4 to 5 pound cut that is a dark red color and avoid brown or grey roasts. Chuck roast is usually an even thickness but look for a cut with regular shape.
The meat should be well-marbled to provide moisture and flavor while cooking. There will typically be some large fat pockets in the chuck roast between the muscles, but avoid overly fatty cuts.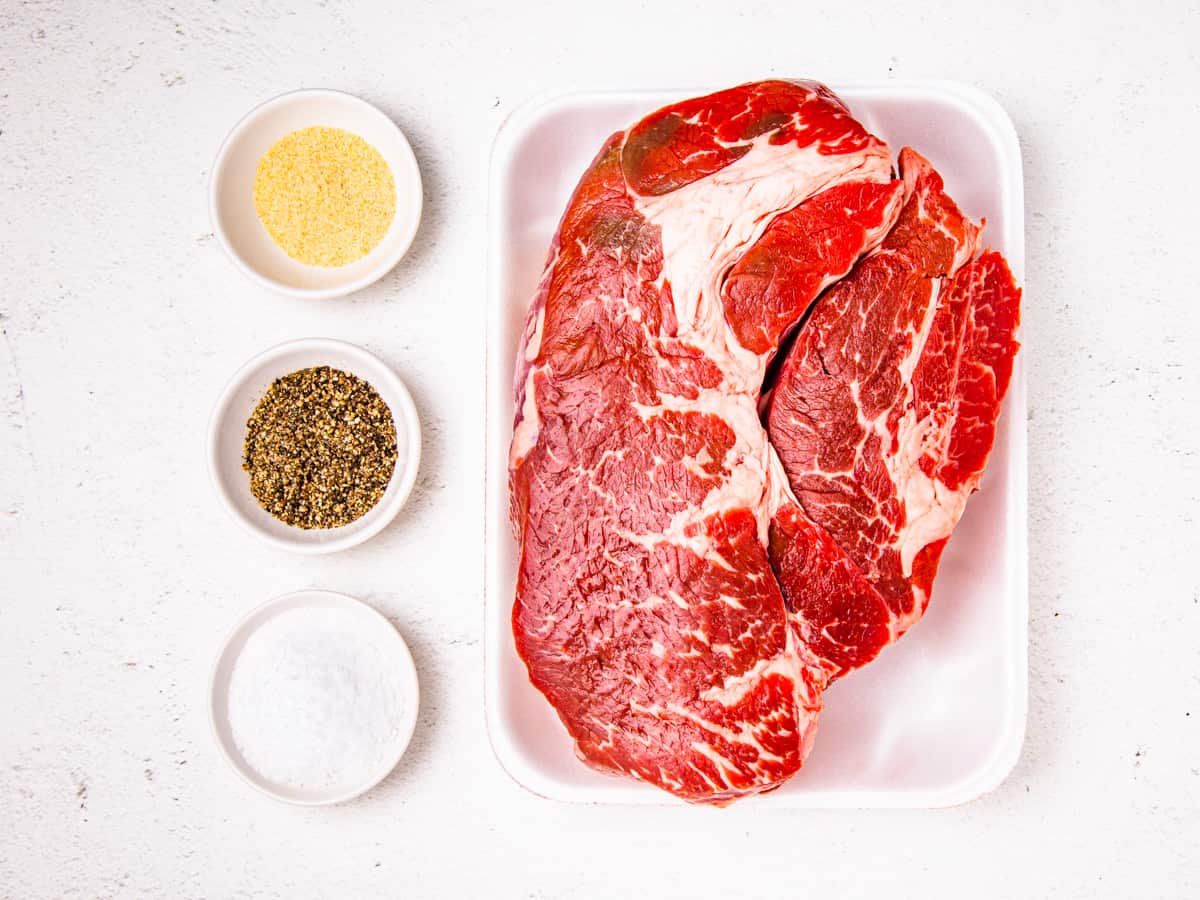 How to Season Chuck Roast for Smoking
When smoking chuck roast, I recommend keeping it simple with your seasoning. I use a Texas-style brisket rub that consists of Kosher salt, coarse ground black pepper, and a little garlic powder. This lets the beefy flavor really shine through.
Chili powder is also a nice addition if you want a more spice in your smoked beef.
How Long Does It Take to Smoke a Chuck Roast?
It's always important to smoke meats to temperature rather than time. I recommend a temperature of around 205°F for smoked chuck roast. For an average 4 to 5 pound chuck roast, this will be around 7-8 hours.
How to Slice Smoked Chuck Roast?
Use a sharp chef's knife, slicing knife, or carving knife to cut your chuck roast.
Slice the meat against the grain to break up the muscle fibers for more tender meat.
Cut it into thin slices around ⅛ to ¼ inch thick.
What to Serve with Smoked Chuck Roast?
The rich beefy flavor of chuck roast pairs really well with most classic barbecue side dishes. Two of my favorites are my bacon mac and cheese and southern style green beans. My Instant Pot Baked Beans are a great option too!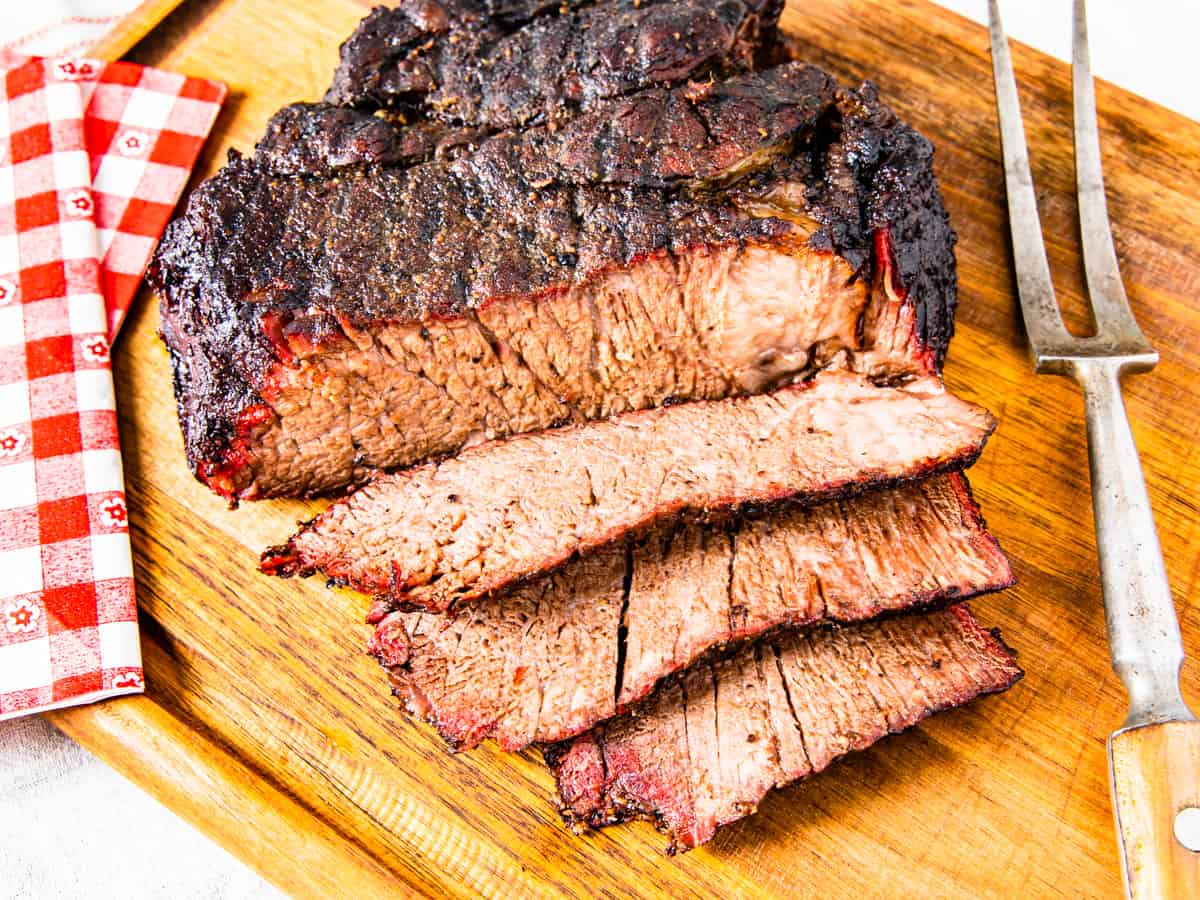 More Smoked Chuck FAQs
How to store smoked chuck roast?
Store leftovers in an airtight container and refrigerate for up to 5 days.
How to reheat chuck roast?
For larger portions wrap in foil and reheat in a 275°F oven until warmed through. The foil will help to keep the meat from drying out as it reheats, but you can add a little barbecue sauce as well for more moisture if you want.

Smaller portions can be reheated in the microwave for around 1 minute, until warmed through.
What type of wood to use for smoking chuck roast?
For smoked beef I like to use oak. Hickory is another good option for a medium flavored smoke. If you want a stronger, more intense smoke flavor mesquite can be used.
Should I wrap chuck roast in foil when smoking?
Wrapping meat when smoking it is known as a "Texas crutch". It's usually done around 160°F, when the fat begins to render and evaporate which causes the meat temperature to rise much slower. This phase of cooking is known as the "stall". Wrapping the meat helps to prevent the evaporation and helps power through the stall phase in a shorter amount of time.

I do reccomend wrapping chuck roast in foil or butcher's paper to cut down on the cooking time, and then removing it when the meat reaches around 185°F. This way you get the benefit of a shorter cooking time, but still get a good crisp bark on the exterior.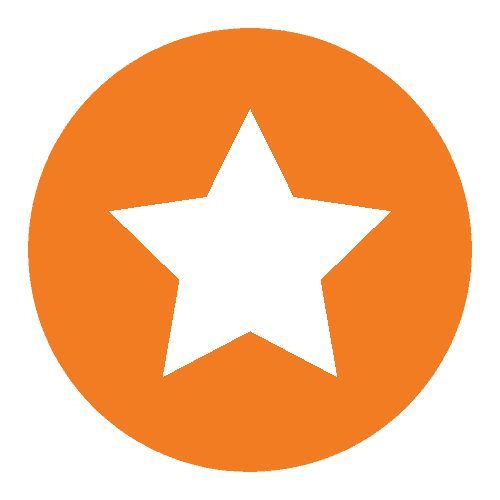 📖 Recipe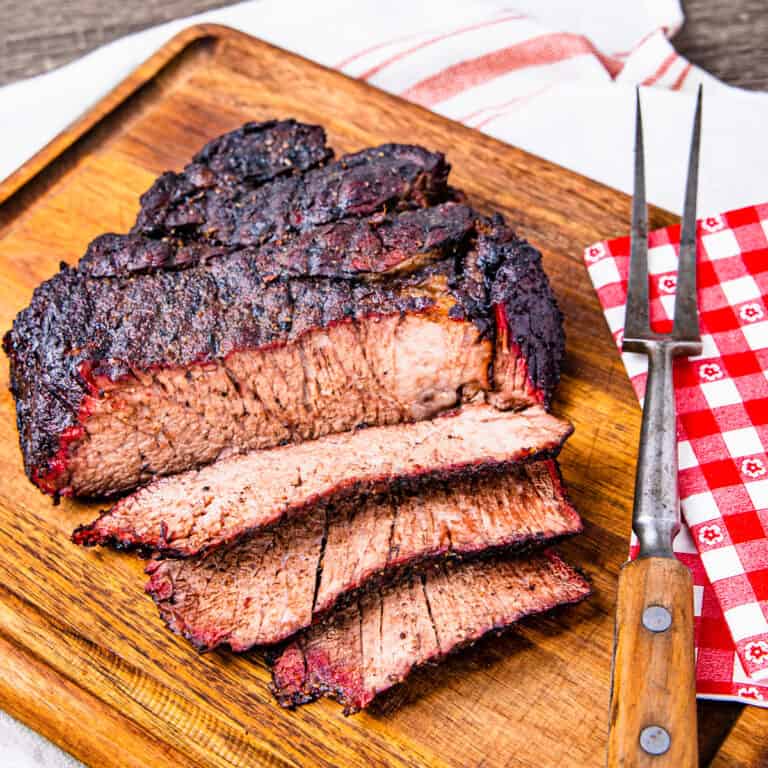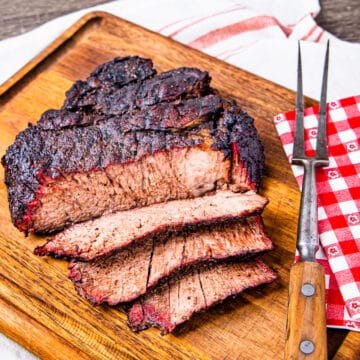 Smoked Chuck Roast Recipe
Smoked chuck roast is fall apart tender with a rich beefy flavor and is a great alternative to brisket for your next backyard barbecue.
Print
Pin
Rate
Ingredients
4-5

pound

chuck roast

1

Tablespoon

Kosher salt

2

teaspoons

coarse ground black pepper

1

teaspoon

garlic powder
Instructions
Combine the seasonings in a small bowl then liberally apply to the meat on all sides. If time allows, refrigerate the meat overnight to give the seasoning time to penetrate the meat.

Preheat your smoker to 225°F then place the chuck roast on the cooking rack. Add a few chunks of wood to produce a medium amount of smoke at the start.

When the meat reaches around 160°F wrap it tightly in aluminum foil or butchers paper and return to the smoker.

When the meat reaches 180-185°F remove the wrap and return the meat to the smoker and continue cooking until the internal temperature reaches 205°F.

Remove the meat and loosely cover with foil. Allow it to rest for 20 to 30 minutes before slicing or shredding.
Nutrition
Calories:
409
kcal
Protein:
76
g
Fat:
12
g
Cholesterol:
183
mg
Sodium:
633
mg
Potassium:
5
mg
* All nutrition information we provide are estimates based on third party calculators. We encourage you to calculate these on your own for accurate results.
You May Also Like