These mouthwatering bone in pork chops are marinated in a sweet and savory mustard sauce and then grilled to perfection.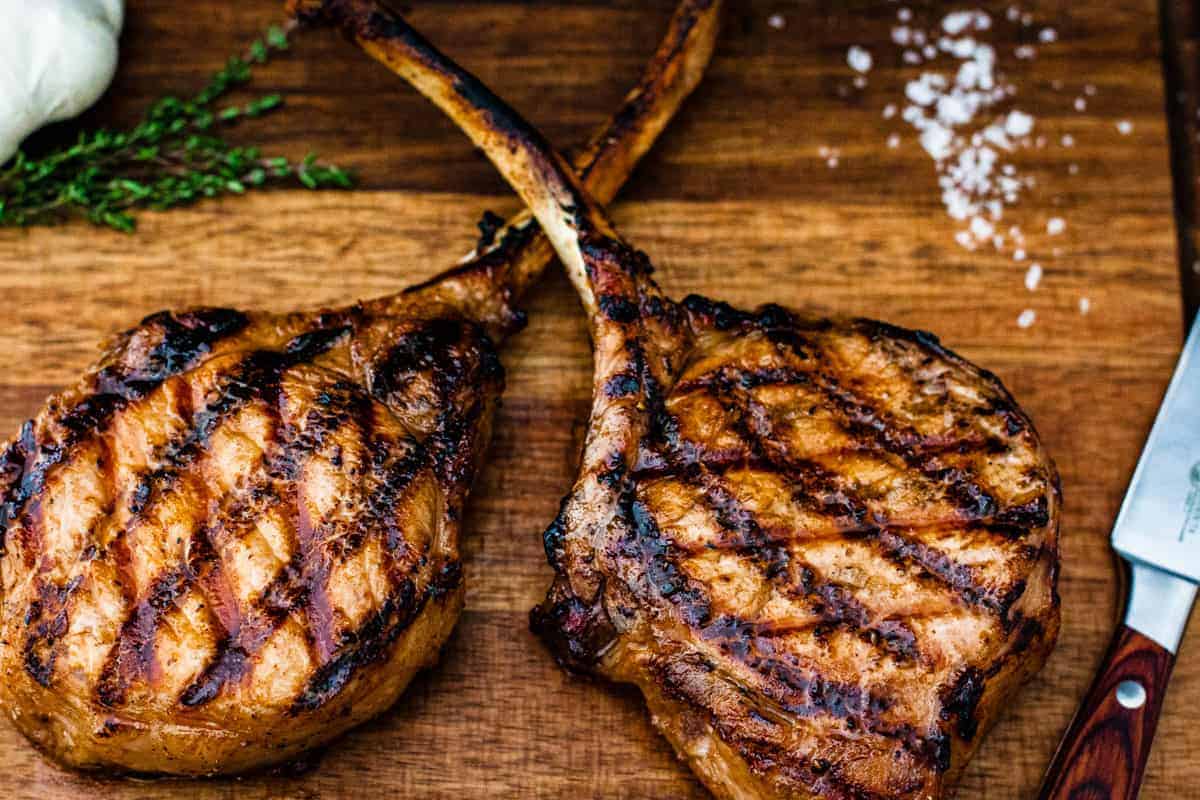 Jump to:
Why this recipe works
Pork chops are a great change up from the normal beef and chicken for your next backyard grilling session. They have a mild flavor and lend themselves to flavorful marinades and rubs. This pork chop recipe features a delicious savory marinade that will have everyone asking for seconds!
Choosing your chops
All pork chops come from the loin section which goes from the shoulder to the hip area of the pig. They are divided into 4 types:
At the shoulder end are blade chops, they have a high amount of bone, fat, and gristle, but excellent flavor.
Next come the rib chops which have a decent amount of fat, a milder flavor, and a long rib bone along the side.
Further down are the loin chops, which have a T-shaped bone in the middle separating the loin and tenderloin meat. These are usually difficult to grill properly due to the very lean tenderloin meat which tends to dry out before the loin meat is ready.
Last, from the hip area, are the sirloin chops which tend to be a tough inexpensive cut more suited for braising.
In most grocery stores you'll find rib chops, loin chops, and boneless chops which are typically rib chops or loin chops with the bone removed.
For the best results I recommend using bone in rib chops. They have a nice pork flavor and tender meat. The bone helps provide a little protection from the direct heat of the grill so they don't dry out.
Look for chops that are at least 1 inch thick and have a little marbling and a nice fat cap. That will also help keep them from drying out. I got these beautiful heritage breed tomahawk chops from my pal Nick at Meat Artisan.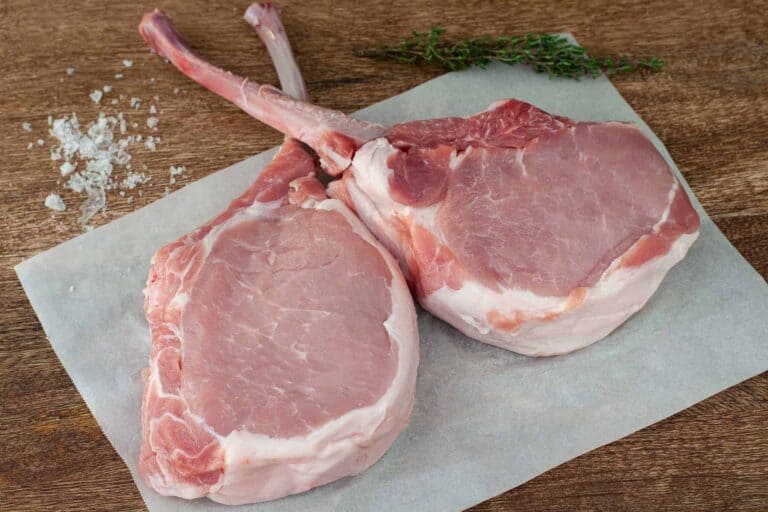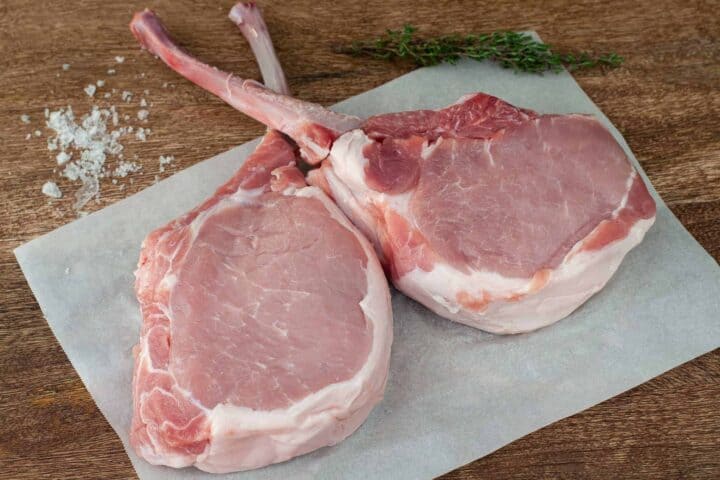 Ingredients for the marinade
Olive oil
Lemon juice
Dijon mustard
Minced garlic
Light brown sugar
Worcestershire sauce
Low sodium soy sauce
Fresh ground black pepper
Prepare the marinade
Add all ingredients in a large mixing bowl and whisk to combine. Add the pork chops to a large resealable plastic bag. Pour marinade over the chops and seal the bag then toss until well coated then refrigerate.
You'll want let them marinate for at least an hour to soak up the delicious sweet and savory marinade. I guarantee they'll be the juiciest and most flavorful pork chops you'll ever taste!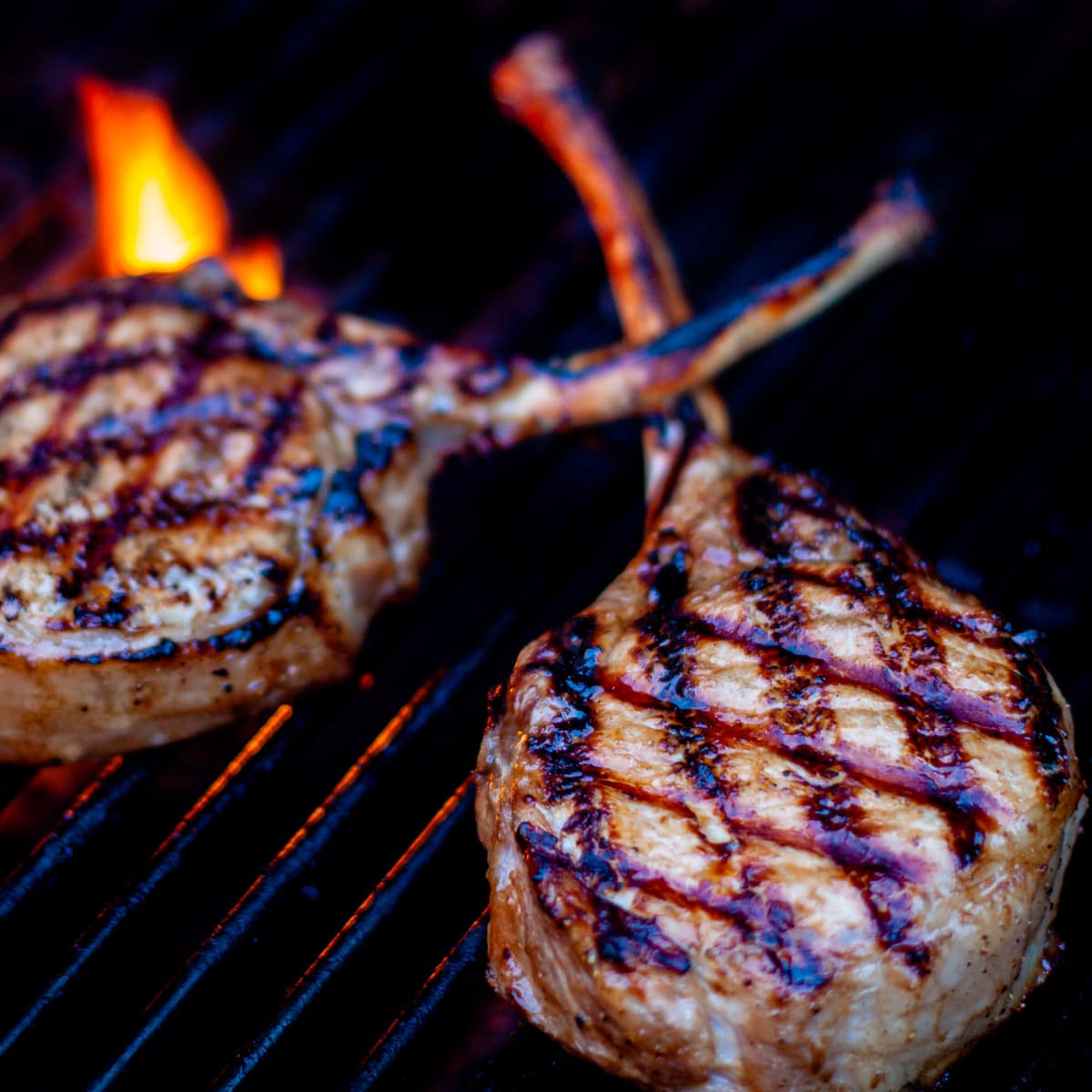 Grilling your pork chops
When you're ready to grill, clean and oil the grates then set your grill to medium high. For a charcoal grill spread an even layer of coals. Allow the grill to heat up for about 10 minutes, then add the pork chops.
Cook for 4 to 5 minutes per side, flipping occasionally, until they reach an internal temperature of 145ºF.
Transfer to a cutting board and tent loosely with foil. Let the grilled pork chops rest for 5 to 10 minutes before serving.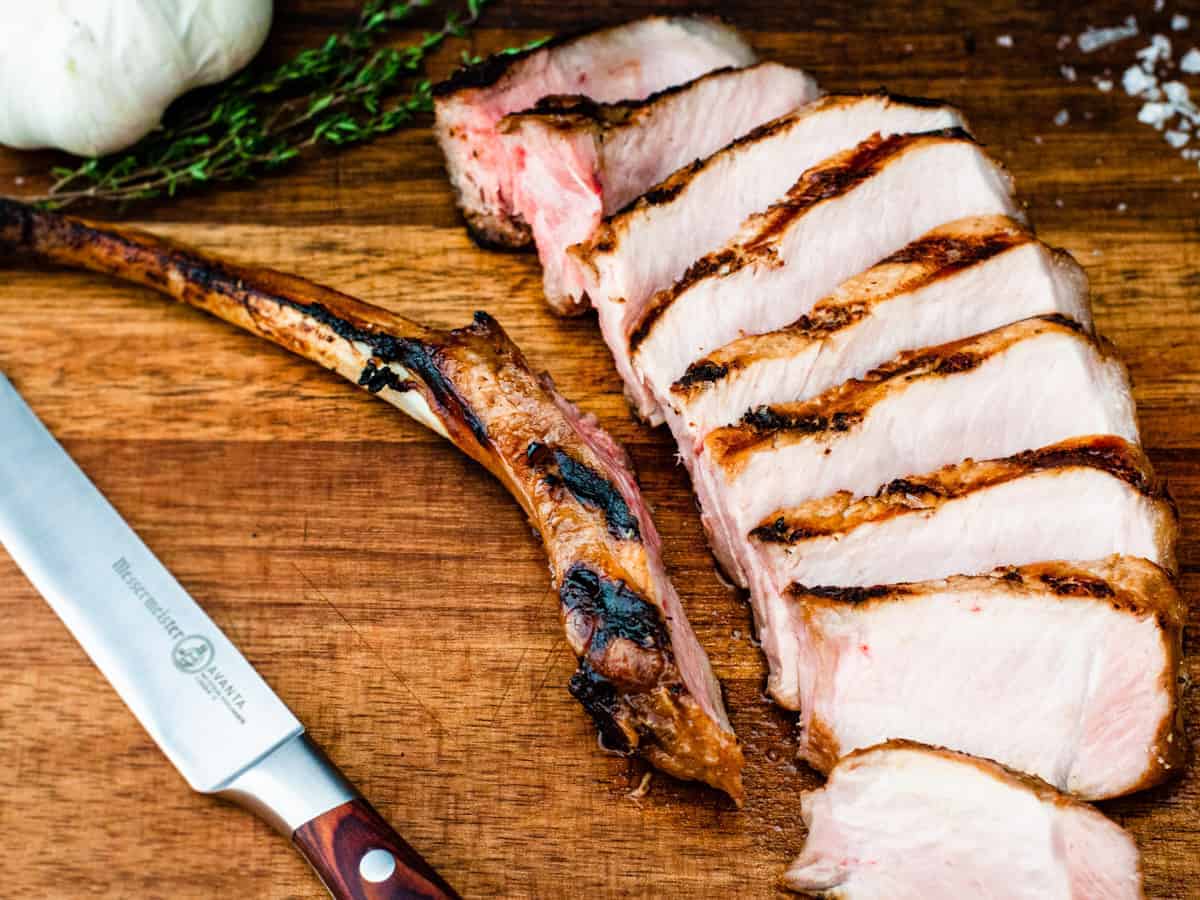 What to serve with grilled pork chops
I love these marinated pork chops with a starchy side like roasted potatoes and also a green vegetable like broccoli or green beans. To make things quick and easy you can also throw some veggies on the grill like asparagus or zucchini.
📖 Recipe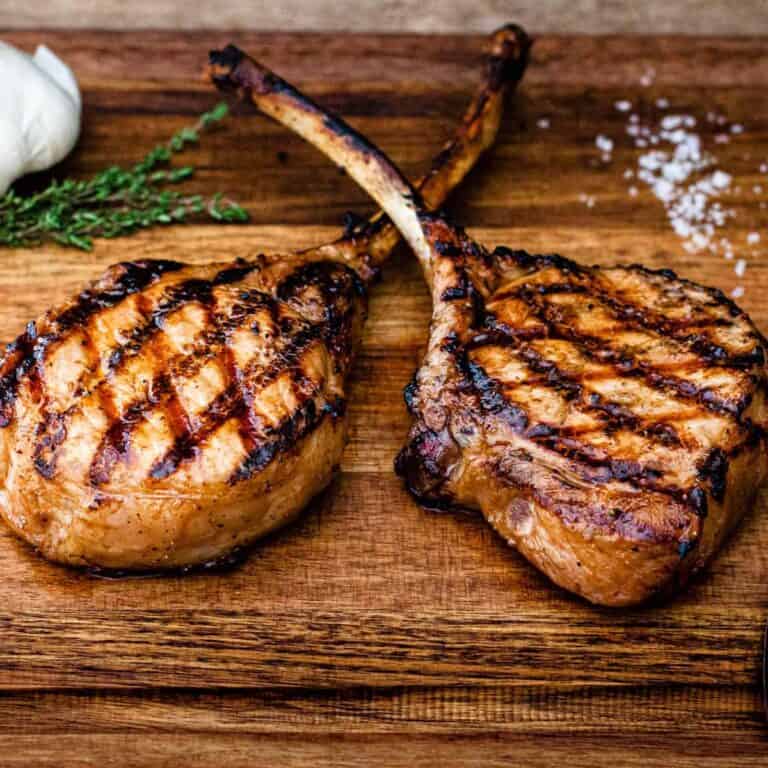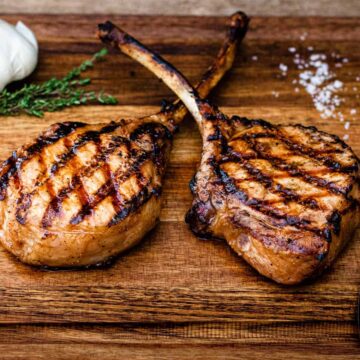 Ingredients
4

bone in pork chops

around 1 in. thick

¼

cup

olive oil

1

tbsp

lemon juice

1

tbsp

Dijon mustard

2

cloves

minced garlic

2

tbsp

light brown sugar

1

tsp

Worcestershire sauce

1

tsp

soy sauce

½

tsp

fresh ground black pepper
Instructions
Combine all ingredients except for the pork chops in a medium bowl and whisk to combine. Pour marinade mixture into a large zip top bag with the pork chops and seal, then toss to combine. Refrigerate for 1 hour up to overnight.

When ready to cook, oil grates and heat grill to medium high heat. Cook pork chops for around four to five minutes per side, flipping occasionally. Aiming for 145 degrees internal temperature.

Remove from grill and cover with foil and let chops rest for around 3-5 minutes before serving.
* All nutrition information we provide are estimates based on third party calculators. We encourage you to calculate these on your own for accurate results.
More recipes for the grill