Steak Au Poivre is French bistro classic that is great for a special occasion but it's quick and easy too. I use the reverse sear technique for cooking the steak to ensure it's perfect every time.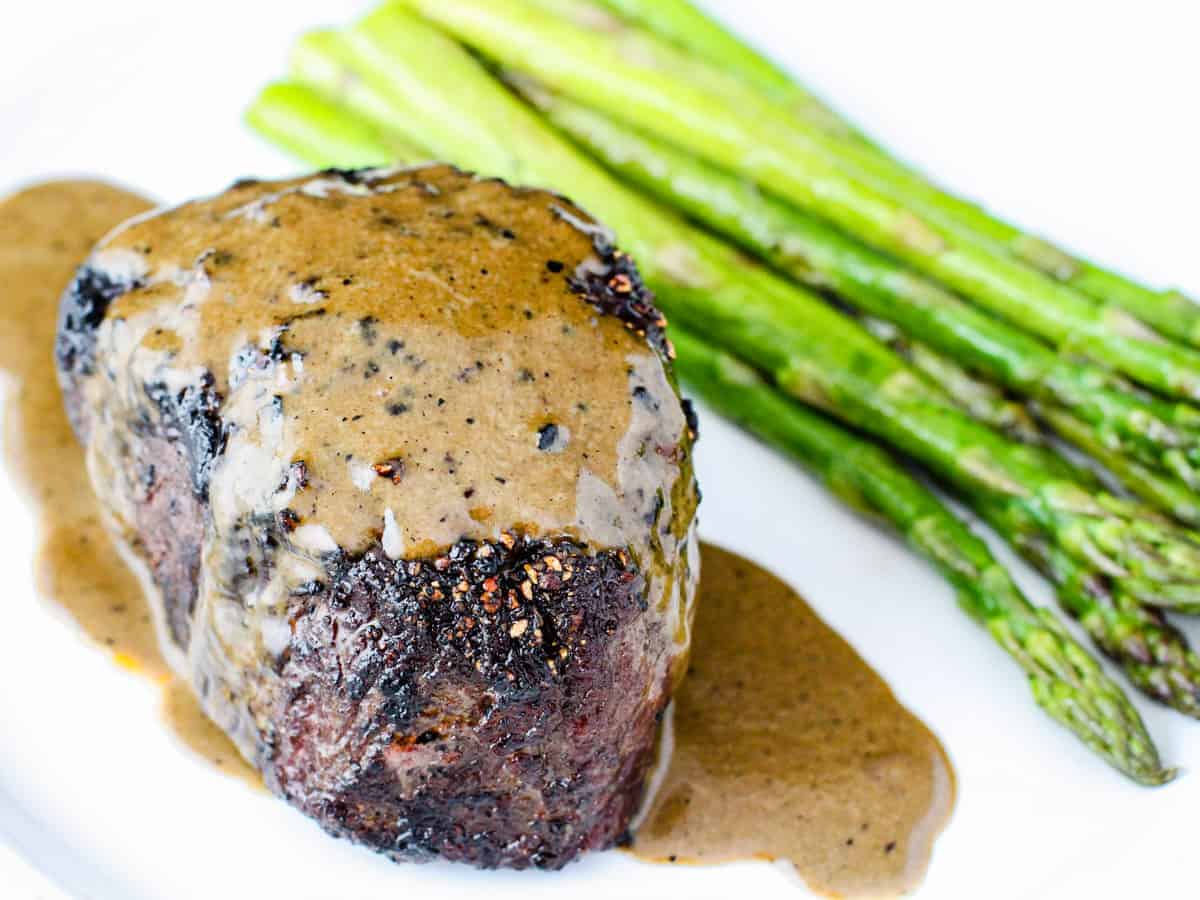 I first had steak au poivre in Paris at the legendary Bistrot Paul Bert. It's one of the most popular classic bistros in Paris and is well known for this dish. The steak is encrusted in crushed peppercorns and coated with a rich creamy sauce. They serve it with a big pile of fries and it's French comfort food at it's best.
When I got home I began searching for the recipe and was happy to find au poivre sauce was actually just a quick pan sauce and easy sauce to make at home. No complicated French techniques required!
The au poivre sauce is great on just about any cut of steak, but is most often served on leaner filet mignon as it's quite rich. In these pictures I've used some beautiful Australian wagyu sirloins from my friends at Meat Artisan.
What is a reverse sear?
If you haven't heard of the reverse sear method of cooking a steak, check out the detailed guide on Serious Eats. It's an easy way to ensure you get a perfectly cooked steak every time. It's also great for this recipe as it allows you to shorten the cooking time in the cast iron pan so you don't have to worry too much about burning the peppercorn crust. You won't get as much fond as you would cooking it in the pan but with the addition of a little beef stock and adding back the juices from the resting steaks you won't notice the difference.
How to reverse sear a steak
You'll first start cooking the steaks in a low temperature oven between 225 to 250ºF.
Remove the steaks when they are about 10 degrees from the final temperature you want. For medium rare I take mine out around 115ºF.
Let the steaks rest for around 10 minutes.
Then you'll heat a cast iron skillet (carbon steel works great too) on high heat and add a little vegetable oil or other high temp cooking oil. When it just begins to smoke, sear your steaks on all sides for around 30 to 60 seconds to finish the cooking.
Remove the steaks and tent with foil and let rest while preparing the sauce.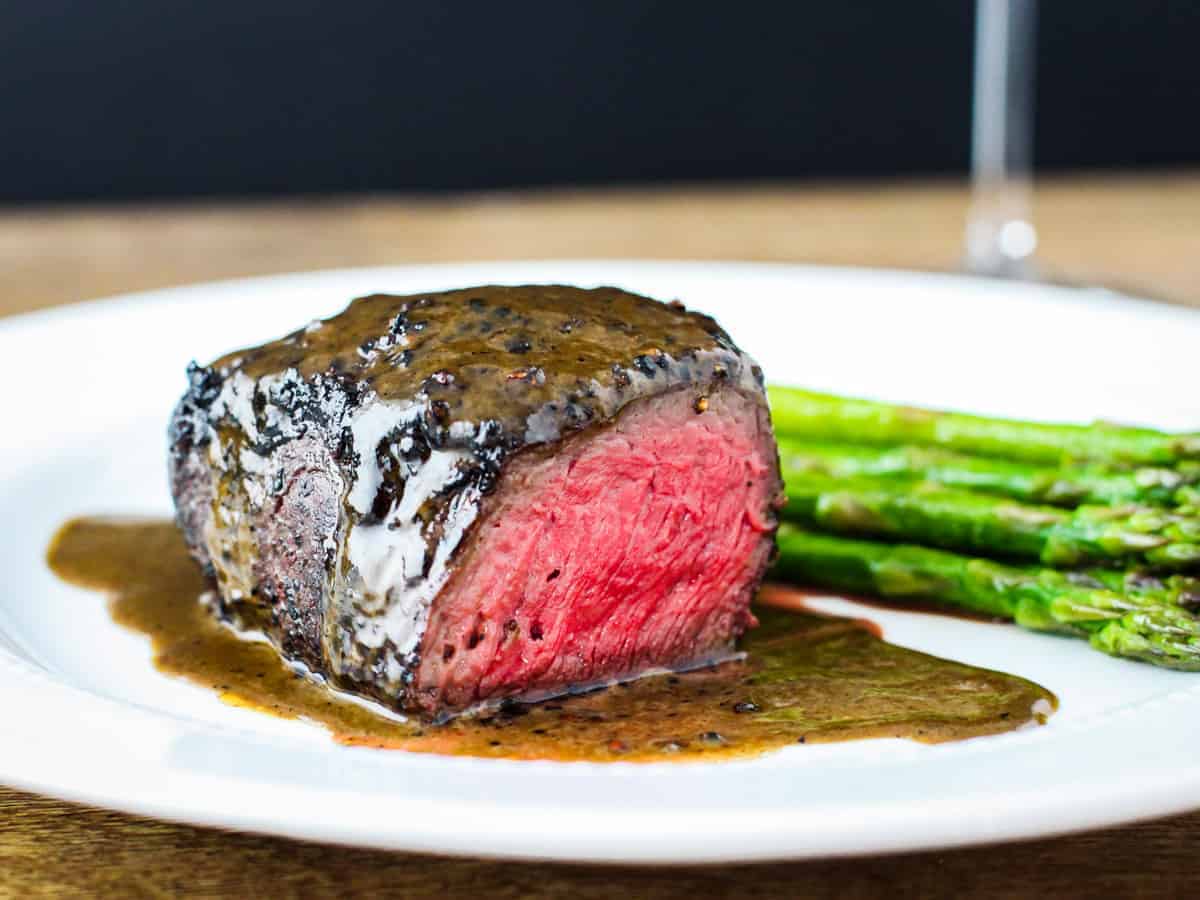 Ingredients for au poivre sauce
Cracked Black Pepper - you'll need to use whole peppercorns for this dish. Place them in a plastic bag and smash them with a kitchen mallet to break them up. You want large pieces so don't get too carried away!
Heavy Cream
Beef Stock
Cognac - This is a French sauce after all!
Butter
How to prepare the sauce
After cooking your steak do not clean out the pan. Remove it from the heat and carefully add the cognac as it may ignite. If it doesn't ignite itself you may want to light it with a long lighter to allow the alcohol to burn off.
Return the pan to the heat and scrape up any brown bits from the pan. After 2 to 3 minutes the cognac should be reduced by about half.
Then add the cream, beef stock, and 2 tablespoons of butter along with any juices that have accumulated from the resting steaks.
Bring to a low simmer and stir frequently until the sauce has thickened enough to coat the back of a spoon. Season with additional salt and pepper to taste. Then spoon over your steaks and serve.
For another great reverse seared steak recipe check out my Perfect Reverse Sear Steak!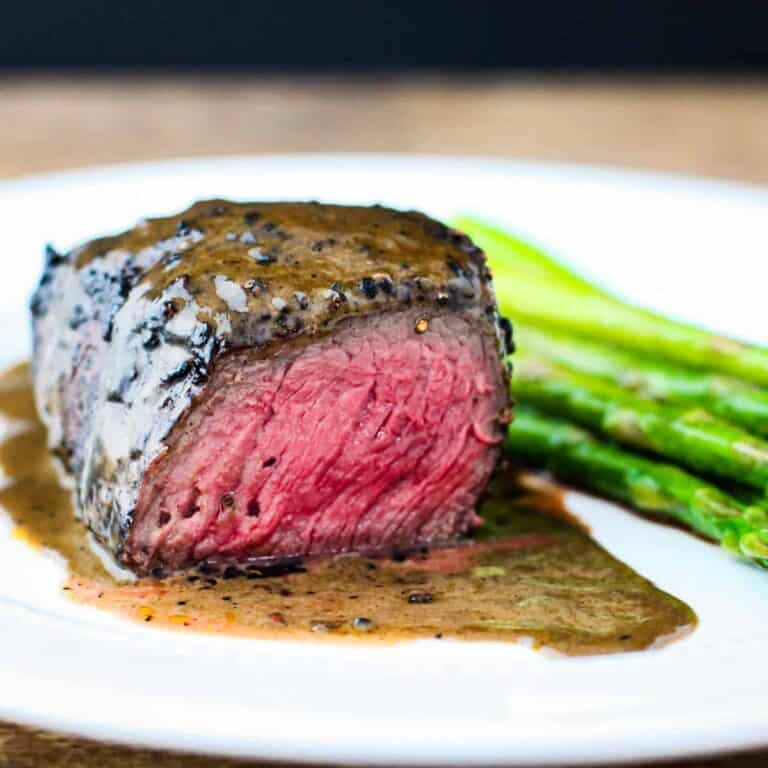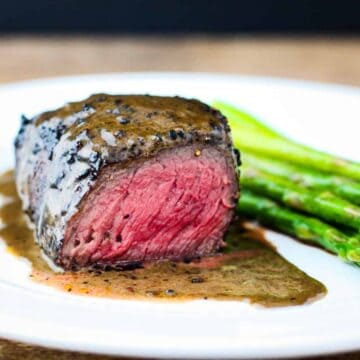 Steak Au Poivre
This is a French bistro classic that sounds fancy but is quick to prepare. Using the reverse sear method results in a perfectly cooked steak every time.
Print
Pin
Share
Rate
Ingredients
4

8 oz

filet mignon

,

or steak of your choice

3

tbsp

whole peppercorns

2

tsp

kosher salt

4

tbsp

butter

,

divided

1

tbsp

olive oil

1

cup

heavy cream

¼

cup

beef stock

⅓

cup

cognac
Instructions
Preheat oven to 250 degrees

Season steak with salt then place in oven until steak reaches 115 degrees then remove from oven (20-25 minutes)

Crush peppercorns with kitchen mallet or heavy skillet and spread evenly on plate

Press steak into peppercorns to coat both sides. Repeat with remaining steaks

Heat cast iron skillet over medium-high heat then add oil and 2 tbsp butter

When oil just begins to smoke add steaks and sear for approx 30-60 seconds on each side being careful not to burn peppercorn crust

Remove skillet from heat then remove steaks and place on plate, tent with foil, and set aside.

Add cognac then return skillet to heat (be careful it may ignite). Scrape up any brown bits and allow to reduce by half (about 2-3 minutes)

Add cream, stock, 2 tbsp butter, and any juices that have accumulated from the resting steaks and stir frequently. Allow to reduce until thickened sauce coats back of spoon (about 5 minutes). Season with salt to taste.

Plate steaks and top with the au poivre sauce then serve
* All nutrition information we provide are estimates based on third party calculators. We encourage you to calculate these on your own for accurate results.
You may also like