This rich and creamy homemade alfredo sauce is perfect for classic Italian pasta dishes like fettuccine alfredo. The best part is that it only takes a few simple ingredients and can be ready in around 15 minutes.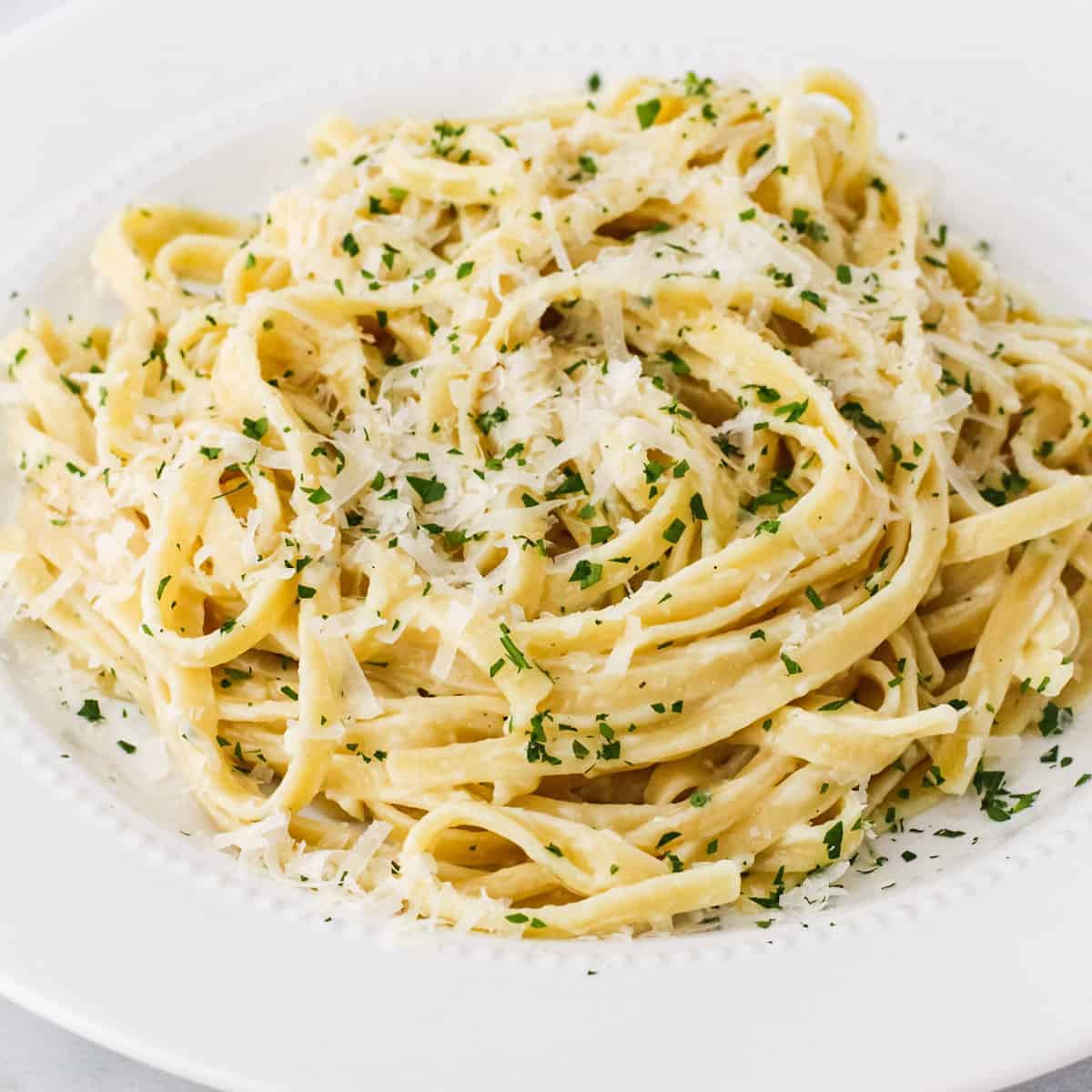 I first learned how to make alfredo sauce from scratch when I worked as a line cook at a country club. It quickly became a go to recipe for a quick and easy weeknight meal. If you haven't made homemade alfredo sauce before you'll be amazed how easy it is and it will surely become a go to for you too!
What cheese to use for alfredo sauce
They key to the best homemade alfredo sauce is the cheese. Get a high quality chunk of Parmesan and grate your own for this recipe. Do NOT use store bought pre-shredded or grated Parmesan cheese just to save a minute or two. Store bought shredded cheese contains additives to prevent clumping which inhibit the melting and your sauce will not have the right consistency.
Ingredients
All you need are 3 simple ingredients for to make a basic alfredo sauce. Heavy cream, butter, and cheese. To add more flavor we will add some garlic, a little salt and pepper, and some parsley for color.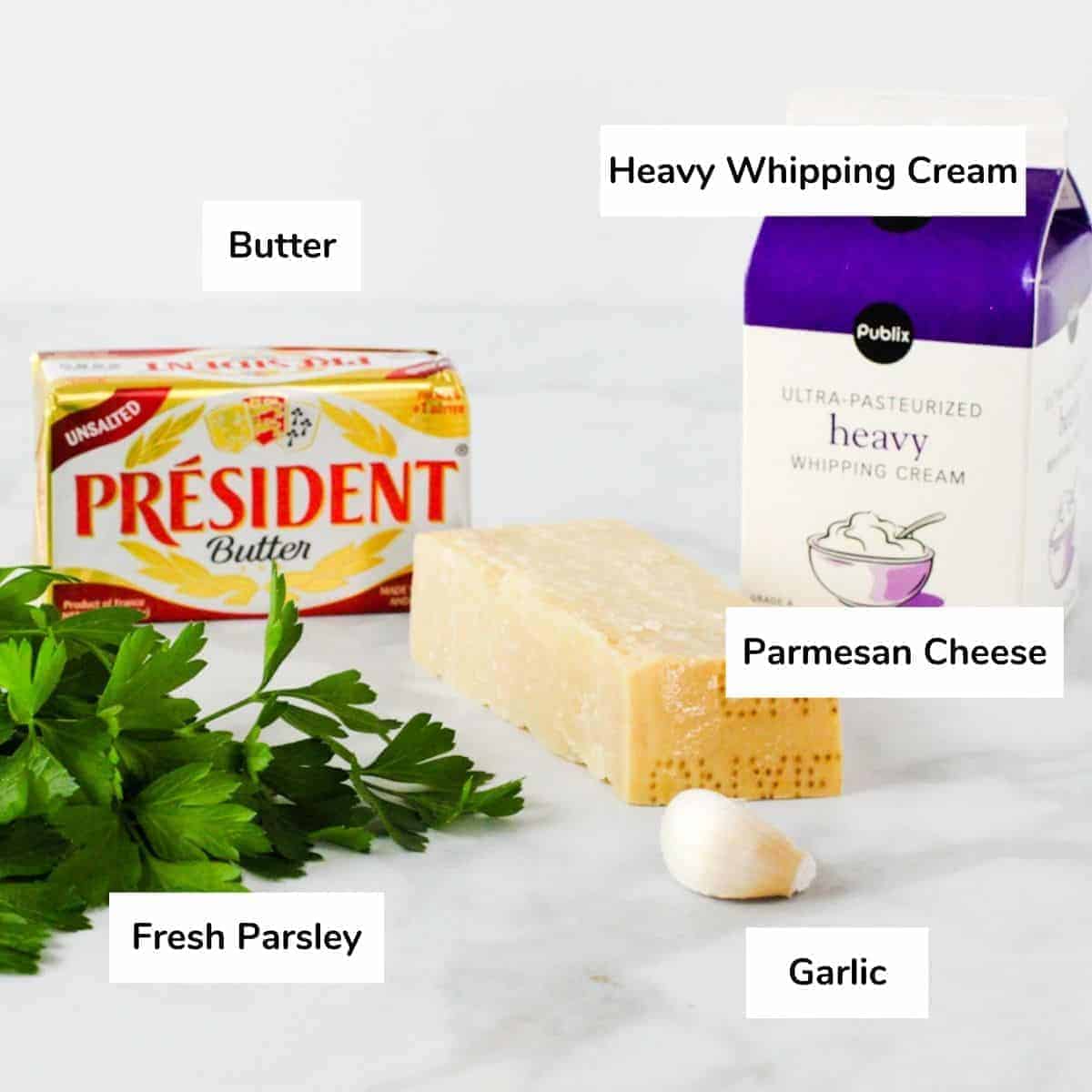 How to make homemade alfredo sauce from scratch
Melt the butter in a saucepan until the foaming subsides then cook the garlic for around 30 seconds until it becomes fragrant. Then add in your cream.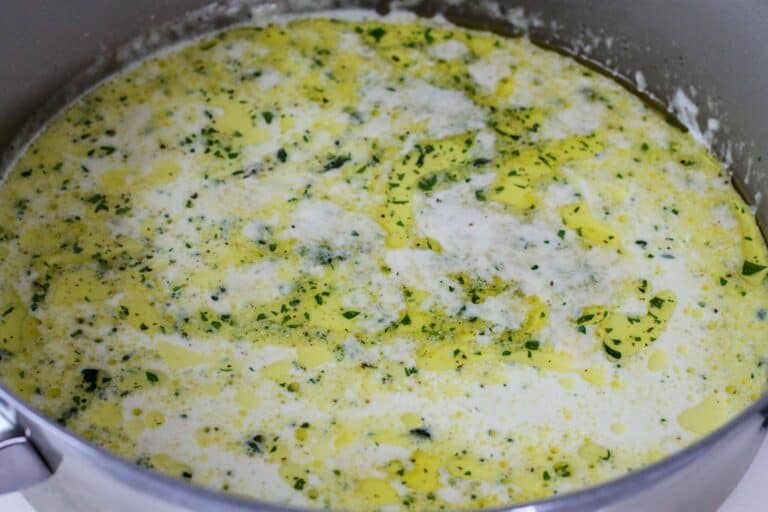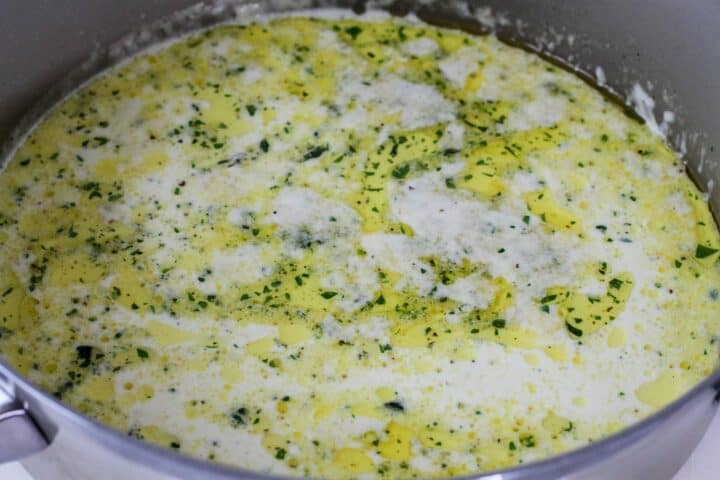 When the cream comes to a low simmer begin adding the shredded Parmesan cheese in batches and stirring until melted and combined. Then cook until the thickened sauce coats your spoon.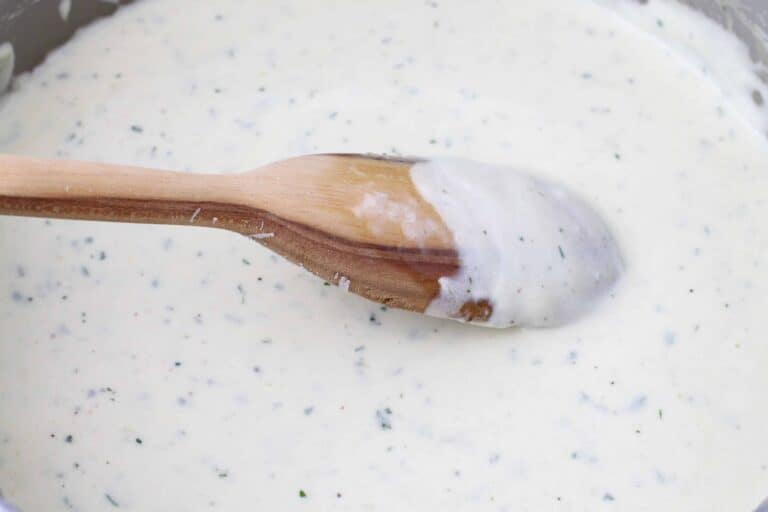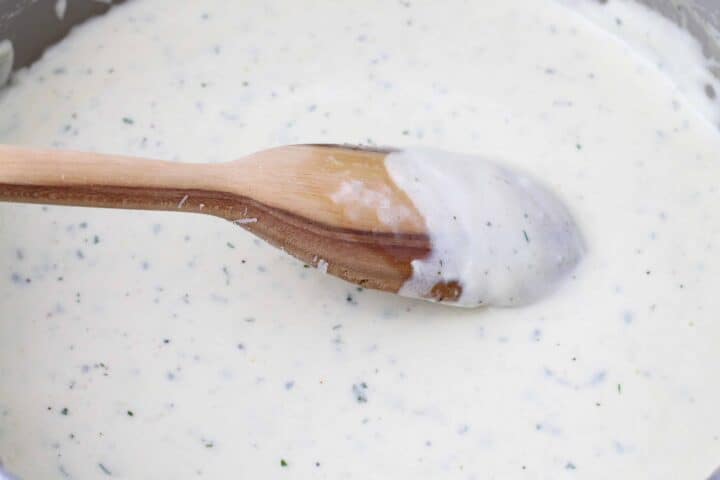 What to serve with homemade alfredo sauce
This homemade alfredo sauce goes great on just about all of your favorite pastas. I usually make a simple classic fettuccine alfredo or penne pasta. I also like to add chicken for chicken alfredo or shrimp. Vegetables like broccoli or peas are good options as well.
Alfredo also great for chicken or seafood lasagna and sometimes I'll mix it with jarred red sauce for a easy creamy baked ziti. It also goes well on homemade pizza!
For a spicy version try my Cajun Shrimp Pasta! It's also great in my Chicken and Spinach Lasagna in place of the bechamel sauce I use there. And for a different twist try adding in some homemade pesto sauce for a pesto alfredo sauce!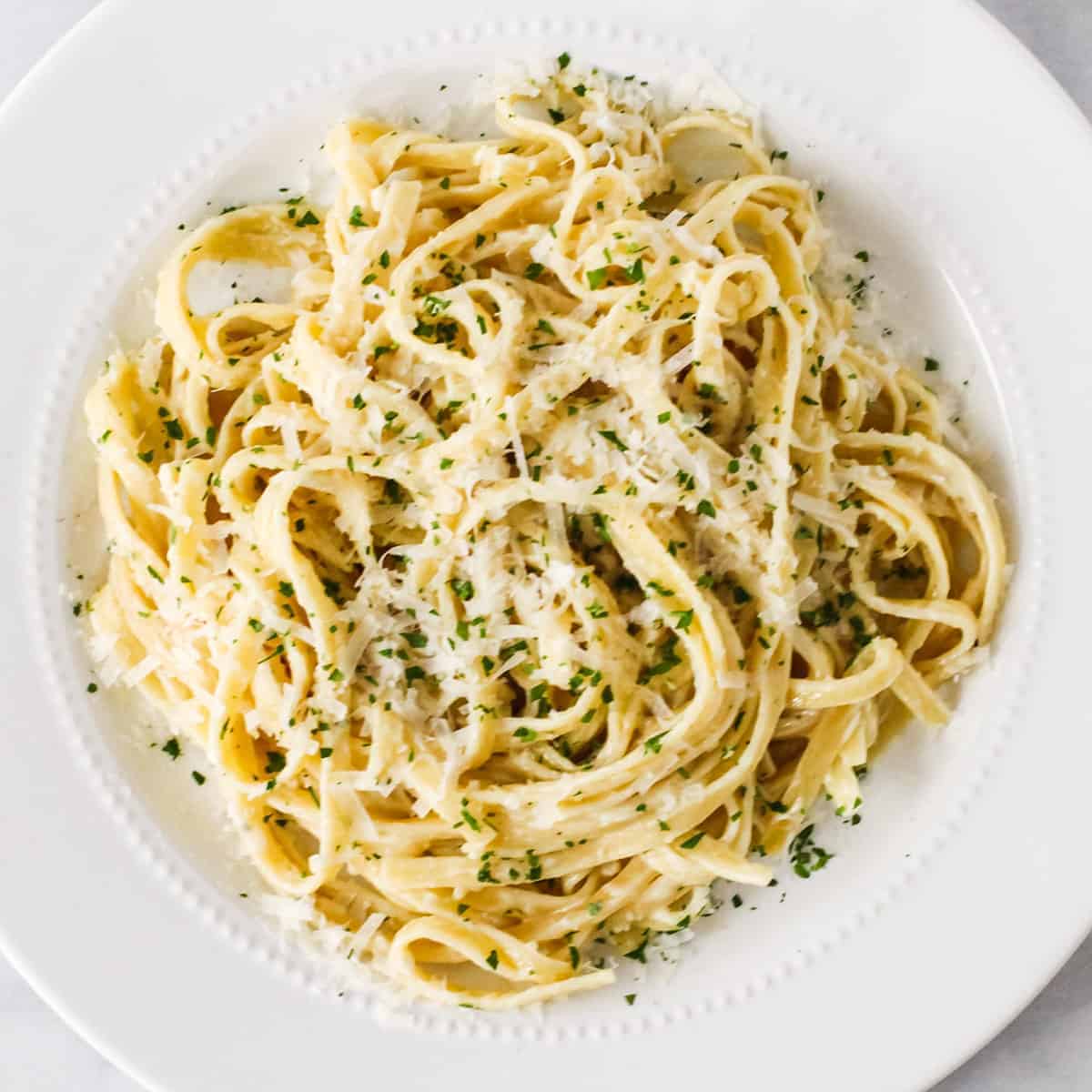 Alfredo sauce tips and FAQs
Can I make alfredo sauce with milk?
Yes, the cream can be replaced with milk or half and half. To make homemade alfredo sauce without heavy cream you will need to add flour to make a roux which will help thicken the sauce.

After cooking the garlic add 2 tablespoons of flour and cook, stirring frequently, until lightly browned, about 2 minutes. Then add the milk and whisk until smooth and proceed as directed.
How to reheat alfredo sauce in the microwave
Alfredo sauce will typically "break", or separate, when reheating in the microwave. To make it rich and creamy again stir in some additional cream before reheating. Around ¼ cup per serving should do the trick.
How to make dairy free alfredo sauce
Make these simple substitutions for an easy lactose free alfredo sauce without dairy:
1. Replace the butter with olive oil.
2. After cooking the garlic, add in 2 Tablespoons of flour. Stirring frequently, cook until lightly browned, around 2 minutes.
3. Replace the cream with 1 cup of cashew milk, soy milk or other milk alternative and 1 cup of full fat coconut milk.
4. Replace the Parmesan cheese with 2-3 Tablespoons of nutritional yeast.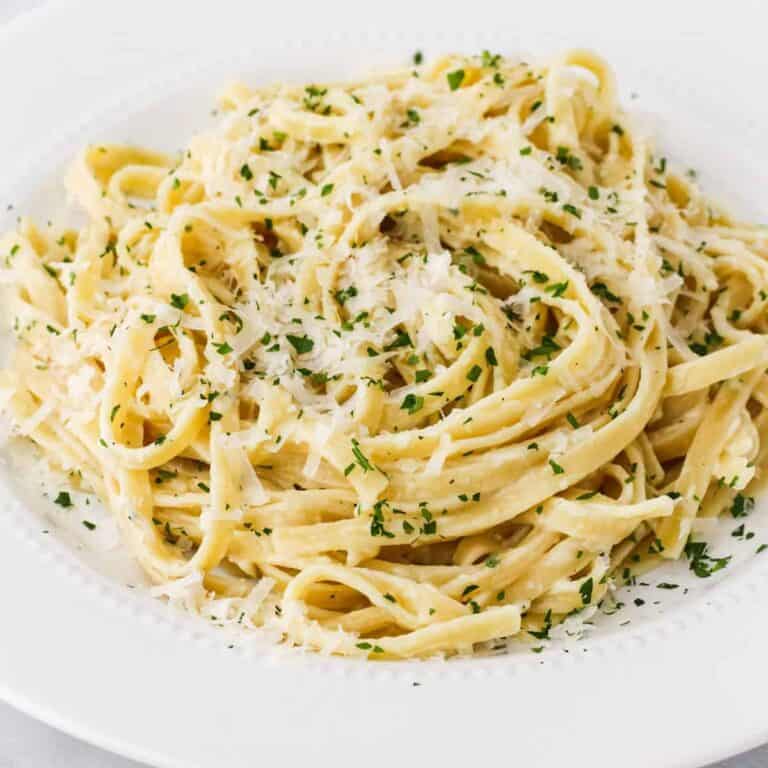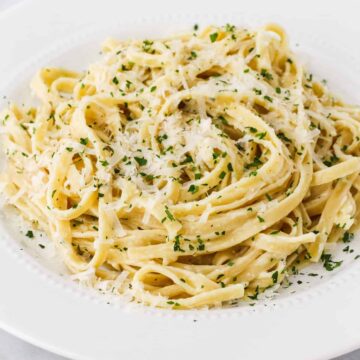 Creamy Homemade Alfredo Sauce Recipe
This rich and creamy homemade alfredo sauce is delicious on a bed of pasta, in a white lasagna, or on pizza. Best of all it's only a few simple ingredients and can be done in around 15 minutes.
Print
Pin
Rate
Ingredients
3

tbsp

butter

1

clove

garlic

,

minced

1

pint

heavy cream

1

cup

finely grated Parmesan cheese

1

tbsp

parsley

,

chopped

salt and pepper

,

to taste
Instructions
Heat butter in a saucepan over medium heat until melted. Add garlic and cook until fragrant, about 30 seconds

Add in the cream and when just simmering add the Parmesan cheese in batches, stirring frequently until each batch is melted. Continue stirring until sauce is thickened and coats spoon.

Add parsley and salt and pepper to taste then toss with pasta and serve.
Notes
Do NOT use store bought grated or pre-shredded Parmesan cheese. It will not melt properly for this sauce.  Use a chunk of high quality Parmesan like Parmigiano-Reggiano.
Nutrition
Calories:
388
kcal
Carbohydrates:
3
g
Protein:
5
g
Fat:
42
g
Saturated Fat:
25
g
Monounsaturated Fat:
3
g
Cholesterol:
136
mg
Sodium:
515
mg
Potassium:
117
mg
* All nutrition information we provide are estimates based on third party calculators. We encourage you to calculate these on your own for accurate results.
More tasty pasta recipes