These delicious grilled beef short ribs are marinated in a sweet and savory Asian sauce and will make a great choice for your next cook out.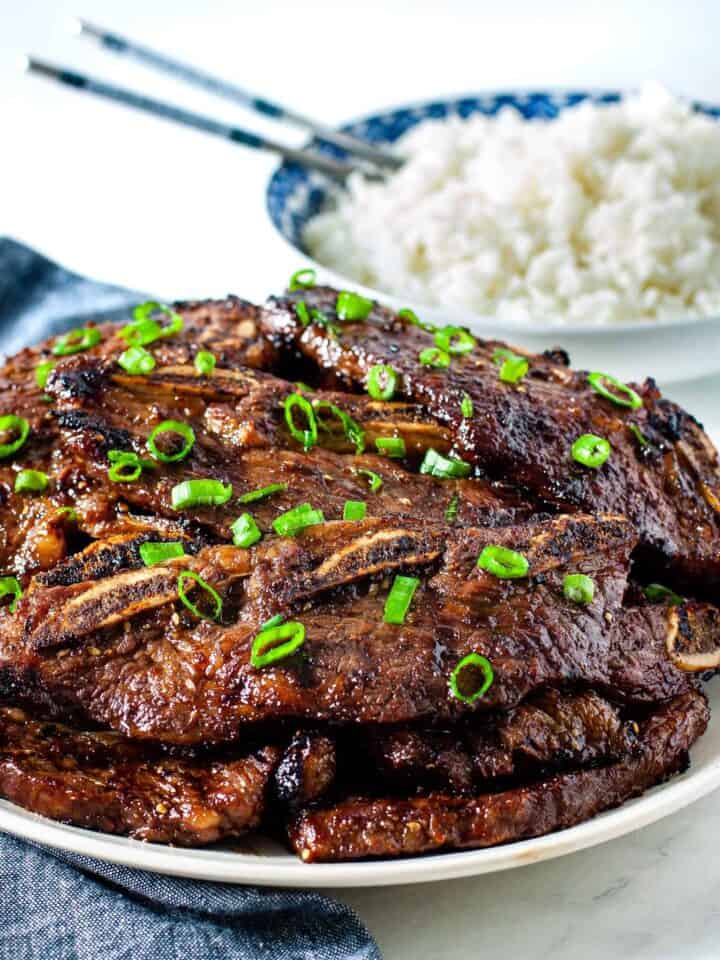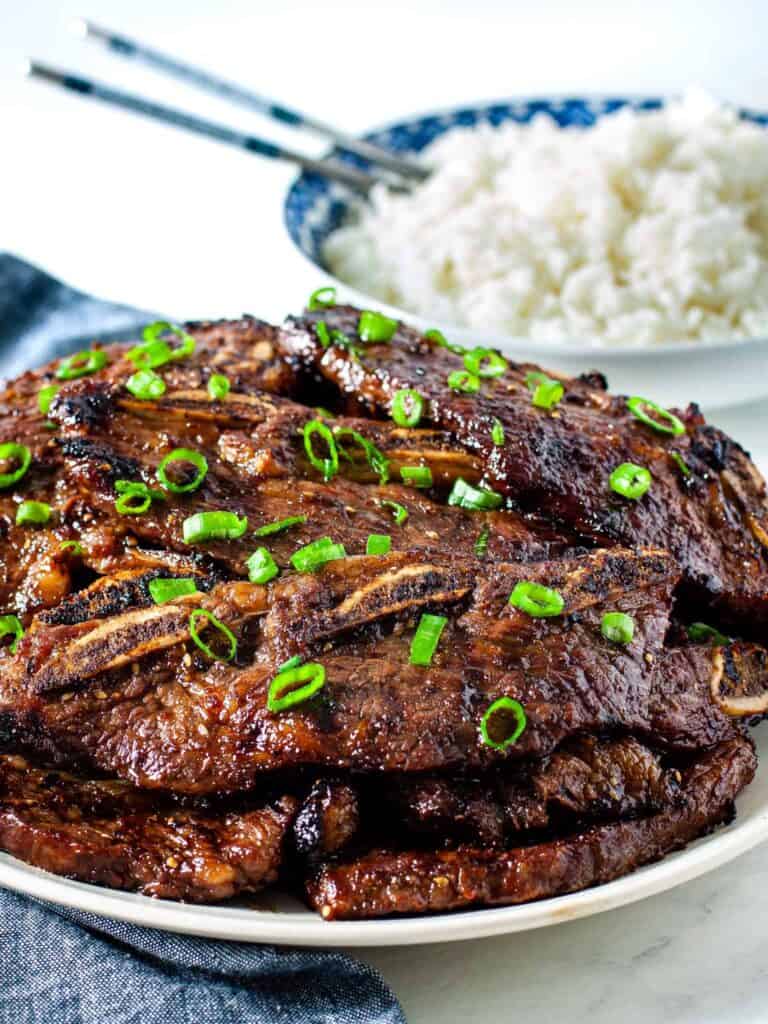 This dish is an old family recipe given to me by my friend James Fisher of Tacoma, WA. The secret to this dish is Asian pear which contains an enzyme that helps to tenderize the meat. The results are mouthwatering, tender cuts of flavorful beef similar to Korean barbecue kalbi (galbi).
What are short ribs?
Most short ribs you will find are cut from the brisket or chuck area of the cattle, though they can also come from the rib and plate areas as well. They're primarily used for the meat on top of the bone where the meat is typically very well marbled and very flavorful. There are two common short rib cuts, the "English" cut and the "flanken" cut.
The most common are the English cut, which are cut parallel to the bone. These are typically cut into smaller 2 to 3 inch chunks and are often braised or stewed. The chunks are also sometimes sold without the bone attached as boneless short ribs. Occasionally you will see larger English cut ribs around 6 inches as well. Those are great for smoking low and slow.
The other common cut is the "flanken" cut which are thinner ½ to 1 inch thick cuts across multiple bones. These are common in Asian cooking, probably the most well known use being kalbi in Korean barbecue. The thin cut is perfect for grilling short ribs.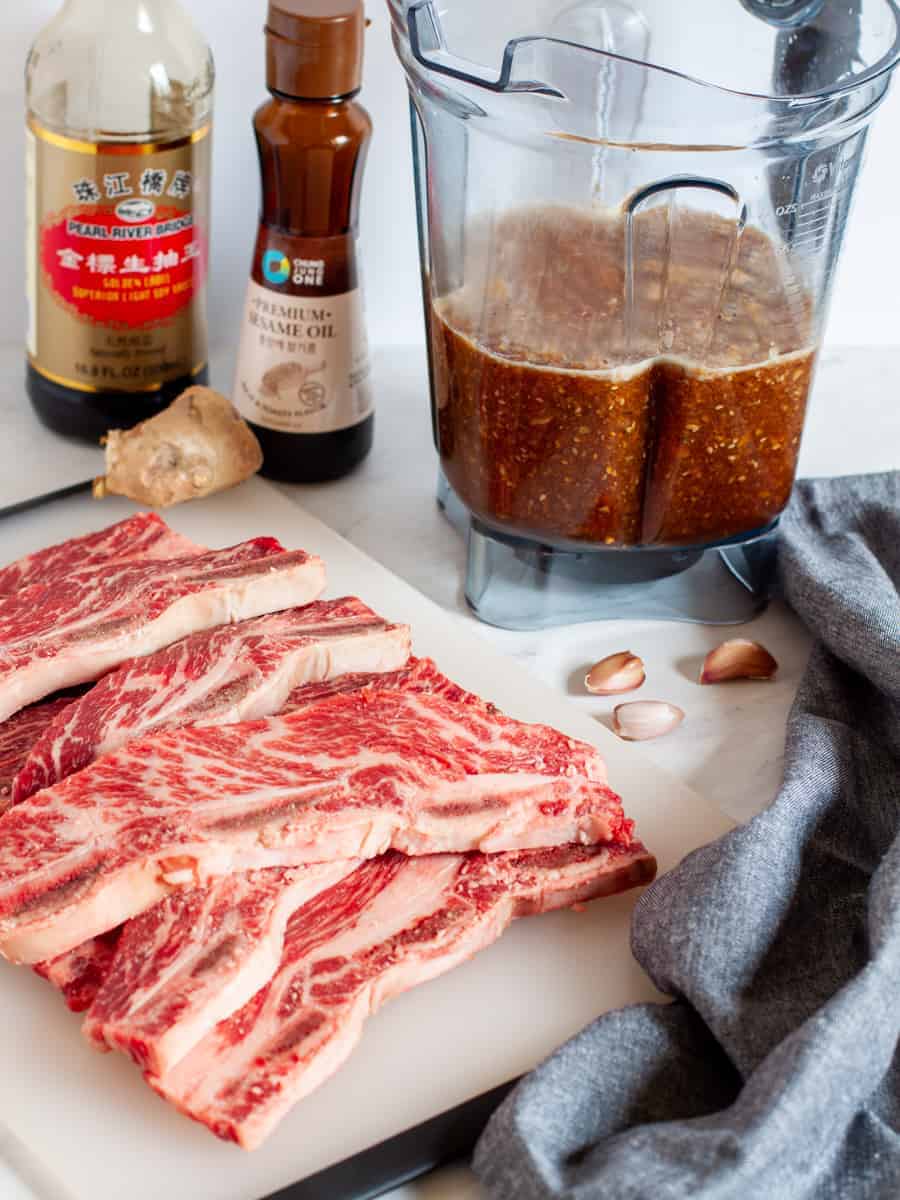 What ingredients you'll need
The marinade is essentially the same as a traditional kalbi short rib or bugolgi beef in Korean bbq recipes. It's a little savory and a little sweet and, if you like a little spice, you can add some chili sauce to it for a kick. For this dish you'll need:
Short ribs - This recipe calls for flanken-cut short ribs. If you don't see them at your supermarket you can typically ask the butcher to cut them for you. I usually go to an Asian market for mine though. They're always available there and there are more to choose from.
Asian pear - I used Korean Singo pear. It has a crisp texture that holds up well in the food processor and a mild sweet flavor similar to an apple.
Onion - One whole medium white onion.
Garlic - 10 cloves of garlic.
Ginger - I used a small half inch piece of peeled fresh ginger. If you're a ginger lover feel free to add more.
Sugar - 1 cup white granulated sugar.
Soy Sauce - You'll need 1 cup of soy sauce. I prefer reduced sodium soy sauce in this dish.
Sesame Oil - 2 tablespoons
Pepper - 1 tablespoon of fresh ground black pepper.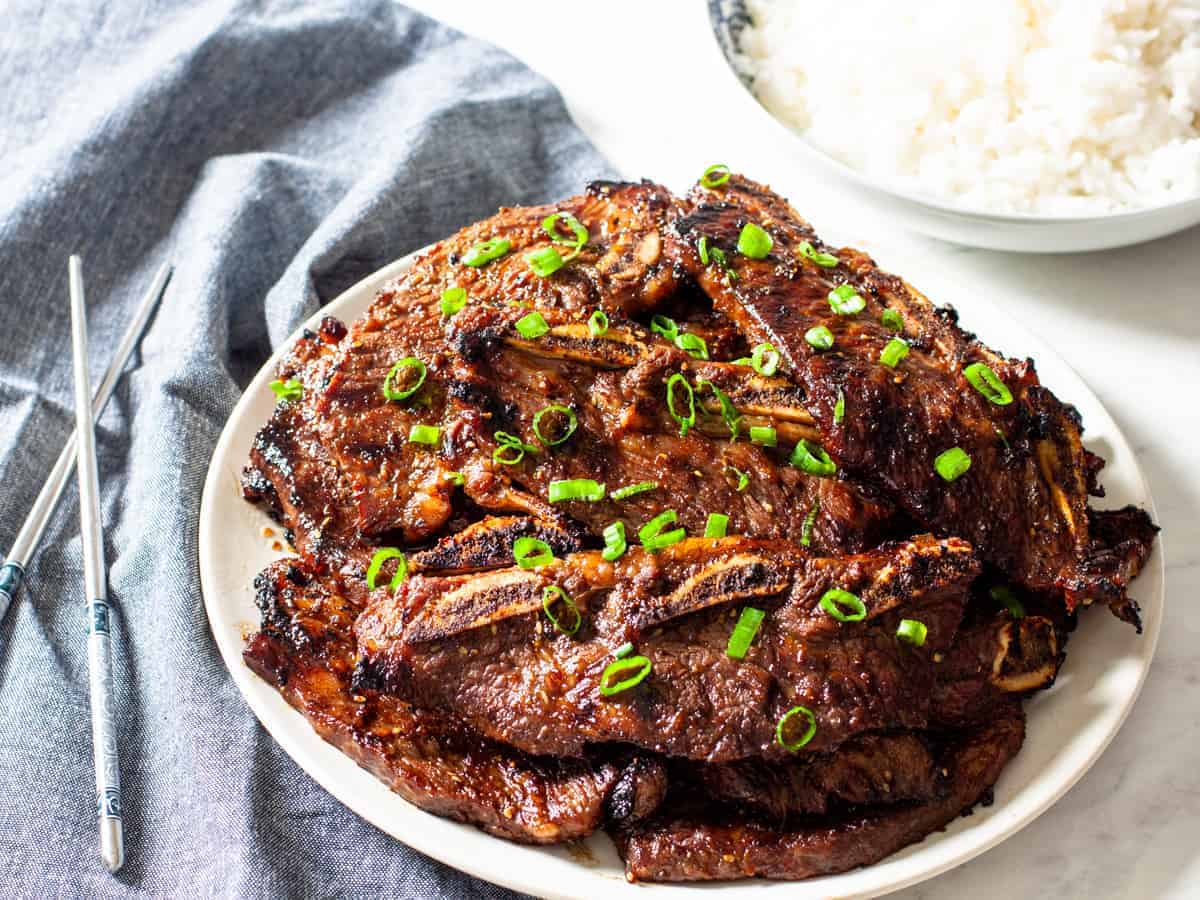 How to prepare your short ribs
You'll first add the peeled and cored pear to a food processor or blender along with the onion, garlic, and ginger. Then pulse 4-5 times until all of the ingredients are roughly chopped. Next, add the soy sauce, sesame oil, sugar, and pepper and blend for around 20-30 seconds until well combined.
Add your short ribs to a large resealable plastic bag then pour the marinade over top. Seal the bag and shake to coat the meat, then refrigerate for at least one hour, up to overnight.
How to cook the short ribs
The meat is cut thin and cooks up quick so it's best to grill these short ribs. Begin by cleaning the grill grates thoroughly then wipe with vegetable oil. If using a gas grill heat your grill to high heat for around 5 to 10 minutes. For a charcoal grill spread an even layer of hot coals in the grill and cover for a few minutes with the top and bottom vents open.
After the grill is preheated, remove the short ribs from the marinade and place on the grill and discard any remaining marinade. Cook for around 2 to 5 minutes on each side depending on the thickness of your short ribs and how well done you prefer your beef.
After grilling transfer the short ribs to a platter and garnish with chopped scallion then serve immediately. These short ribs have a ton of flavor and go great with some simple steamed rice and vegetables.
If grilling is not an option, you can also broil the marinated short ribs in the oven. Set your broiler to high and allow it to preheat then cook for 3-5 minutes per side.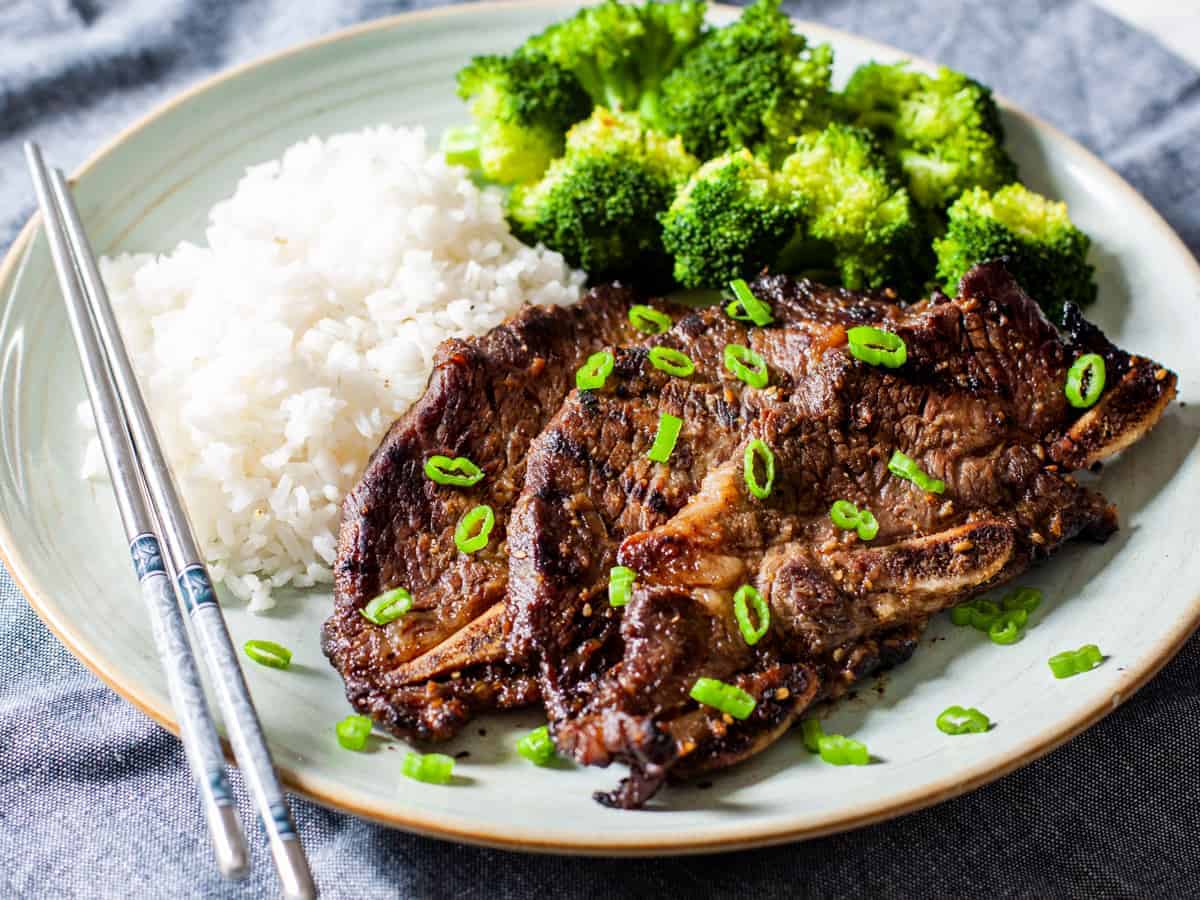 Other Asian favorites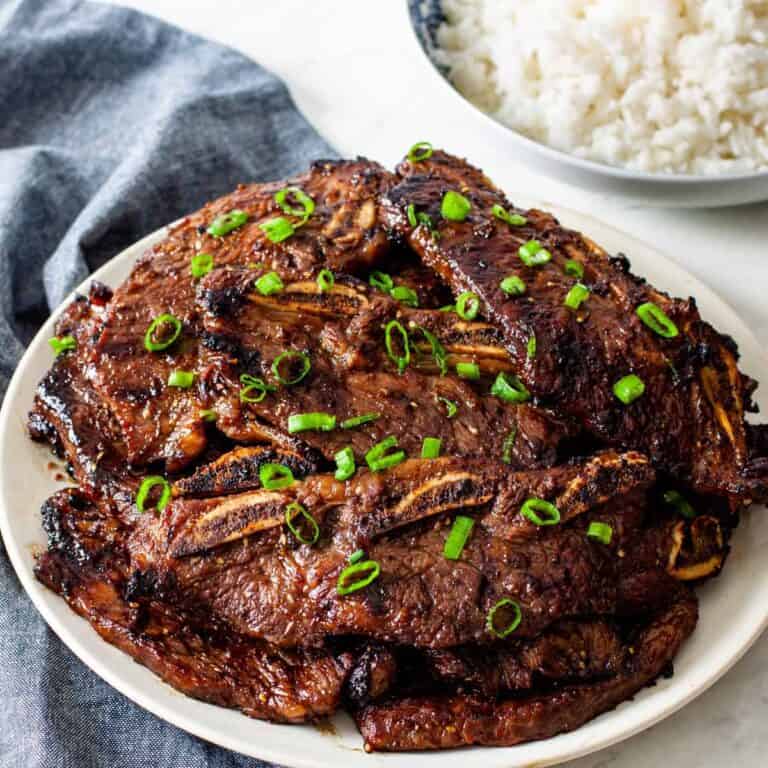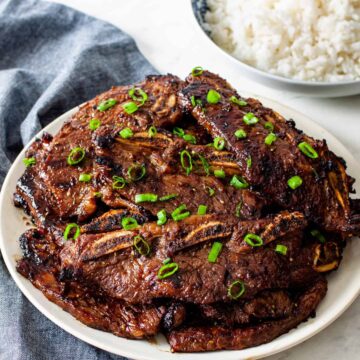 Asian Grilled Short Ribs
A delicious sweet and savory Asian marinade for grilled beef short ribs
Print
Pin
Share
Rate
Ingredients
2

pounds

flanken-cut short ribs
Marinade
1

cup

soy sauce

1

cup

sugar

2

tbsp

sesame oil

1

tbsp

ground black pepper

1

medium

onion

1

large

Asian pear

,

peeled and cored

10

cloves

garlic

½

inch

piece ginger

,

peeled
Instructions
Marinade
Add Asian pear, onion, garlic and ginger to food processor or blender and pulse 4-5 times until roughly chopped. Add remaining marinade ingredients and blend for around 20-30 seconds until combined.
Short Ribs
Add short ribs to a resealable plastic bag and pour marinade over top, then seal the bag and shake until the meat is well coated. Refrigerate for at least 1 hour up to overnight.

Clean grill grates and wipe with vegetable oil then heat grill to high heat. Grill the short ribs for 2-5 minutes per side depending on preference. Remove and to a platter and serve immediately.
* All nutrition information we provide are estimates based on third party calculators. We encourage you to calculate these on your own for accurate results.
More Asian Recipes to try