Sesame chicken is a classic Chinese takeout dish and a family favorite in my house. It features crispy fried chicken bites in a sweet and savory sauce. It's also incredibly quick and easy to make it at home and you just need some common pantry ingredients.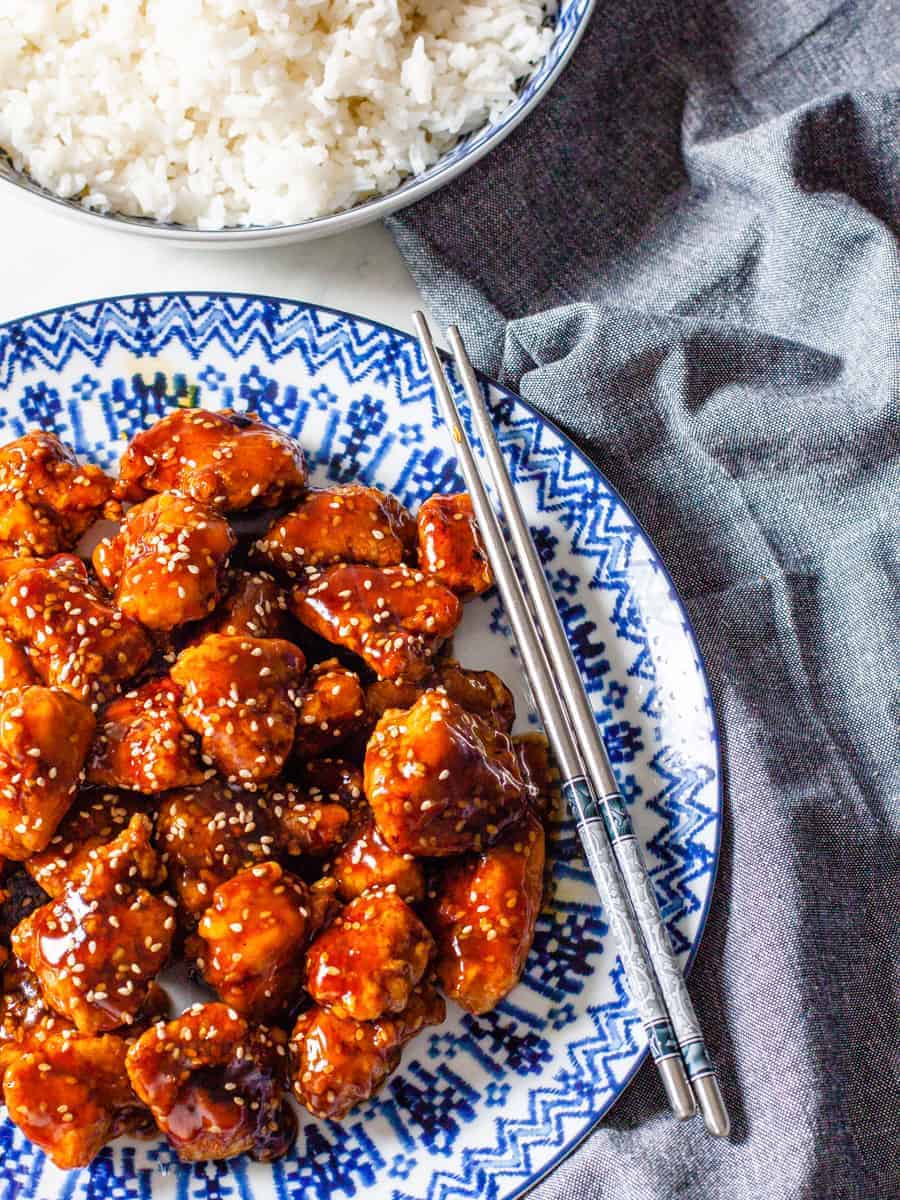 What ingredients you'll need
The ingredients for this dish are very common if you make other Asian food and they are generally available in most super markets. I've linked to some of my favorite brands as well for a few of the ingredients.
Chicken - I prefer boneless skinless chicken breasts in this recipe but boneless skinless thighs will work too.
Corn Starch and Flour - For the breading you'll use a 50/50 mix of corn starch and flour. This mix will give you a crispier and more golden brown result than flour alone. You'll also use a little corn starch in the sauce to thicken into a silky sauce that clings to the chicken.
Eggs - I do a two part breading process and dip the chicken into the beaten eggs and then into the dry mix instead of making a wet batter. I feel like it gives a crispier result.
Vegetable Oil - I like to use vegetable oil for frying. I just use 1-2 inches and flip them over a few times while cooking. You can use more oil and fully deep fry them if you prefer.
Light Soy Sauce - I prefer Pearl River Bridge brand if you can find it or order it online but Kikkoman is good too. If you want a deeper flavor and have it on hand, adding a teaspoon of dark soy sauce is great too.
Sesame Oil - Sesame oil gives the sauce it's distinct nutty flavor. Kadoya brand is a good choice.
Honey and Brown Sugar - to sweeten the sauce I use a combination of honey and brown sugar. I think it gives a nice well rounded sweetness without being too honey forward.
Rice Vinegar - Rice vinegar helps balance the sauce with a mild and slightly sweet acidity.
Sesame Seeds - Toasted sesame seeds add to the nutty flavor and give a nice appearance to the sauce
Garlic - just a touch of garlic to boost the savoriness of the sauce.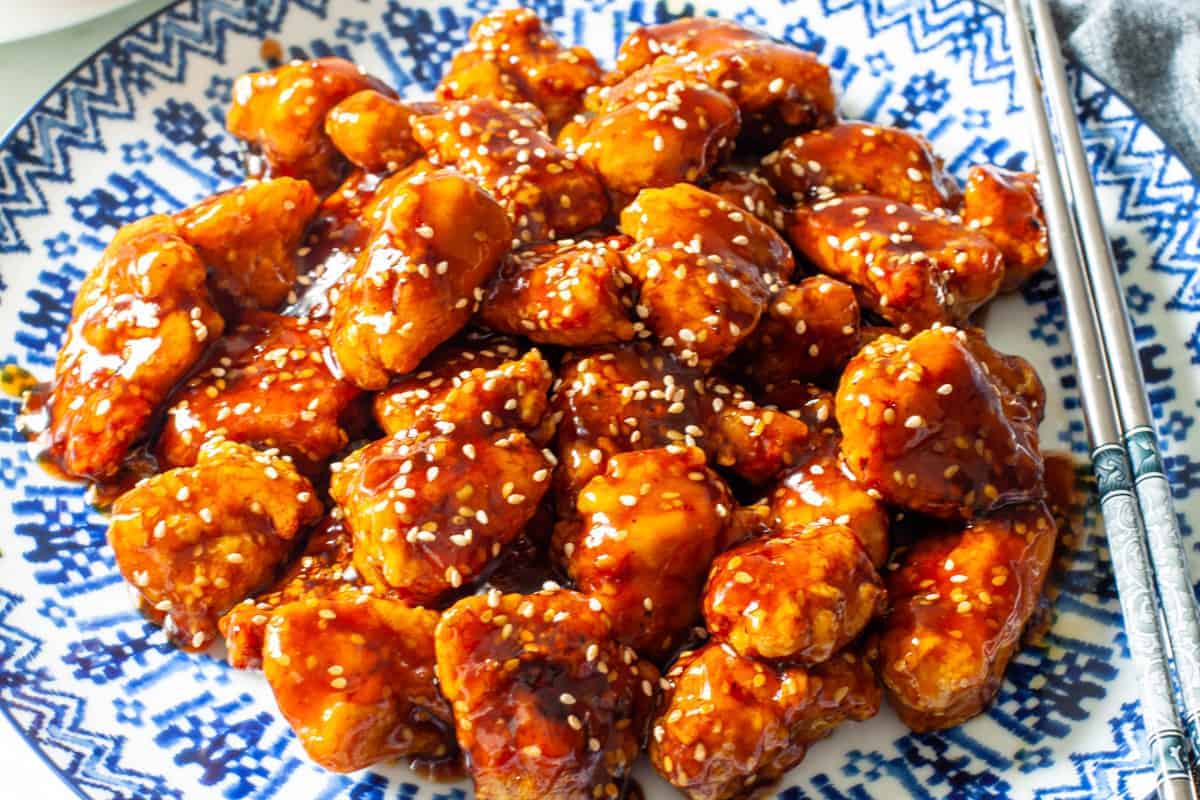 How to prepare the chicken
For this dish you have a few options when it comes to preparing and cooking the chicken. I like to use a two step breading process. First you'll beat a couple of eggs in a bowl. Then in a small plate add a 50/50 mix of cornstarch and flour along with a teaspoon of salt and stir them to combine.
Dip the pieces of chicken into the eggs, then coat with the flour mixture and set aside. Repeat this with the remaining chicken until you have it all breaded.
If you prefer you can also create a wet batter, combine the cornstarch, flour, and salt in a bowl then combine 1 egg and around ¼ to ⅓ cup of water and stir until combined into a thick batter. Then add the chicken and stir to coat evenly. Deep frying works a little better with a wet batter so you'll need a little more oil if making it this way.
You can also leave off the breading and make a sesame chicken stir fry if you want a little lighter dish. For this method, season the cubed chicken with a tablespoon of soy sauce and let it sit in the refrigerator for around 10-15 minutes before cooking. Heat 1 tablespoon of vegetable oil along with 1 teaspoon of sesame oil in a pan over medium high heat and stir fry it until the chicken is cooked through. Then set aside and proceed with making the sauce.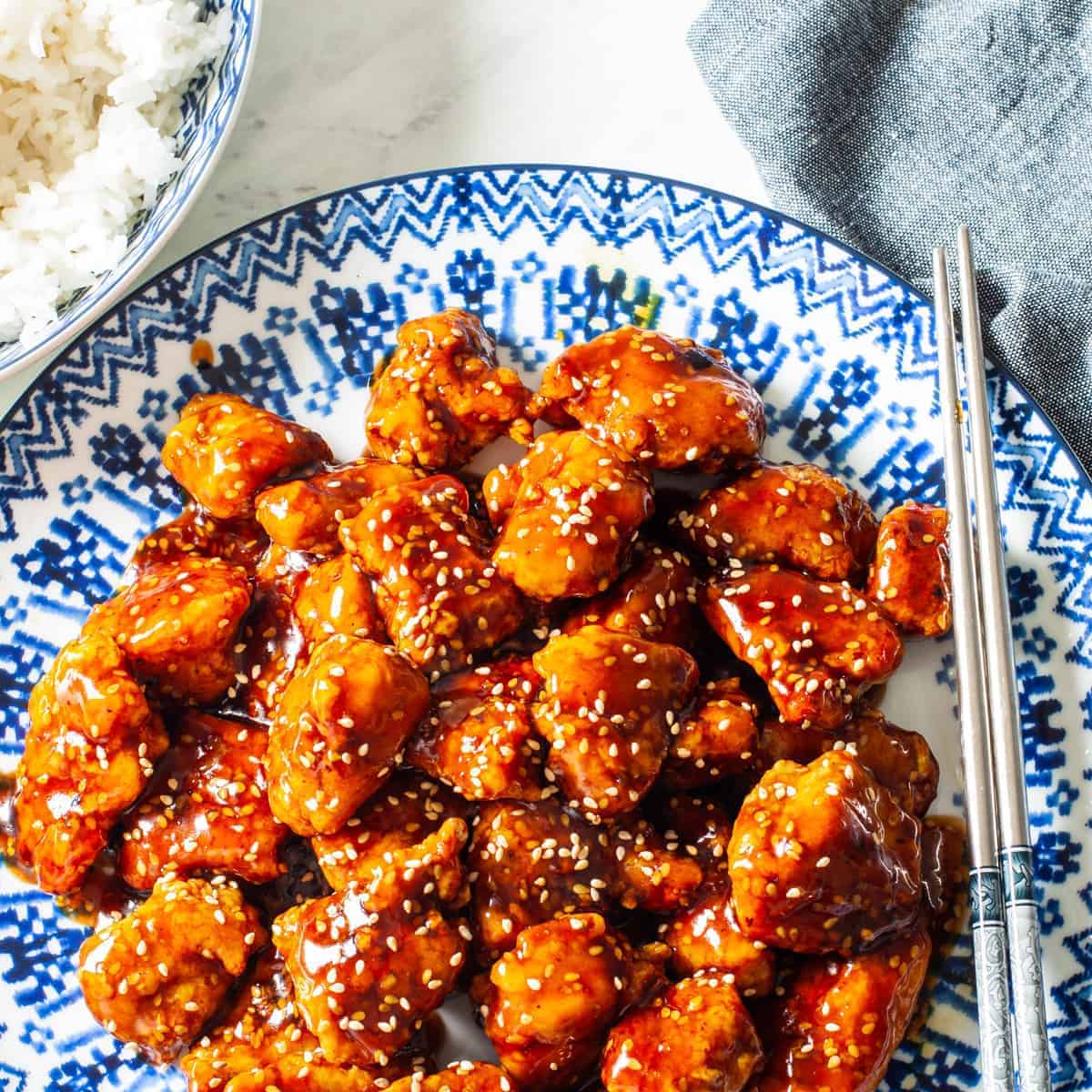 Cooking the chicken
Again you have options here. I prefer to use a smaller amount of oil instead of fully deep frying the chicken. You'll add around 1 inch of oil to a deep pan or dutch oven and heat it to around 325 to 350 degrees F. Working in batches, fry the chicken for around 5 to 6 minutes, flipping it occasionally until cooked through and golden brown. Remove the cooked chicken with a wire strainer or slotted spoon and let it drain on paper towels.
Alternatively you can deep fry the chicken. This works with either the 2 step breading or the wet batter. For this method add 3 to 4 inches of oil and heat to around 350 degrees F. Then fry the chicken in batches until cooked through and golden brown. Remove the cooked chicken with a wire strainer or slotted spoon and let it drain on paper towels.
How to make sesame sauce
After the chicken is cooked you'll make the sauce. Mix all of the sauce ingredients together in a small bowl and whisk to combine and set aside.
Add the sesame oil to a pan over medium heat. Add the garlic and cook for around 30 to 45 seconds until fragrant. Be sure to stir the garlic constantly so that it doesn't burn. Then add the remaining sauce ingredients and stir. Bring the sauce to a low simmer and cook for around 2 minutes until it is slightly thickened then add the chicken and stir until it's evenly coated. Serve immediately with a side of steamed rice or your other favorite Chinese dishes.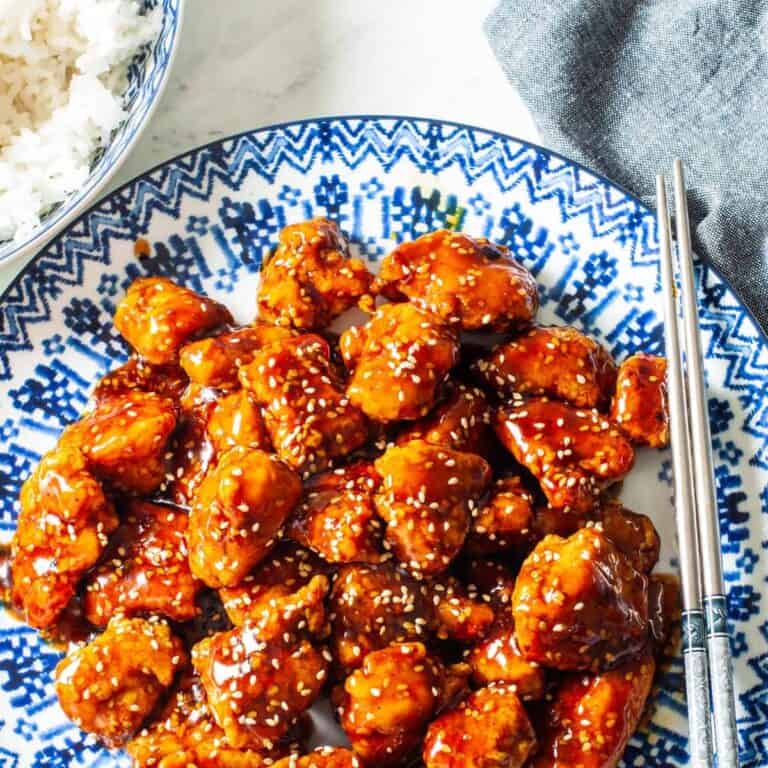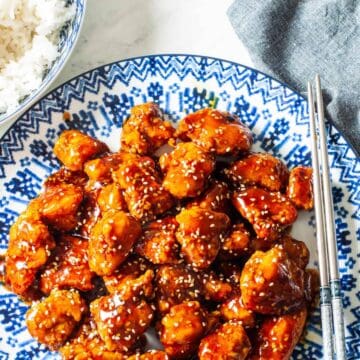 Easy Sesame Chicken
A Chinese take out favorite that is simple and quick to make at home.
Print
Pin
Share
Rate
Ingredients
For the chicken
1

lb

boneless skinless chicken thighs cut into bite size pieces

¼

cup

corn starch

¼

cup

flour

1

tsp

kosher salt

2

eggs lightly beaten

vegetable oil for frying
For the Sauce
⅓

cup

low-sodium soy sauce

1

tbsp

rice vinegar

1

tbsp

honey

1

tbsp

light brown sugar

1

tbsp

sesame seeds

,

plus more for garnish

2

tsp

corn starch

1

tbsp

sesame oil

1

clove

garlic

,

minced
Instructions
Add all of the sauce ingredients except the sesame oil and garlic to a bowl and stir to combine then set aside.

Add the corn starch, flour, and salt to a small plate and stir to combine.

Add the eggs to a bowl and beat lightly.

Bread the chicken by first dipping into the egg mixture then coating with the dry mixture. Repeat process with the remaining chicken.

Heat 1-2 inches of oil in a deep heavy pan or dutch oven to around 350 degrees F

Add chicken to the oil in batches flipping occasionally until cooked through and golden brown, around 5-6 minutes. Remove with a wire strainer and let drain on paper towels.

Heat the sesame oil in a pan over medium heat then add the garlic and cook for around 30-45 seconds the stir in the sauce mixture and bring to a low simmer. Cook until slightly thickened, around 2 minutes. Then add chicken to the pan and stir until well coated. Garnish with additional sesame seeds and serve immediately.
Notes
If you have dark soy sauce on hand, adding a teaspoon or so to the sauce adds a deeper flavor.
Shaoxing wine adds another layer of flavor to the sauce if you have some on hand.
* All nutrition information we provide are estimates based on third party calculators. We encourage you to calculate these on your own for accurate results.
More Asian recipes