This juicy and flavorful smoked turkey breast is perfect for something a little different at your next holiday meal but you don't have to wait, it's delicious year round!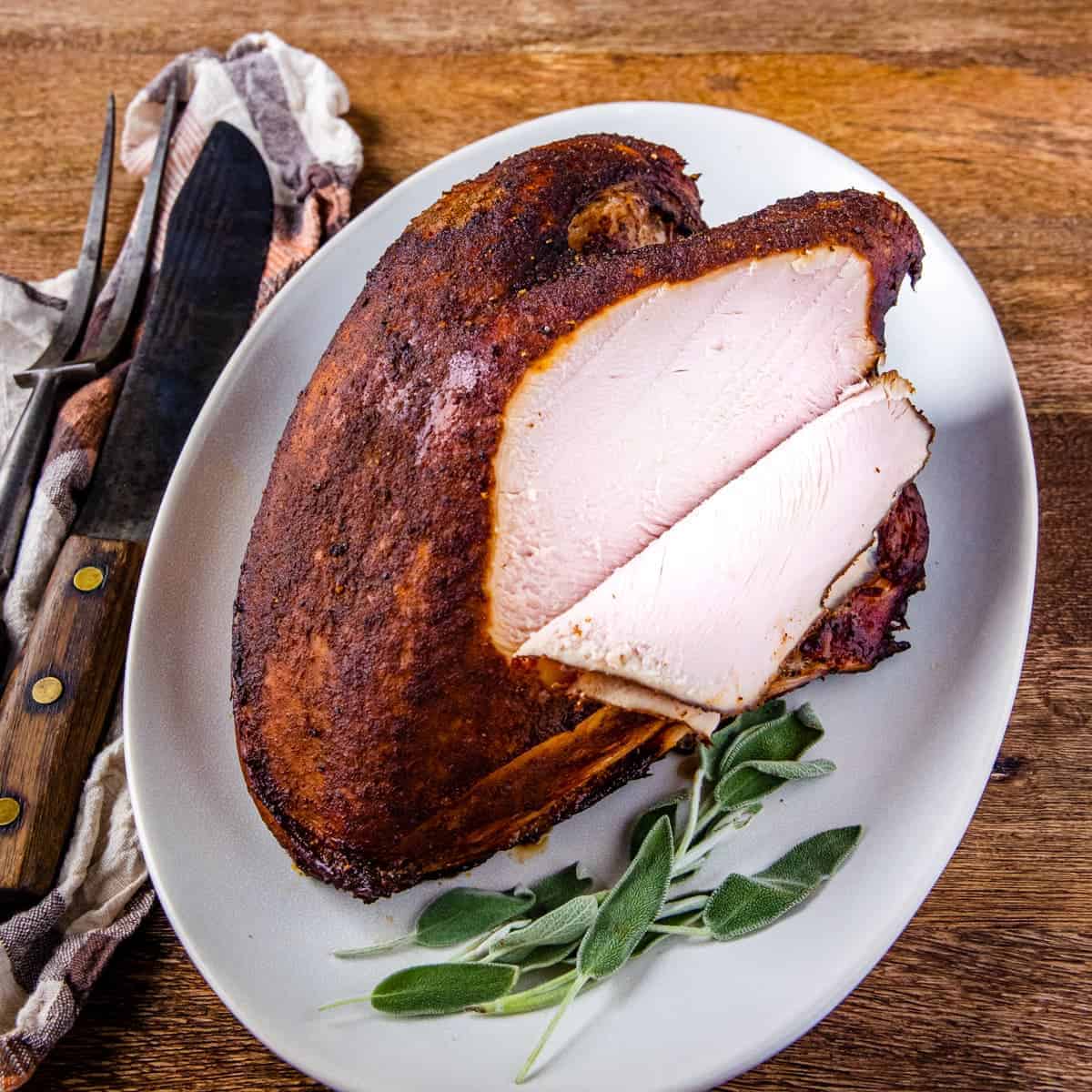 Jump to:
Why this recipe works
A smoked turkey breast is a great option for a Thanksgiving or Christmas meal for a smaller crowd. A typical whole breast will feed 6-8 people with all white meat, which most people prefer. Also it only takes around 3 to 3½ hours to smoke a bone in turkey breast, nearly half the time of a full sized turkey.
What kind of turkey breast to buy
For this smoked turkey breast recipe I recommend using a bone-in cut. The bones will provide a buffer to help keep the meat on the underside of the turkey from drying out, resulting in a juicier end product.
Look for a whole bone-in, skin-on turkey breast. This includes both breasts with the rib meat and a bit of the wing meat. These are typically shrink wrapped in plastic and sold frozen alongside whole turkeys. They will generally range from 5 to 7 pounds.
My turkey breast was pre-treated with a salt solution so I did not brine or inject the turkey. If you do want to brine or inject your turkey breast make sure to pick an untreated turkey breast. I've provided more detail on that towards the bottom of the post.
For a smaller crowd use a 2 to 3 pound bone-in half turkey breast. These will feed around 4 people. Just adjust the cooking time accordingly. Avoid the small packaged boneless turkey breast roasts.
Thawing your turkey breast
If your turkey breast is frozen, and time allows, place the turkey in its original packaging on a rack in a roasting pan or rimmed baking sheet. Then set in the refrigerator for 1 to 2 days to thaw.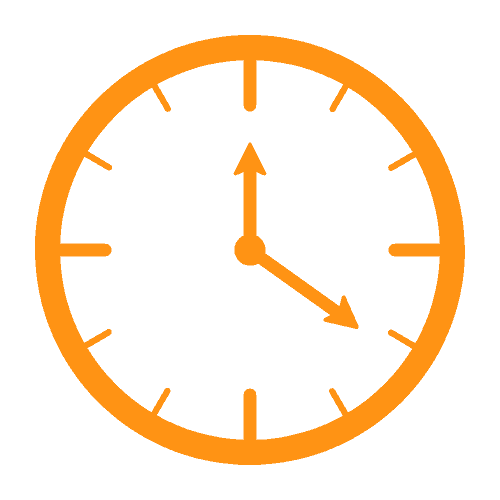 If you need to speedup the process, submerge the turkey, still in the original wrapping, in a sink or cooler full of cold water. Change out the water every 30 minutes until thawed, around 3 hours.
Smoked Turkey Rub
I like to keep my rub for smoked turkey pretty simple, but I've also listed some options below to customize it to your taste. In a small bowl combine:
1 Tablespoon of Kosher salt (Omit if brining)
1 teaspoon fresh ground black pepper
2 teaspoons sweet paprika
½ teaspoon garlic powder
Optional: For a spicier rub replace the paprika with chili powder and add ½ teaspoon cayenne pepper
Optional: For a sweeter rub add in 1 tablespoon of brown sugar.
Coat the top side of the turkey with 1 tablespoon of olive oil. Then sprinkle the rub evenly over all sides of the turkey to coat.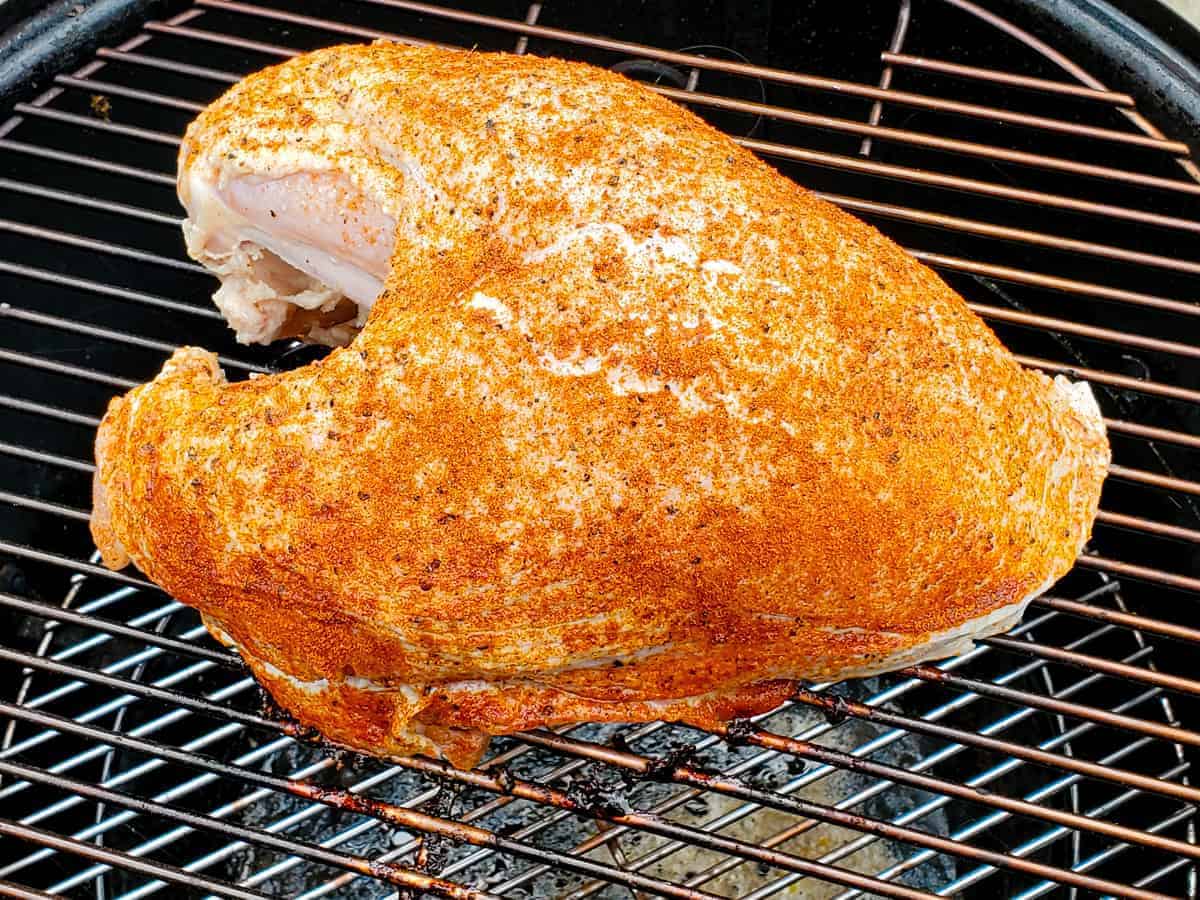 What wood to use for smoking turkey
I prefer a mild sweet fruit wood like applewood for smoked turkey. Cherry is another good choice but is more aggressive than apple. For a richer flavor Pecan is a good choice.
Avoid stronger flavored wood like hickory or mesquite for turkey that will overpower the mild meat.
I use a Weber Smokey Mountain cooker which is a charcoal smoker, so I use wood chunks for smoking. If you are smoking on a kettle grill or a kamado style grill like the Big Green Egg you will also want to use chunks.
Avoid wood chips which tend to burn too quickly unless you are using a gas grill with a smoker box.
If you are making smoked turkey breast on a Traeger or other pellet grill, you will want to use pellets made from one of these woods.
What temperature to cook at
Smoking turkey low and slow can result in a tough, leathery skin since the fat in the skin doesn't render quick enough to produce a crisp skin. Turkey also doesn't have the fat and connective tissue, like pork or brisket, that need to break down in a long slow cook. Because of this I like to smoke turkey a little hotter than you would for those cuts.
Aim for a cooker temperature around 275°F, but a variation of 10-15°F will not make much difference in the end result.
At this temperature plan on around 25 minutes per pound of cooking time. Always plan an additional 30 minutes or so of buffer. Exact times will vary based on your conditions and piece of meat.
How to smoke a turkey breast
Once you have your choice of wood and the smoker preheated to 275°F, add a few wood chunks to the smoker. Then set the seasoned turkey breast on the grates.
When smoking any meat I recommend using a digital thermometer with a leave in probe for the meat and another for the cooker temperature. I use a Thermoworks Signals thermometer. Insert your thermometer probe into the deepest part of the meat then close the lid.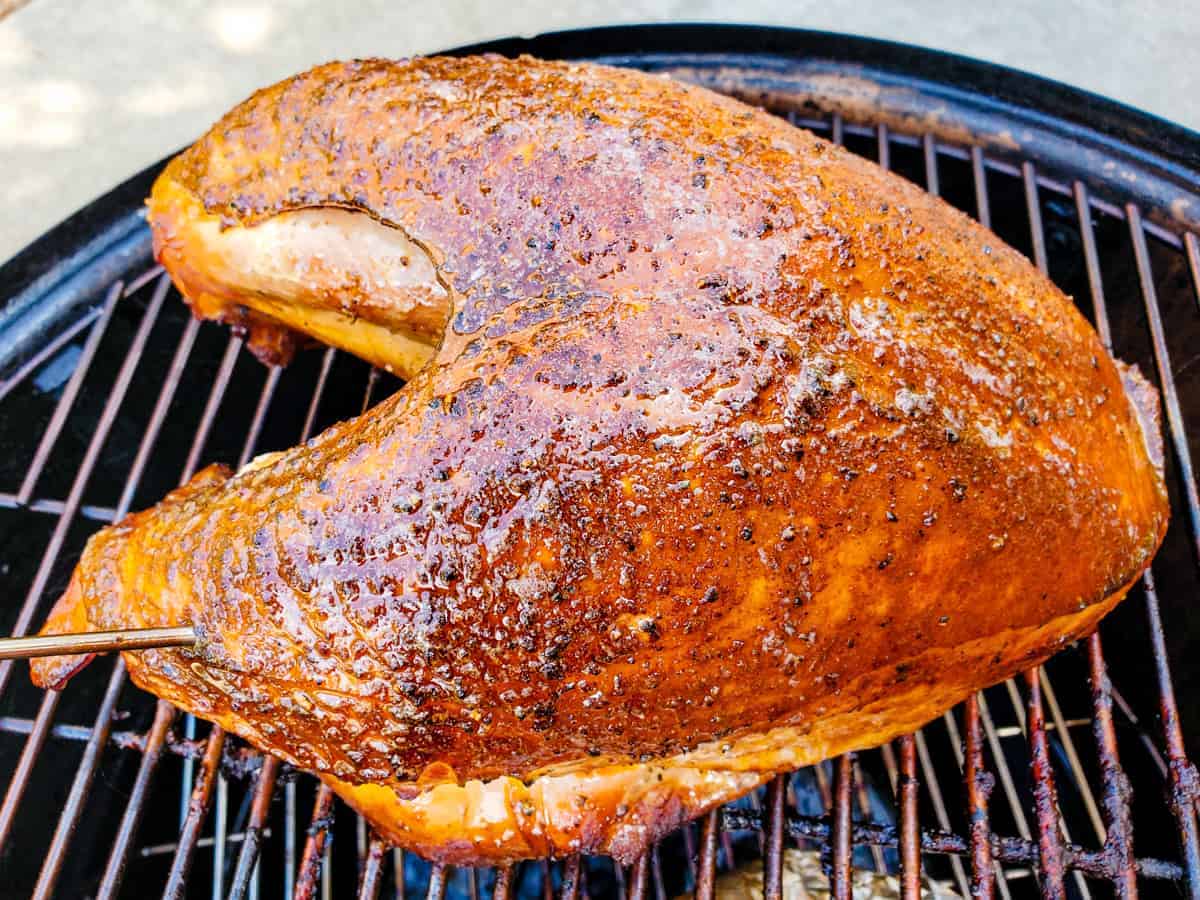 Finished temperature for smoked turkey
The USDA recommended temperature for doneness on turkey is 165°F. However, it is actually safe to eat at 150°F when held at that temperature for at least 4 minutes. So I recommend removing the turkey from the smoker at around 160°F to retain more moisture.
When you get close to the final temperature, you should check the turkey on both sides with an instant-read thermometer. I use the Thermoworks Thermapen to make I have an accurate temperature reading.
After the turkey is up to temp, remove it from the smoker and tent it with foil. Let the meat rest for around 20 minutes before carving.
How to carve a bone-in turkey breast
To carve the turkey, you can slice it right off the breast, leaving the bones in place. For this method, I recommend thin slices. Or you can cut the whole breast off of the bones and then make your slices. With this method, you can make thick or thin slices.
Transfer your smoked turkey slices to a platter to serve. Smoked turkey goes great with traditional Thanksgiving and holiday sides like stuffing, sweet potatoes, and mashed potatoes. It's also perfect served with traditional barbecue sides like baked beans and potato salad. But my personal favorite side dish with smoked turkey is my stove top bacon mac n cheese.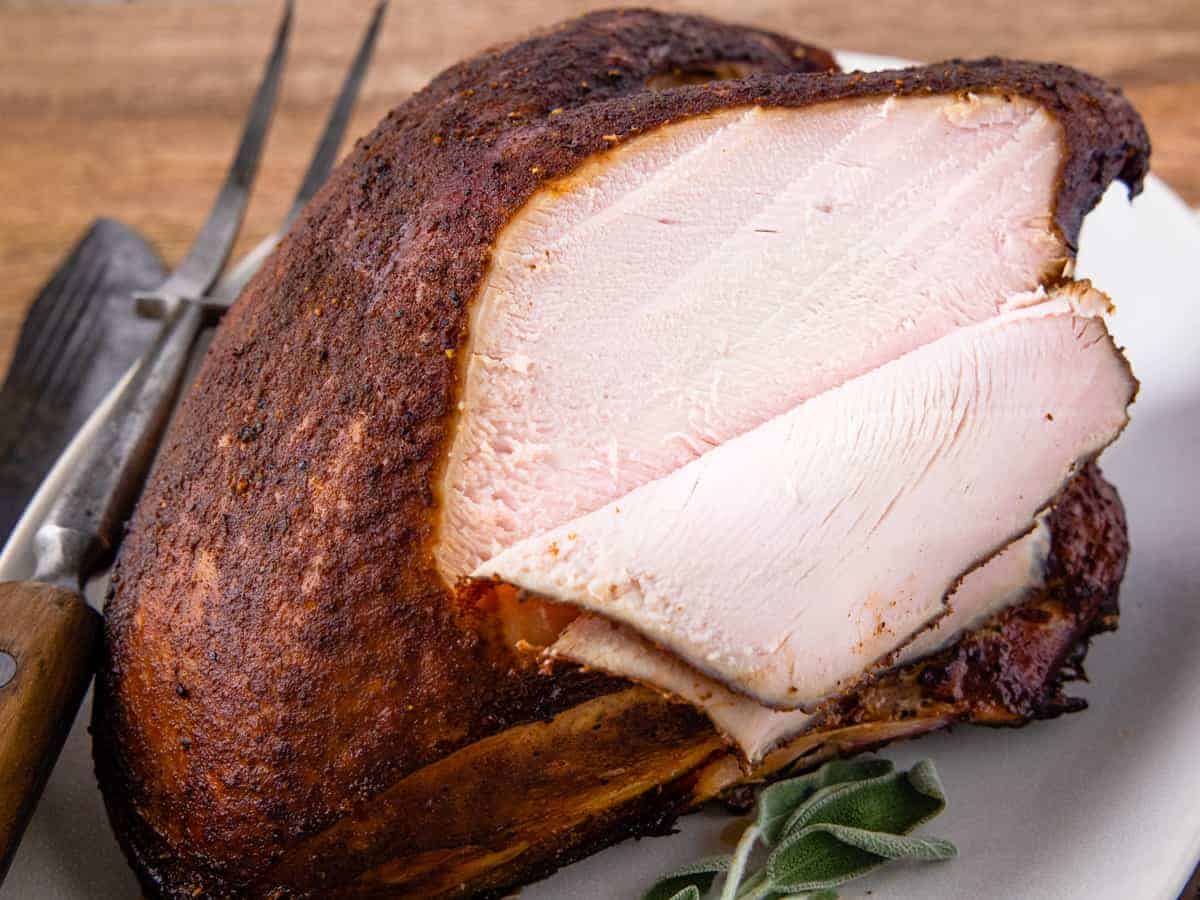 Can I brine the turkey before smoking?
Yes, you can absolutely brine a turkey breast before smoking it. You will need to be careful what turkey you purchase though. Many turkey breasts are injected with a salty solution and brining these will result in over salted meat.
If you want to brine your turkey make sure to look for one that is not labeled Kosher or"self-basting" and does not reference being injected with any type of solution.
Dry Brine for Smoked Turkey
I find traditional wet-brined meat can be a little mushy so I prefer to dry brine my turkey. You also don't have to deal with a cooler full of the messy brine liquid afterwards with a dry brine.
To dry brine a turkey breast, rinse and thoroughly dry the turkey with paper towels. Salt the turkey on all sides with around 1-2 tablespoons of Kosher salt, making sure to work some under the skin. Be sure to omit the salt when preparing the rub if brining.
Set the salted turkey on a rack in a foil lined rimmed baking sheet or roasting pan. Then refrigerate uncovered at least overnight, up to three days. The meat will be more flavorful the longer you let it sit.
With a dry brine the salt will draw the moisture out from the meat which combines with the salt. This moisture then gets reabsorbed, pulling in the dissolved salt to flavor the meat.
Recipe Tips and FAQs
Storage and Reheating Instructions
Store leftovers in an airtight container and refrigerate for up to 5 days. You can eat the leftovers cold for an amazing smoked turkey sandwich but if you prefer to reheat your smoked turkey place it in a 300ºF oven until warmed through. Reheat smaller portions in the microwave until just warmed.
Should I inject my turkey?
An injection can help add additional moisture and flavor to the meat but this question will also depend on the turkey you buy. As with brining, you will want to avoid any turkey that has been pre-treated with salt or any type of solution.
For an injection solution I recommend using low sodium chicken stock or turkey stock mixed with a little bit of the turkey rub seasoning. Then inject the solution into the meat in a few places. Don't over do it with the injecting so you don't end up with holes all over the turkey!
More recipes for the smoker
📖 Recipe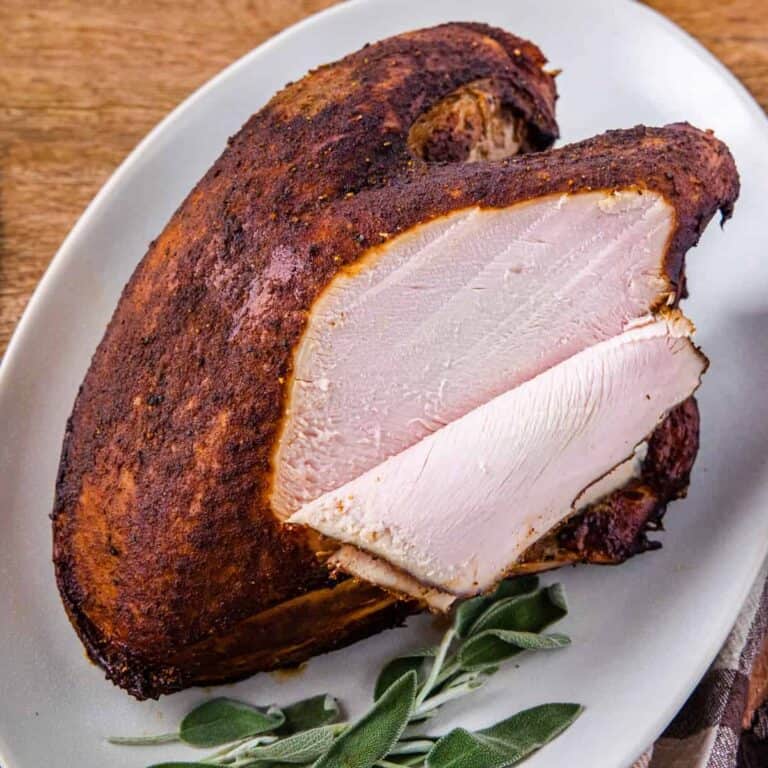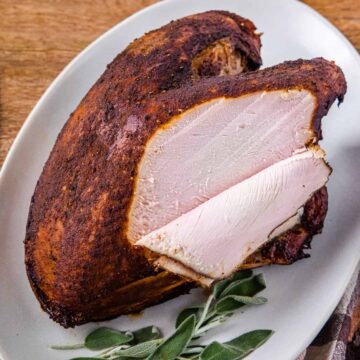 Smoked Turkey Breast
This savory smoked turkey breast is a great option for your Thanksgiving table but delicious any time of the year.
Print
Pin
Rate
Ingredients
5-6

pound

bone-in turkey breast

1

Tablespoon

olive oil

1

Tablespoon

Kosher salt

1

teaspoon

fresh ground black pepper

2

teaspoons

sweet paprika

½

teaspoon

garlic powder

2

Tablespoons

melted butter
Instructions
Preheat smoker to 275°F and add a few chunks of apple wood or other wood of your choice.

Combine salt, pepper, paprika, and garlic powder in a small bowl and stir to combine. Coat the turkey breast with the olive oil then sprinkle on the seasoning mixture.

Add the turkey to the smoker and cook until it reaches an internal temperature of around 157°F. Brush the skin with the melted butter then continue to smoke until it reaches 160°F.

Remove the turkey and tent with foil. Let rest for 20 minutes before carving.
Nutrition
Calories:
275
kcal
Carbohydrates:
1
g
Protein:
48
g
Fat:
6
g
Saturated Fat:
2
g
Monounsaturated Fat:
2
g
Cholesterol:
126
mg
Sodium:
1729
mg
Potassium:
16
mg
* All nutrition information we provide are estimates based on third party calculators. We encourage you to calculate these on your own for accurate results.
You may also like