Standing rib roast is an impressive meal that will be the star of your holiday table. The flavorful herb and garlic rub makes a delicious crust and the reverse sear technique results in a perfectly cooked roast throughout.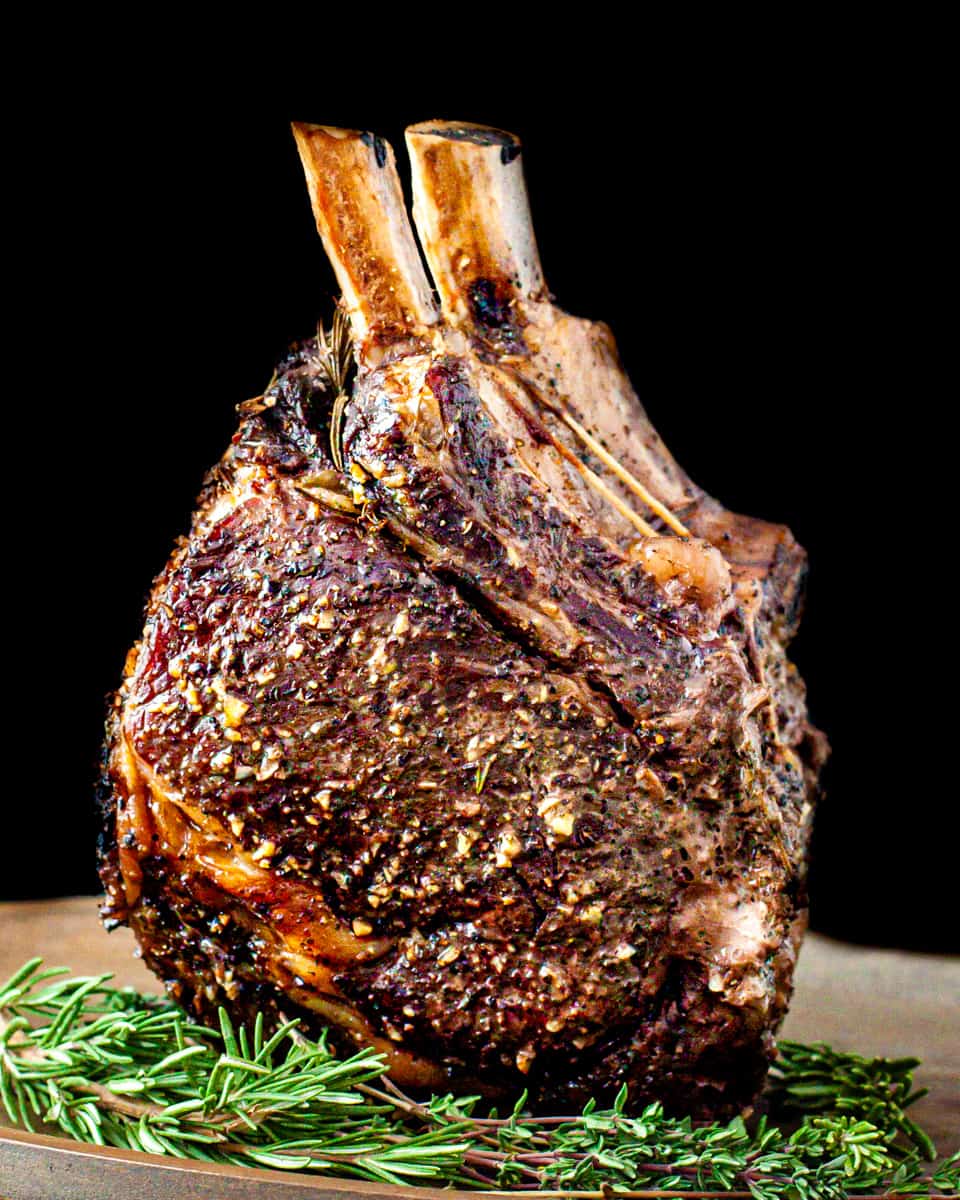 Jump to:
Why this recipe works
Rib roast is the king of holiday meals. It's rich and fatty and loaded with beefy flavor. This recipe uses a flavorful garlic and herb rub to form a delicious savory crust on the outside.
And we'll use a reverse sear technique, which starts with a low and slow cook, and finishes with a quick sear at the end, to produce a tender juicy roast that's cooked evenly from edge to edge.
What cut is a rib roast?
The rib roast is taken from the back of the upper ribs of the cow. The whole cut is generally 7 ribs but these are often broken down into two smaller cuts called the first and second cut.
You'll want to ask your butcher for the "first cut". This comes from the loin end and will be less fatty, with a larger ribeye section. The second cut comes from the chuck end and is typically larger, but with more fat.
Many meat lovers consider the rich flavorful spinalis dorsi muscle, or ribeye "cap", to be the best part of the rib roast so look for one with a large cap. There is usually a fair amount of fat separating the cap which wraps around the meaty center ribeye.
What's the difference between prime rib and standing rib roast?
The rib roast is commonly known as "prime rib". Technically speaking "prime" refers to a grade of meat, not a cut, but most often meat labeled as a "prime rib" cut is choice grade.
You'll often see bone-in cuts labeled "standing rib roast" because the bones form a rack for the meat to stand on while cooking.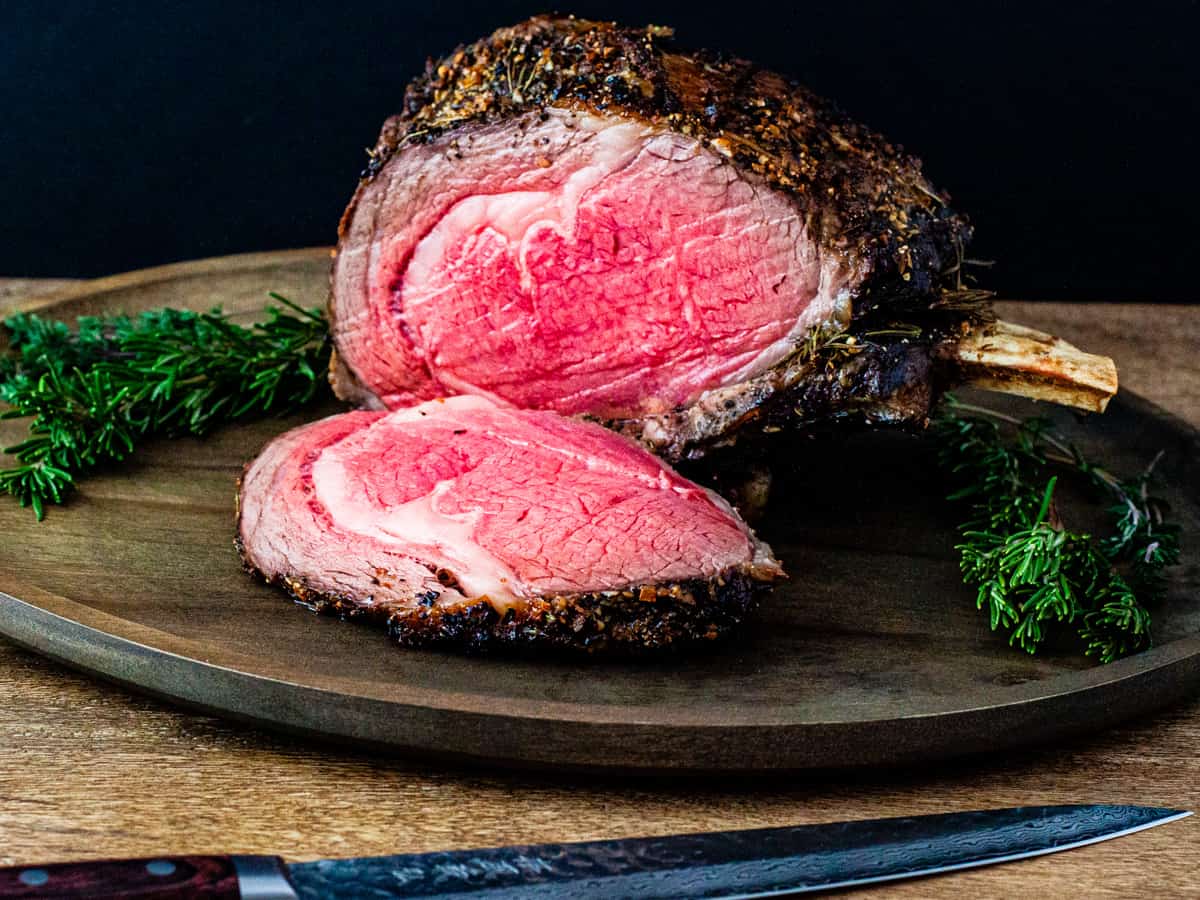 What to look for when buying a rib roast
When shopping for your roast plan on about ¾ pound of meat per person, or around 2 people per bone. Look look for a well marbled cut. That marbling will render out in the cooking process and baste the meat for a tender and flavorful roast.
You'll typically see choice grade beef in the supermarket, but some higher end stores and specialty butcher shops will carry prime grade, especially around the holidays. The marbling found in prime grade beef will produce a more tender and flavorful roast.
Some butchers pre-cut the bones away from the meat and tie the roast together. This recipe calls for adding herbs and a rub between the bones and meat so if this isn't already done you may want to ask your butcher to do that when buying.
While you're at it, you may also want to ask to have the roast "Frenched". This is where the fat and meat are scraped from the end of the bones. There's not usually much good meat there and it makes for an impressive presentation. Some supermarkets may not do that for you, but it's easy to do yourself with a good sharp knife.
How to prepare your meat for cooking
Remove the meat from the refrigerator about 30 minutes to an hour before you are going to cook it and allow it to come to room temperature. This will help it cook more evenly.
If the bones weren't already cut away by your butcher, you'll want to do that now. Leave about ½ inch of meat connected at the end. so they're still attached to the meat. Then fold the meat away from the bones, exposing the underside of the meat.
Make the rub of salt, pepper, minced garlic, chopped rosemary, and thyme. Drizzle the meat with olive oil and rub the mixture around the meat to coat all sides. I usually go a little lighter with the rub on the sides and heavier on the underside and top of the meat.
Next, place some sprigs of rosemary and thyme on top of the bones and fold the meat back over. Place some additional sprigs of rosemary and thyme on top of your roast and then tie the bones back on tightly with butcher's twine.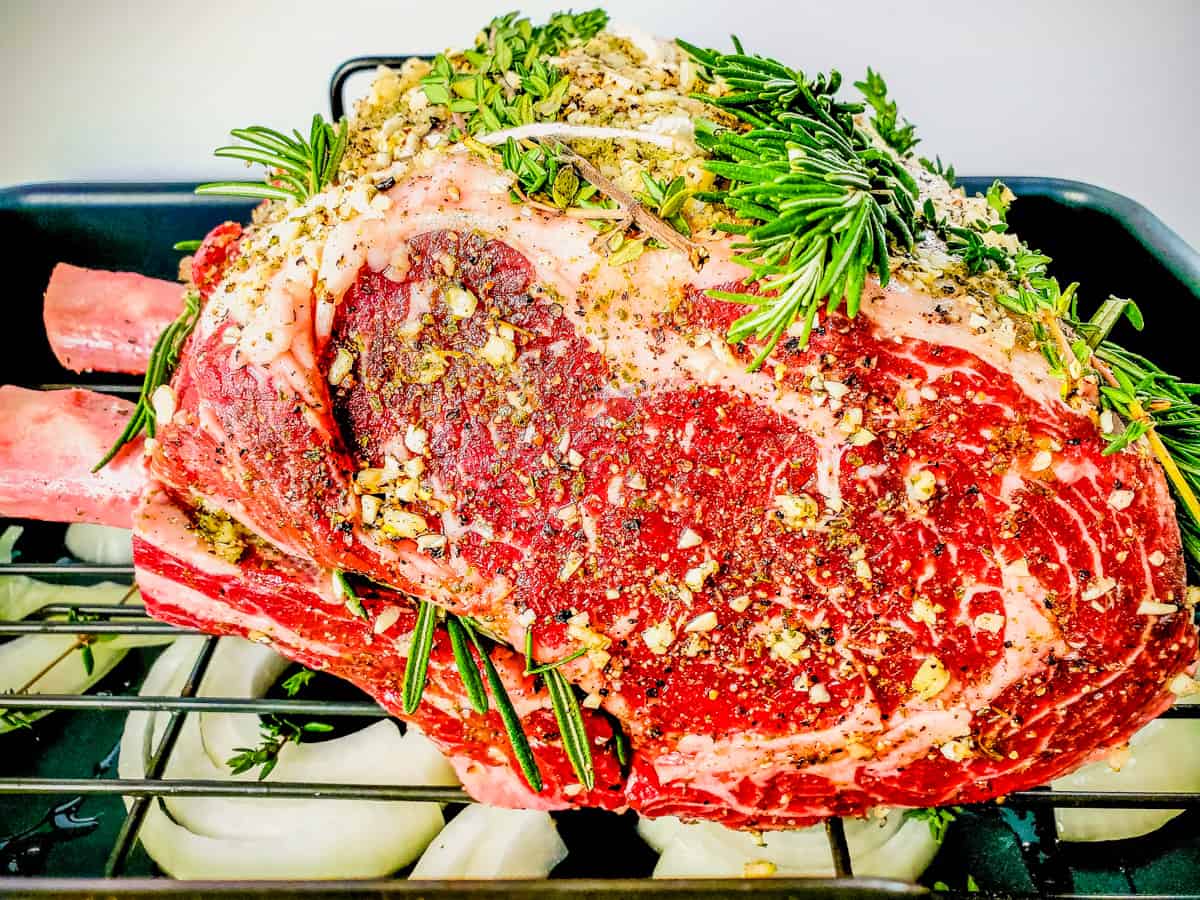 How to reverse sear rib roast
Cooking the meat low and slow allows you to cook the meat evenly edge to edge, without much of a grey, outer band. It's important to use a good thermometer when cooking a large roast. I recommend a digital leave-in meat thermometer (affiliate link) so you can monitor the temperature precisely.
Place the meat on a rack in a roasting pan and put in the oven at 225 °F.
You can place additional aromatics like sliced onion or halved heads of garlic in the pan if you'd like. If the drippings begin to burn, add around ½ cup of water to the pan. Avoid adding too much water and steaming the meat.
For medium rare you'll want to remove the roast at 120°F and around 130°F for medium. This is usually somewhere around 3 to 3 ½ hours, but time can vary by cut so monitor with a meat thermometer.
Tent the roast with foil and allow it to rest for around 30 minutes, up to an hour. The temperature will rise another 5-10 degrees while the meat rests. Do not skip this step! It is critical to allow the juices to redistribute in the meat after the cooking process.
After resting, return the roast to a 500°F oven for around 10 minutes, until well browned.
Remove the roast from the oven and cut away the twine. Then remove the sprigs of thyme and rosemary. You can cut away the bones as well to make carving easier or keep them on for presentation. Cut into individual slices to serve.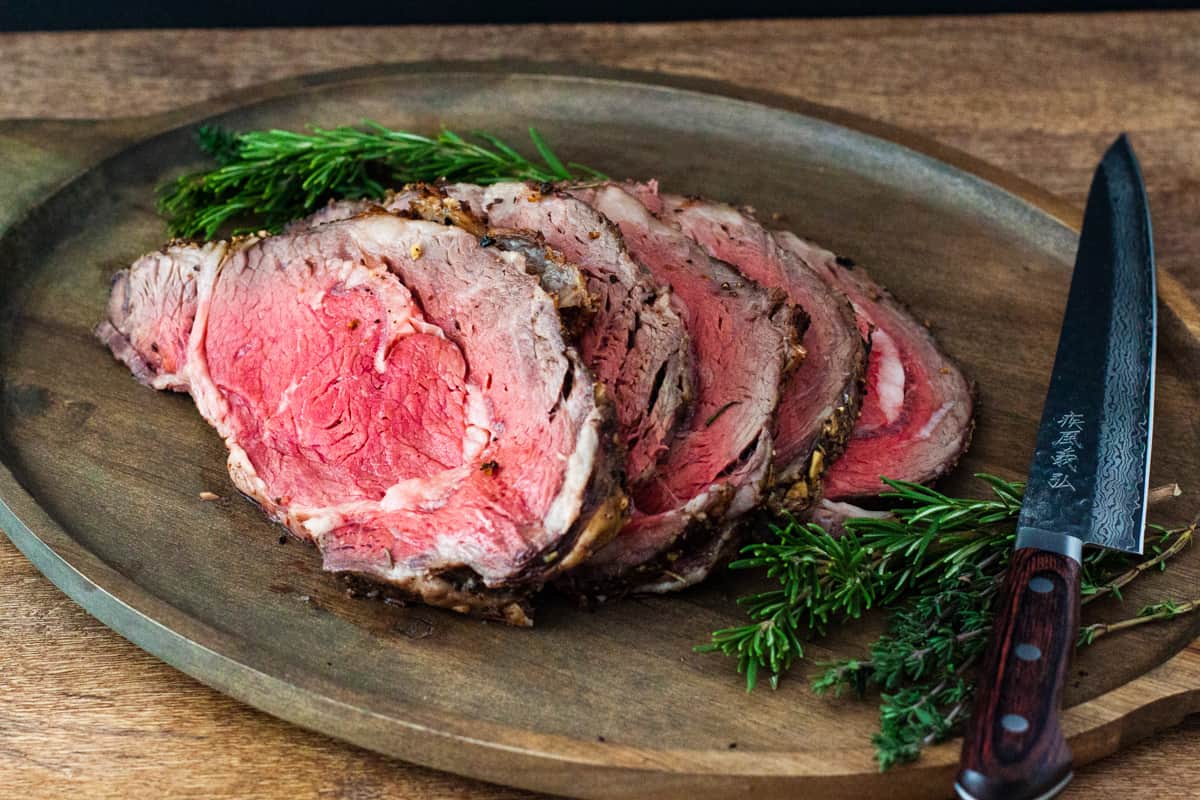 Temperature guide for rib roast
Cook the meat to the target cooking temperature below during the initial roast. The temperature will rise another 5-10 degrees while resting and another 5 degrees or so during the browning. Again, a digital meat thermometer (affiliate link) is a must so you can monitor the temperature precisely.
| Doneness | Cooking Temperature | Final Temperature |
| --- | --- | --- |
| Rare | 110°F | 120-125°F |
| Medium Rare | 120°F | 130-135°F |
| Medium | 130°F | 140-145°F |
| Medium Well | 140°F | 145-150°F |
Note that the ends will be cooked a little more than the very center of the meat. Using this low and slow method helps avoid that to an extent, but a slight difference is unavoidable, especially in larger cuts.
What to serve with a rib roast
Serve with a horseradish cream sauce for dipping. The creamy spicy sauce cuts through the richness of the beef and is a delicious combo!
For sides serve up your favorite potatoes such as roasted garlic mashed potatoes, herb roasted potatoes or scalloped potatoes. My roasted Brussels sprouts with bacon go great with this as well for a green veggie option. For a super indulgent meal try serving with my creamy bacon mac and cheese!
📖 Recipe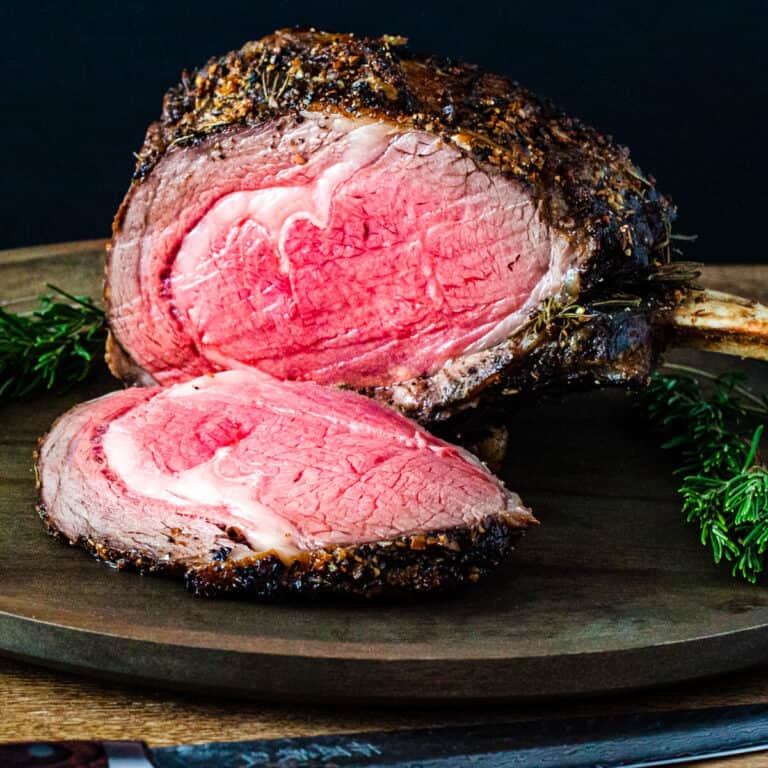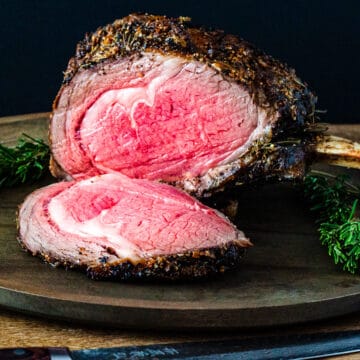 Standing Rib Roast
This garlic and herb crusted standing rib roast is a simple yet impressive meal that will be the star of your holiday table.
Print
Pin
Rate
Ingredients
6

pound

bone-in rib roast

1

tbsp

olive oil

3

tbsp

minced garlic

2

tbsp

Kosher salt

1

tbsp

coarse ground black pepper

1

tbsp

fresh rosemary chopped

,

or 2 tsp dried

2

tsp

fresh thyme chopped

,

or 1 tsp dried

6-8

sprigs

fresh rosemary

6-8

Sprigs

fresh thyme
Instructions
Place oven rack in lower third of oven and preheat oven to 225°F.

If bones have not been pre-cut, cut along the bones from the thin tail end towards the thicker meaty end of the roast until about ½ inch from the end, leaving them attached but allowing you to fold the meat back to access the underside of the meat.

Combine minced garlic, salt, pepper, and chopped herbs in a small bowl and stir well.

Rub garlic and herb mixture on all sides of the meat, including the underside that you previously removed from the bones.

Fold the meat over to expose the bones and dd half of the rosemary and thyme sprigs to the top side of the bones, then fold the meat back over, so that the herbs are in between. Set the remaining herb sprigs on the top, fatty side of the meat, then tie the meat and bones together tightly with butcher's twine.

Place meat on a rack in a roasting pan. Add aromatics such as sliced onion and herbs if desired, and place in oven. If drippings begin to burn, add around ½ cup of water to the roasting pan, but avoid adding too much water so you don't steam the meat.

Cook until internal temperature reaches 120°F, for medium rare. See post for temp guide. Remove roast from oven and tent with foil. Allow to rest for 30 minutes, up to 1 hour.

Heat oven to 500°F and return roast to the oven for 10 minutes, until well browned.

Remove twine and herbs sprigs then cut bones from the roast and slice to serve.
Nutrition
Serving:
3.5
oz
Calories:
338
kcal
Protein:
23
g
Fat:
26
g
Cholesterol:
82
mg
Sodium:
63
mg
Potassium:
320
mg
* All nutrition information we provide are estimates based on third party calculators. We encourage you to calculate these on your own for accurate results.
You may also like