This rich and hearty classic beef stew is one of my family's favorite Sunday suppers. It's perfect comfort food for a cold winter weekend.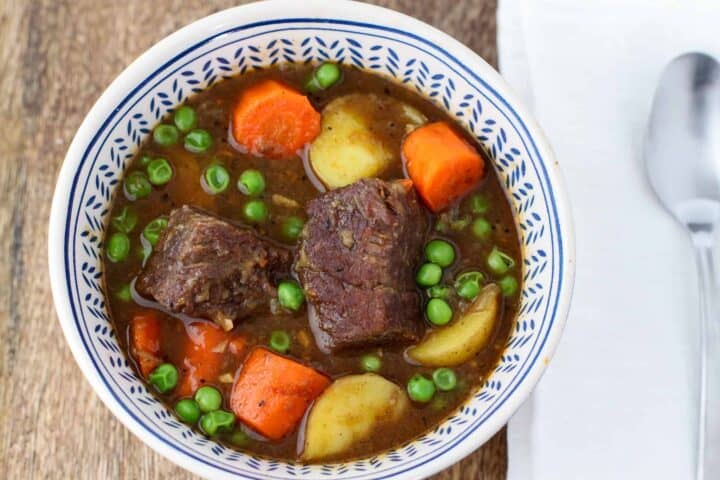 Jump to:
Why This Recipe Works
In my house this classic beef stew is in regular rotation every couple of weeks when the weather turns colder. It's perfect for a Sunday afternoon when you can take the time to let it cook slowly until the meat is fall-apart tender.
I also love that it's a one-pot meal, so there isn't a ton of clean up afterward. It's also great for leftovers since the flavors improve even more after refrigerating it for a day or two.
Ingredient Notes
Beef Chuck - Chuck is the best meat for a beef stew. It get's amazingly tender during the long slow cook and has great flavor. Look for a well marbled piece and trim any large pieces of fat, then cut into about 2 inch chunks. Try to get fairly even sized pieces so they cook at the same speed. Avoid the pre-cut "stew meat" packs. Those are usually mixed trimmings and usually contain leaner meat that will not get as tender as the chuck.
Vegetables - I stick with the classic combination of onions, celery, carrots, potatoes, and I like to toss in some peas at the end for a little color. Mushrooms or tomatoes also go great additions.
Flavor boosters - I like to add a little Worcestershire sauce and tomato paste for a more complex flavor. Cooking the tomato sauce until it begins to darken will remove the acidic flavors and really gives an umami boost to the stew. Adding some bay leaves and thyme sprigs will also help deepen the flavor of your stock.
Liquids - I like to use beef stock in my stew for a rich and flavorful liquid. You can also use chicken broth or water but I'd recommend adding some beef base in with those to boost the beefiness. You can also substitute in 1 or 2 cups of red wine in place of some of the beef stock if you like.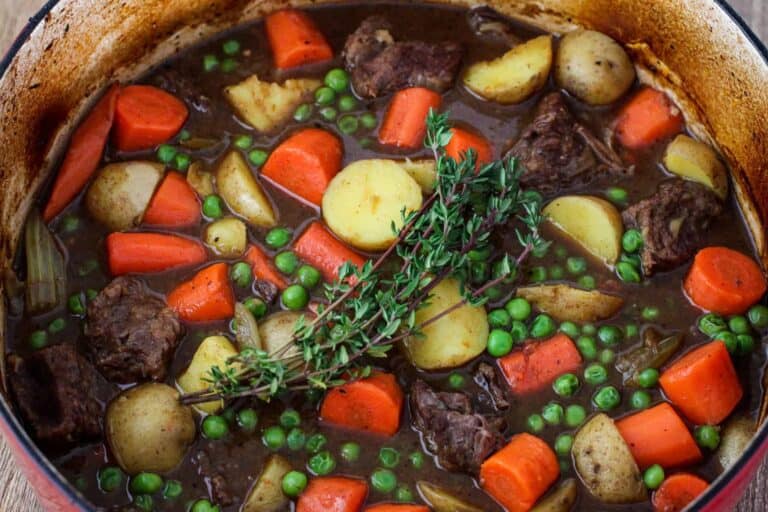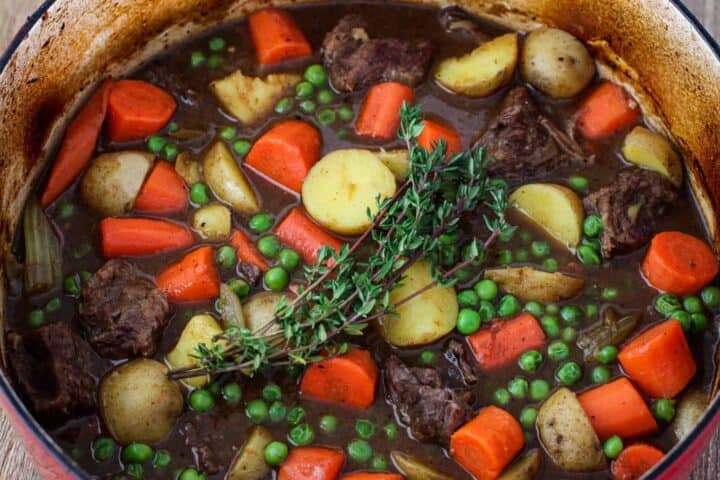 Step-by-Step Instructions
Brown the meat - It's important to brown the meat first and get a nice dark sear when making a stew. You'll need to work in batches giving the meat enough space in the pot to avoid steaming the meat. This does take time, but it helps not only with more flavorful meat, but it also develops a fond, the brown bits on the bottom of the pot, which you'll later be scraping up into your stock, giving it a ton of flavor. After browning the meat, remove it to a plate and set aside. Be sure to keep an eye on your heat while cooking and not burn the fond. Adding more oil and reducing the heat as needed.
Add some of your vegetables - Some recipes will have you add all of your vegetables in the beginning, but they will usually turn to mush by the end of the cooking. I prefer to add my onions, celery, and just a few carrots at the start to flavor the stock while it cooks. Then I add the rest with about an hour left in the cooking process. This way, the carrots and potatoes are cooked well but not mushy.
Add the garlic and tomato paste - Next, push the vegetables to the side and cook the garlic for around 30 seconds until it becomes fragrant. Then stir in with the vegetables so it doesn't burn while cooking the tomato paste. Next, make another space in the center and add your tomato paste. Cook, stirring frequently, until it begins turning a darker brownish color, and then stir in with the other vegetables.
Now for those brown bits - Next, deglaze the pot with a little water to help with scraping up that browned fond you've carefully built up on the bottom of the pot. Make sure to get as much up as possible! Then add in your meat and stock, along with the Worcestershire sauce, bay leaves, and thyme, and give it a good stir. Bring to a low simmer and then cover and transfer the pot to the oven.
Add the rest of the veggies - After around 2 hours remove from the oven and add in the rest of your carrots and the potatoes. If you're making the stew for company and really want to make sure your veggies are perfect, you can also cook them separately and add them in at the end. I also take this time to skim any fat from the surface of the stew with a spoon. You don't have to get every bit, but I like to get out as much as I can.
Finish it off - After another hour, remove the pot from the oven and discard the bay leaves and thyme then stir in your peas. Let sit for around 5-10 minutes for the peas to warm up and then season with additional salt and pepper to taste before serving. This classic beef stew goes well with a bright salad such as my shaved Brussels sprouts and kale salad.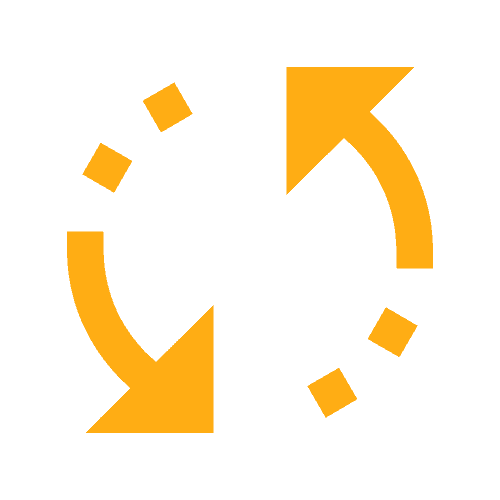 For a thicker stew, leave out the 2 cups of water and stir in a cornstarch slurry towards the end of the cooking time. For the slurry you'll need around 2 tablespoons of cornstarch mixed with 2-3 tablespoons of cold water.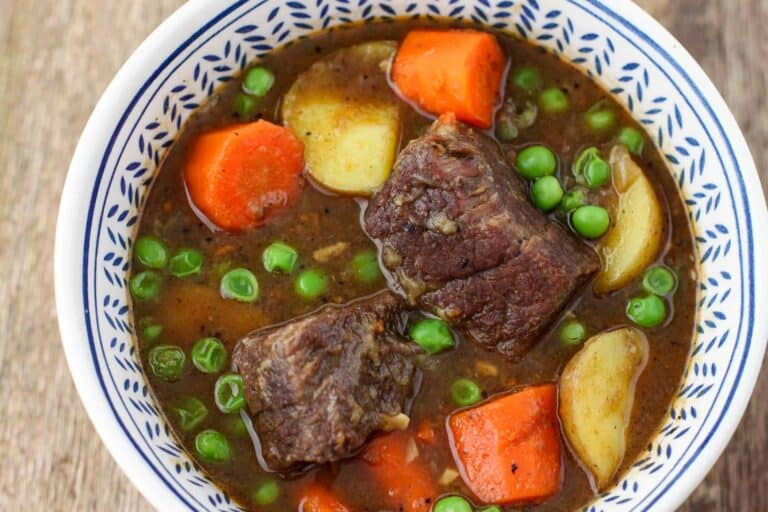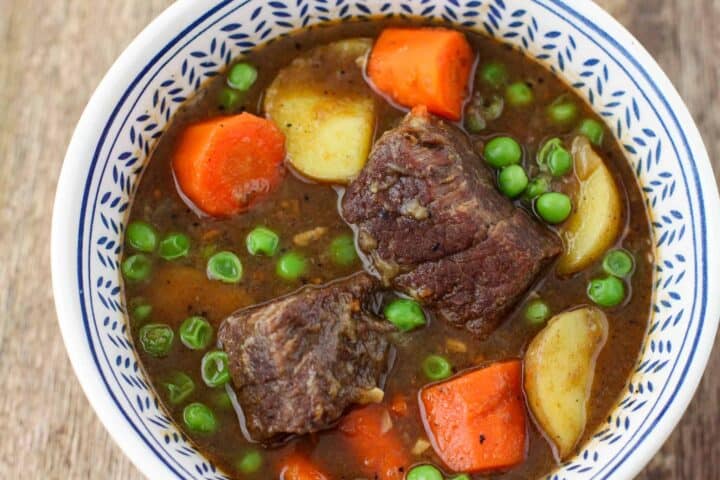 What to Serve With Beef Stew
This hearty stew is a complete one-pot meal so you have to add side dishes, but you can't go wrong with a side salad like my apple walnut salad or kale crunch salad. And my garlic butter green beans are great for a quick and easy veggie on the side.
Tips and FAQs
How can I add more flavor to beef stew?
For maximum flavor in your beef stew build the flavor in steps as you prepare the stew. When searing the meat be sure to not overcrowd the pan and to not disturb the meat as it cooks. A dark brown sear will add tons of flavor and help build fond on the pot which will add more flavor when deglazing the pan. It's also important to use beef stock or red wine and not water for the stew for a flavorful broth.
What is the secret to tender beef stew?
For the most tender beef stew, I recommend using chuck roast cut into large chunks. And avoid boiling the stew. Instead, cook the stew at a gentle simmer for 2 to 3 hours. This will result in fall-apart tender meat.
More Hearty Soups and Stews
📖 Recipe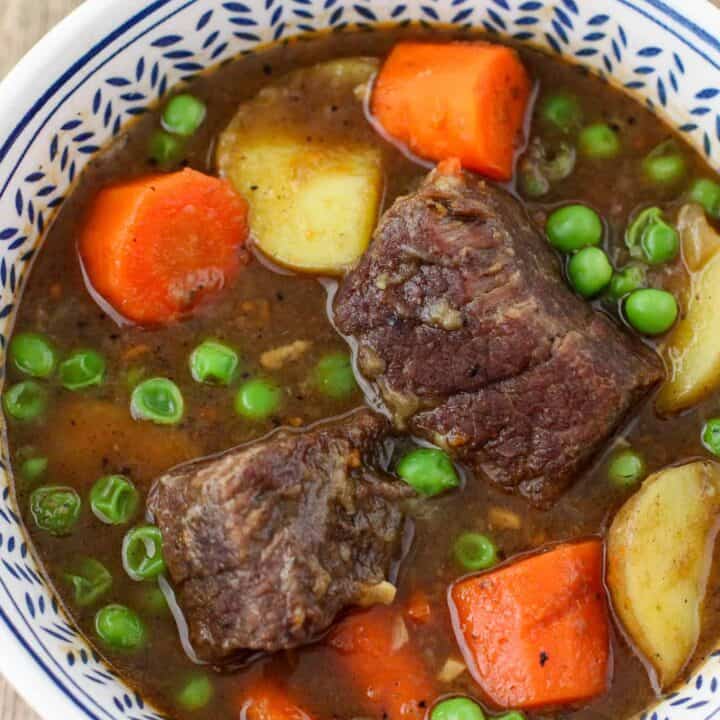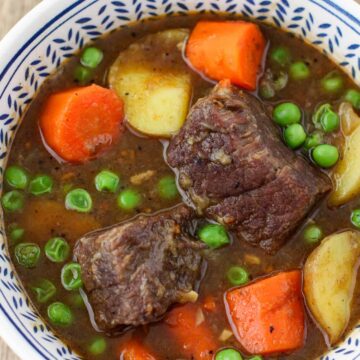 Classic Beef Stew
A classic slow cooked beef stew with carrots and potatoes.
Print
Pin
Rate
Ingredients
3

Pound

beef chuck roast

,

cut into 2 inch chunks

1

tbsp

Kosher salt

1

tsp

fresh ground black pepper

2

tbsp

flour

2

tbsp

olive oil

1

tbsp

butter

1

large

onion

,

rough chopped

5

carrots

,

cut into 1 inch pieces, divided

1

stalk

celery

,

cut into 1 inch pieces

2

tsp

minced garlic

2

tbsp

tomato paste

4

cups

beef stock

2

cups

water

1

tsp

Worcestershire sauce

2

bay leaves

4-5

sprigs

fresh thyme

2

pounds

baby Yukon gold potatoes

,

halved

1

cup

peas

,

frozen
Instructions
Heat oil in large dutch oven on stove top on medium high heat

Season meat with salt and pepper then sprinkle flour over meat and toss to coat lightly

Working in batches add meat to dutch oven and brown on all sides then remove to a plate and set aside.

Add butter to dutch oven and add onions, celery, and 1 chopped carrot (5-6 1 inch pieces). Cook, stirring occasionally, until onion is softened and slightly transparent.

Add the garlic and cook stirring frequently until fragrant, around 30 seconds.

Add tomato paste and cook stirring frequently until slightly darkened, around 1 minute.

Add the water and scrape any brown bits from the bottom up the pot. Then add your meat back in with the beef stock, Worcestershire sauce, bay leaves, and thyme.

Bring to a low simmer and then cover and transfer dutch oven to the preheated oven.

After 2 hours remove from oven and skim any fat from the surface with a spoon. Then add the potatoes and remaining carrots and return to the oven.

After an hour remove from oven and discard bay leaves and thyme then add peas and stir to combine. Let sit for around 5 minutes for peas to warm then serve.
Nutrition
Calories:
549
kcal
Carbohydrates:
40
g
Protein:
45
g
Fat:
23
g
Cholesterol:
85
mg
Sodium:
1056
mg
Potassium:
1846
mg
Fiber:
5
g
Sugar:
5
g
* All nutrition information we provide are estimates based on third party calculators. We encourage you to calculate these on your own for accurate results.
More Comfort Food Recipes