Today I'm sharing six healthy smoothie recipes that are packed with fruits and vegetables along with several ways you can customize them for an added nutritional boost. They're a perfect way to start your day!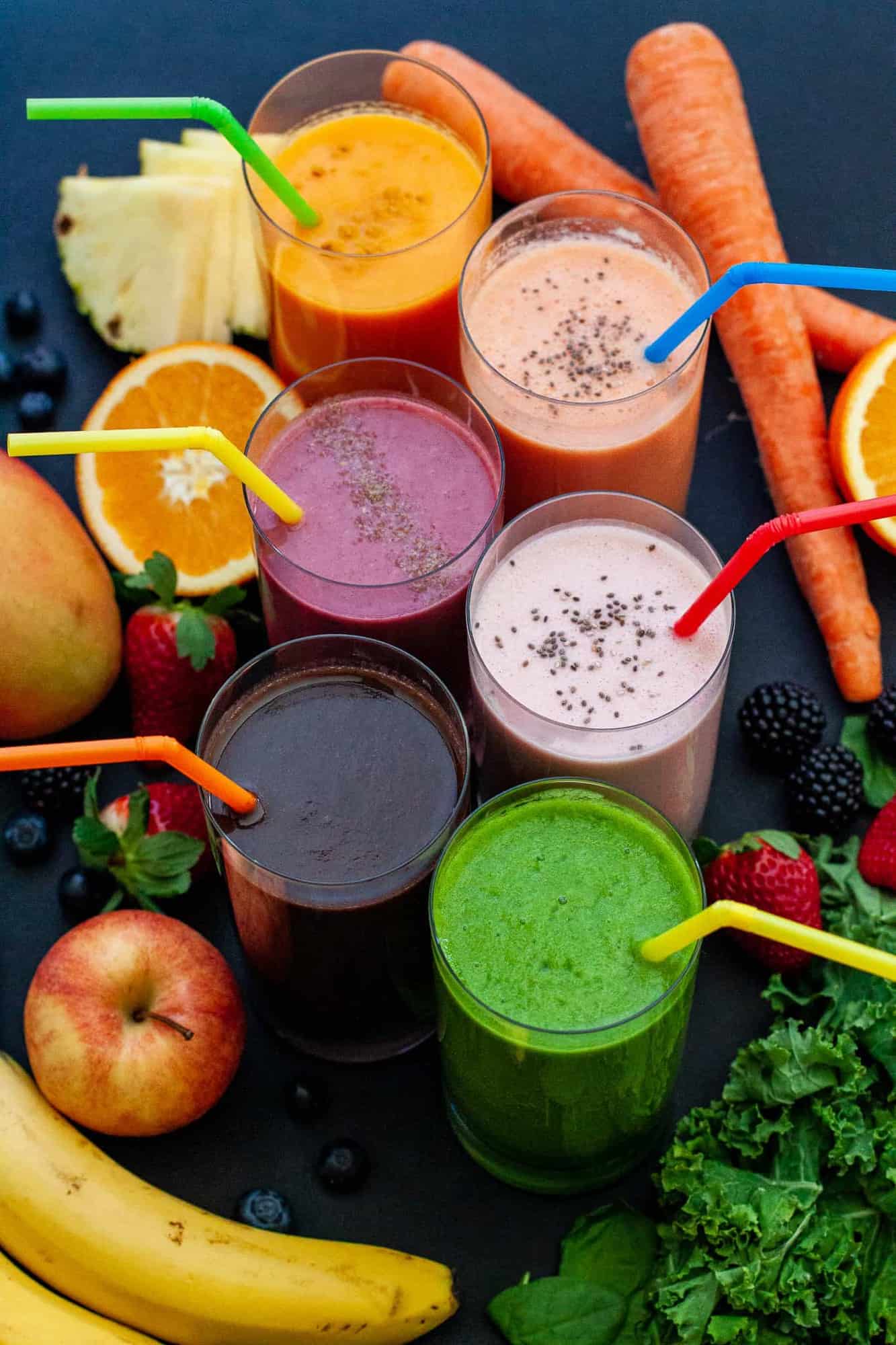 It's January so if you're like me you're looking to get back on track with your diet after weeks of over indulging during the holidays. Smoothies can be a great way to replace a traditional breakfast and get those fruits and veggies you've been missing. Today I'm sharing six healthy smoothie recipes that are delicious and loaded with vitamins, minerals, and anti-oxidants. But first a few basic guidelines on making smoothies.
Smoothie Basics
Liquids - Most of my smoothie recipes call for water as the liquid to help keep the calories in check, but you can substitute whatever liquids you prefer. Unsweetened almond or soy milk are great options for a creamier taste. I try to add as little liquid as possible to avoid watering down the flavor so I aim for around ½ a cup. That is usually just enough to get things blended smoothly. Be careful with sugary fruit juices or the calories will quickly get away from you.
Fresh or Frozen Fruit- In most cases I like to use fresh fruit and veggies in my smoothies if they're in season. I do like to use frozen peaches because they're just so much easier to use than prepping fresh peaches. You'll need less added liquid when using fresh but the consistency will be on the thinner side unless you add ice. If you want a thicker consistency go for frozen. When using frozen fruit you will probably need some additional added liquid to get things moving in the blender.
Ice - If I'm using fresh fruit I do sometimes add ice to get a thicker smoothie but when using frozen fruit it's not necessary. If you're planning on making your smoothie ahead I would avoid adding ice as it will water down the smoothie.
Equipment - A high speed blender such as a Vitamix really helps improve the consistency. They're certainly not cheap but if you make a lot of smoothies it's worth the investment and they're great for soups and other things as well. Lower powered blenders or single serving blenders like a Magic Bullet will work but it can be difficult to get ideal results.
Tropical Green Smoothie
Don't let the color fool you, this one is delicious, and it's a great way to up your intake of veggies. It's got kale, spinach, mango, pineapple, and banana and is great for green smoothie beginners.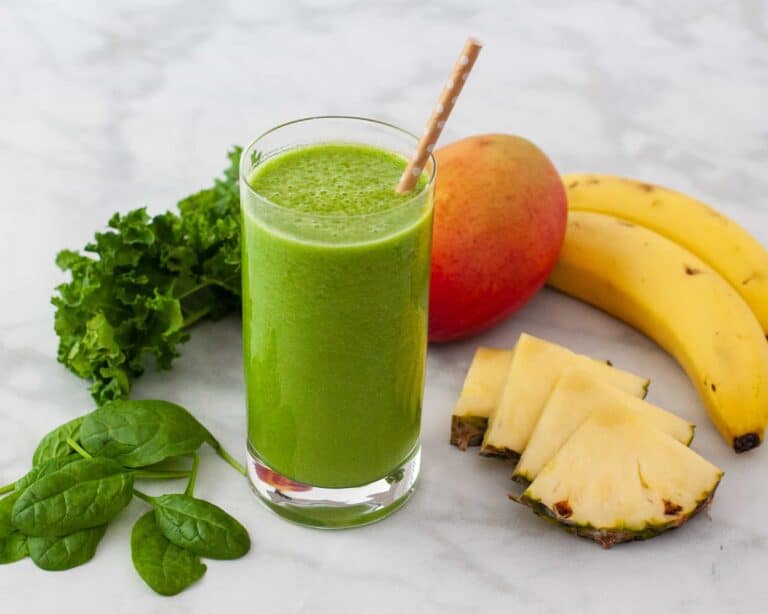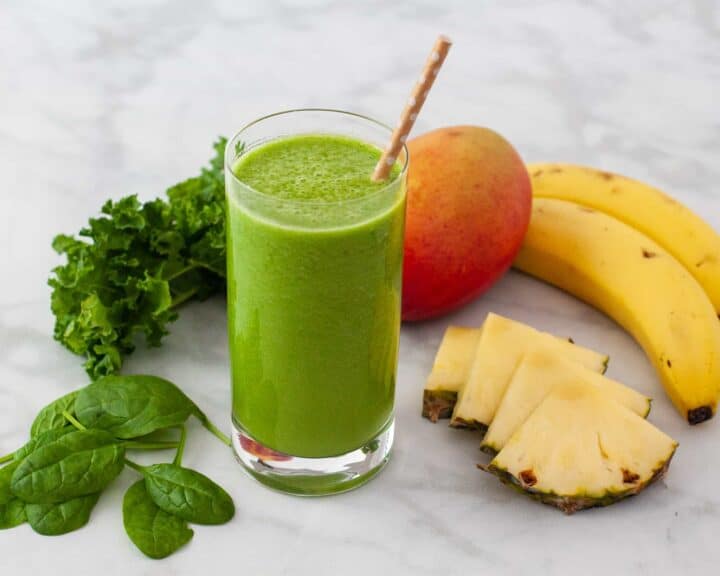 Berries and Greens Smoothie
This one is a great way to sneak some greens in for the kids. Blackberries and blueberries give it a dark purple color and the apple and berries provide plenty of sweetness so they'll never guess there is spinach and kale mixed in.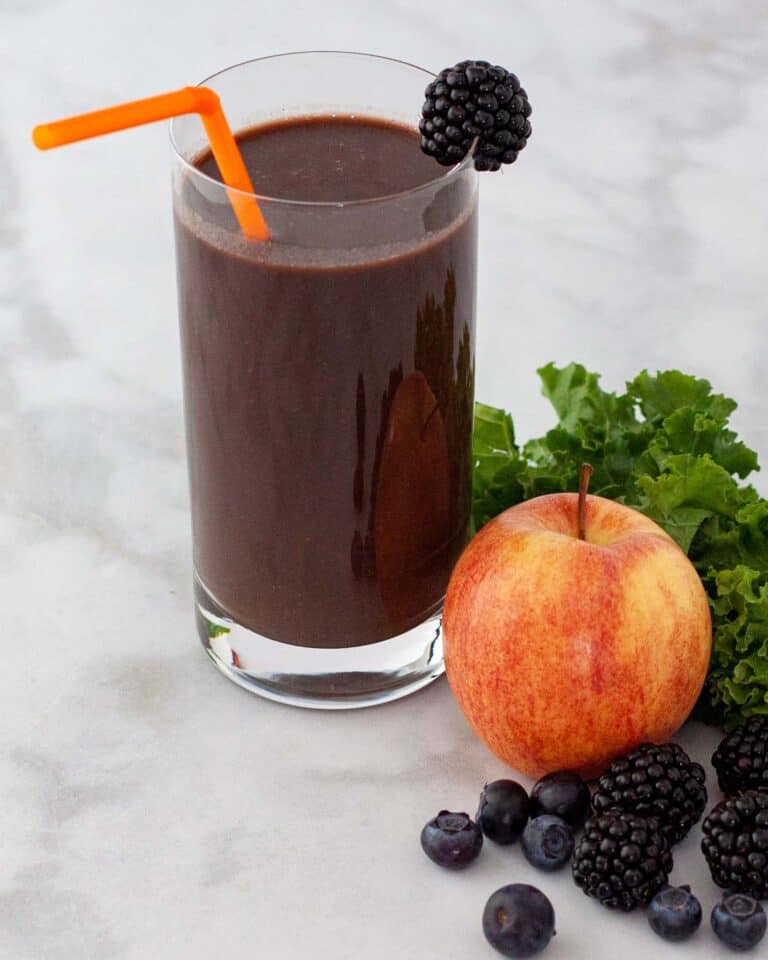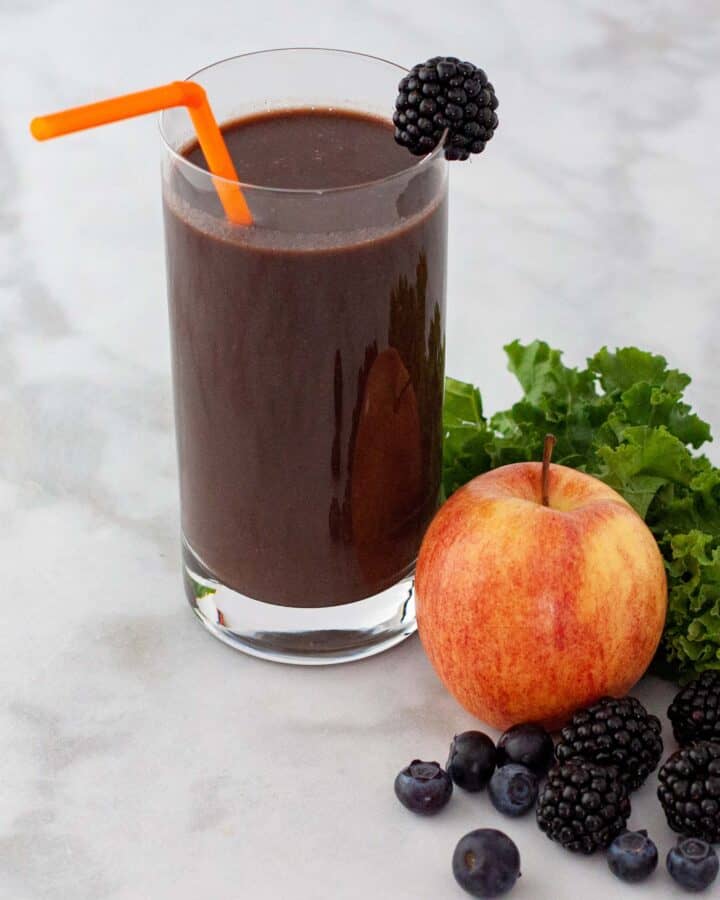 Strawberry Banana Smoothie
The classic combo of strawberries and bananas is always great. I like to add in a serving of vanilla protein powder and Greek yogurt to this one for a tasty protein boost.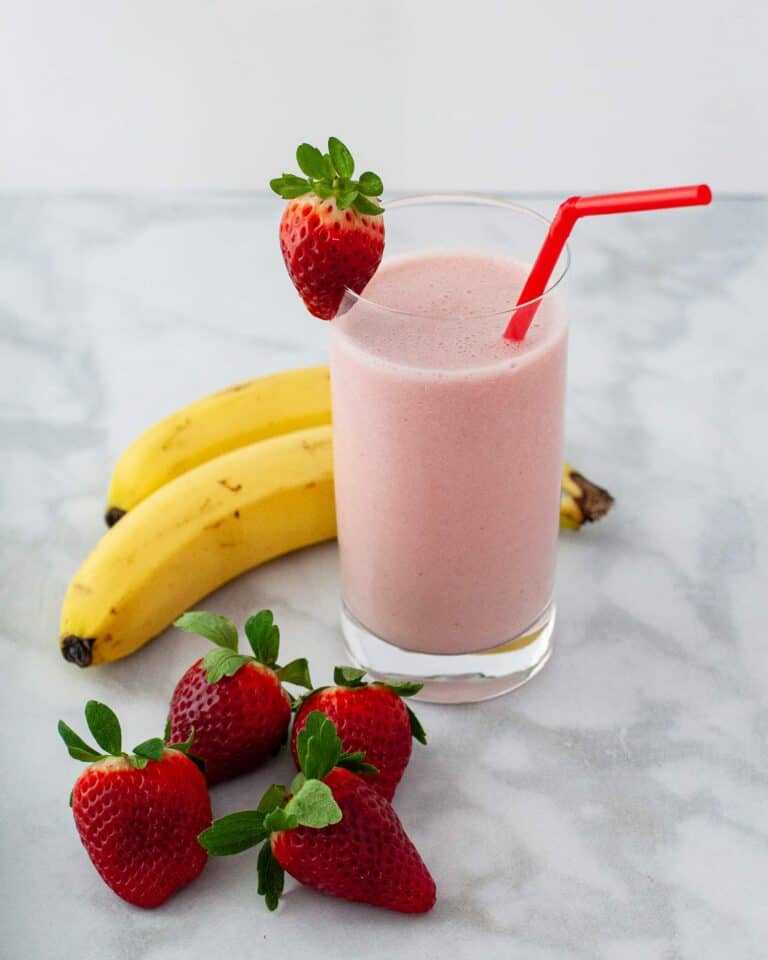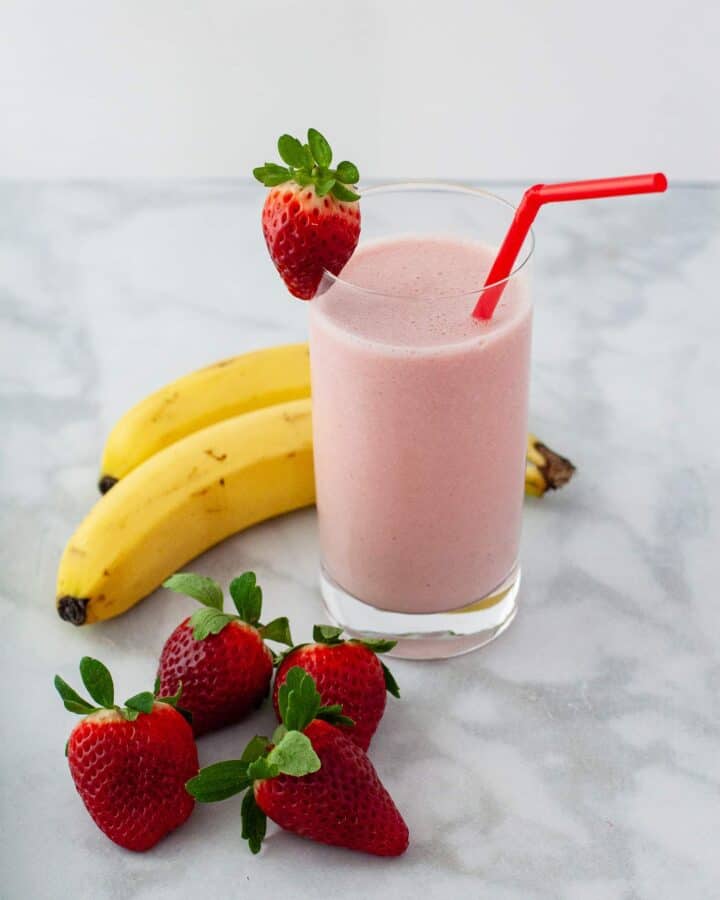 Berries and Peaches Smoothie
My personal favorite of the bunch! This one is also great with the addition of ½ a cup of plain Greek yogurt, ¼ cup of whole oats, and a tablespoon of chia seeds for a healthy and filling breakfast.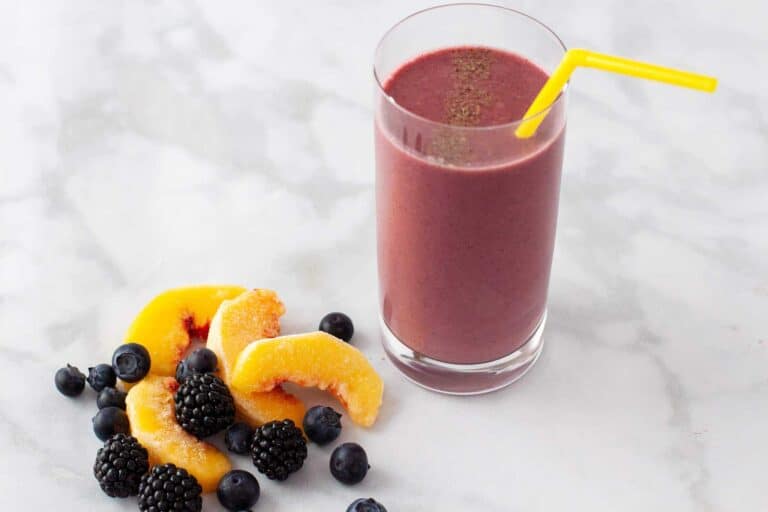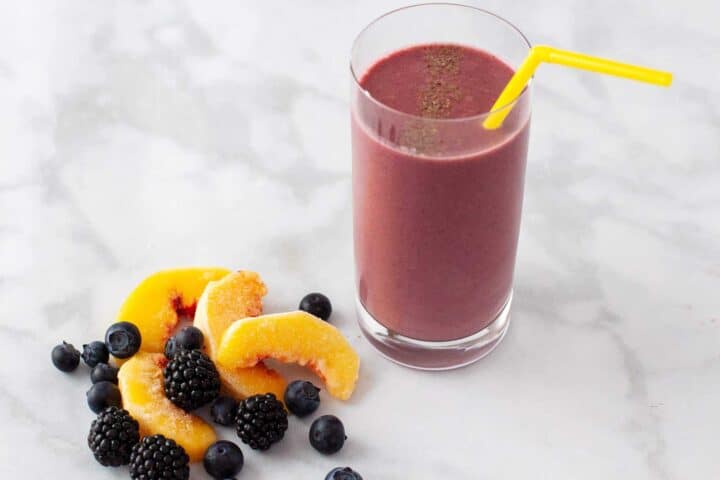 Orange, Carrot, Ginger Smoothie
This one packs a punch. With orange, carrot, ginger and turmeric it's great for those days when you need a pick me up and caffeine isn't doing the trick. Ginger and turmeric both have anti-inflammatory properties and ginger also can help with nausea.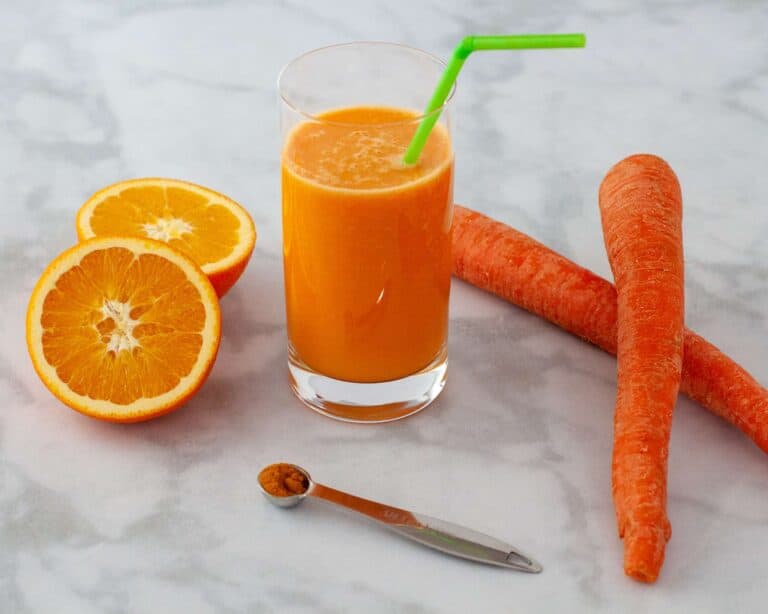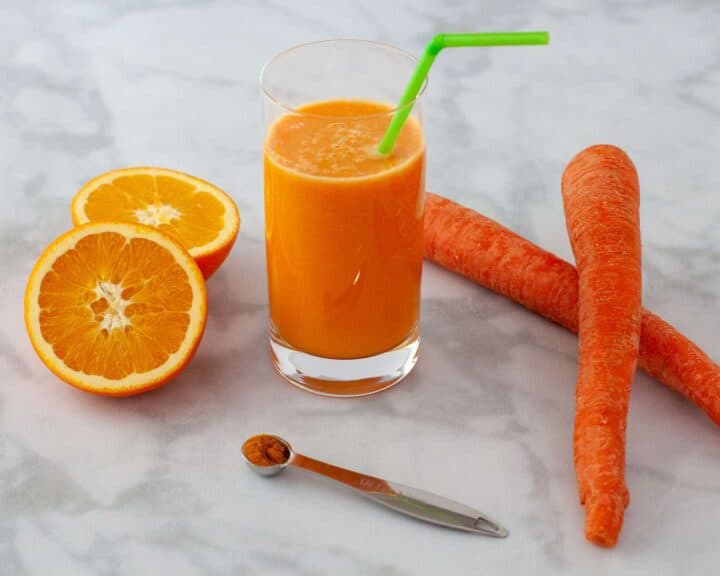 Pineapple, Mango, Strawberry Smoothie
An all fruit smoothie, this one is super refreshing. It makes a great breakfast but it's also great for sipping by the pool on a hot summer day.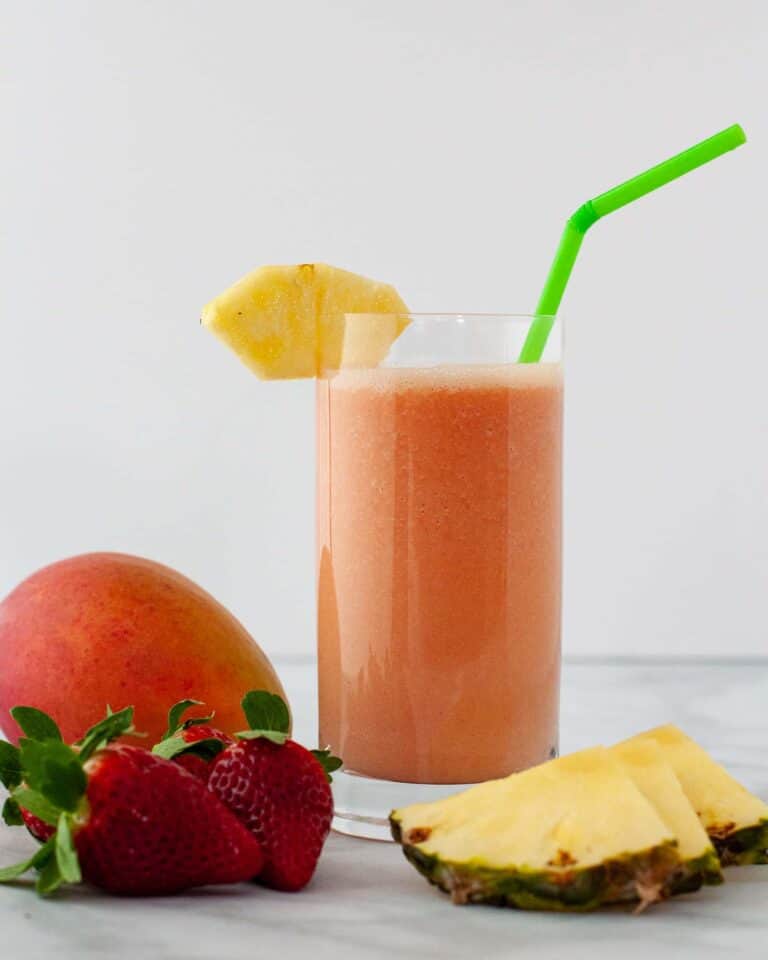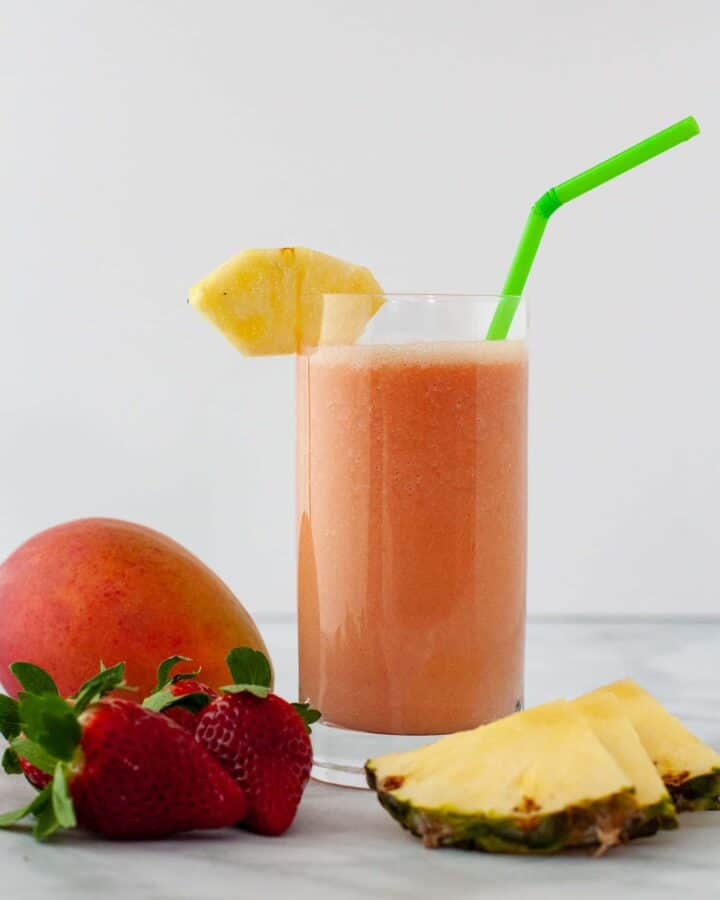 Smoothie additions
These six healthy smoothie recipes are great as is but it you want to add some extra nutritional value, try these additions.
Oats - Adding whole oats will give you a boost of fiber that will help keep you full for longer.
Chia Seeds - These tiny seeds are packed with fiber to help keep you full and also have a good bit of protein and omega-3 fatty acids.
Ground Flax seed - Flax seed is another good source of omega-3s, protein, and fiber along with many other vitamins, minerals, and antioxidants.
Protein Powder- Protein powder is a great addition if you want to boost your protein intake. There are many different options for the protein source so pick your favorite. Just keep an eye on the nutrition label as many contain sweeteners and high calorie counts.
Greek Yogurt - Another great protein source, adding Greek yogurt will also give your smoothie a creamier texture.

📖 Recipe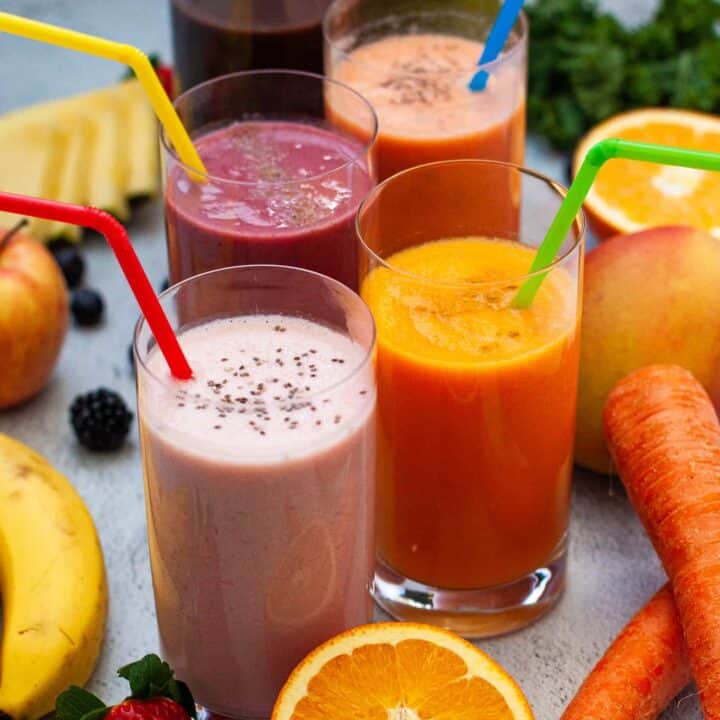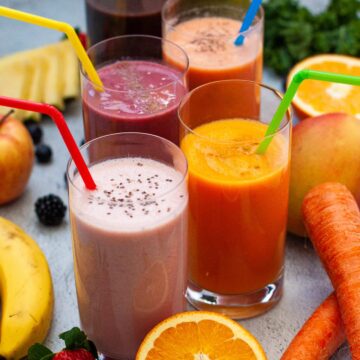 Six Healthy Smoothie Recipes
Six smoothies packed with fruits and veggies for a quick and healthy start to the day.
Print
Pin
Rate
Ingredients
Tropical Green Smoothie
½

cup

pineapple

,

chopped

½

cup

mango

,

chopped

1

cup

baby spinach

½

cup

kale

,

chopped

1

half

banana

½

cup

plain coconut water
Greens and Berries Smoothie
1

cup

kale

,

chopped

½

cup

spinach

½

cup

blackberries

½

cup

blueberries

1

medium

apple

,

cored and chopped

½

cup

apple juice
Strawberry Banana Smoothie
2

cups

strawberries

1

large

banana

½

cup

plain Greek yogurt

½

cup

water
Berries and Peaches Smoothie
1

cup

sliced peaches

½

cup

blueberries

½

cup

blackberries

½

cup

water
Orange Carrot Ginger Smoothie
1

orange

,

peeled

1

large

carrot

,

peeled

1

inch

pice of peeled ginger

½

tsp

ground turmeric

½

cup

orange juice
Pineapple, Mango, Strawberry Smoothie
1

cup

pineapple

1

cup

mango

1

cup

strawberries

½

cup

water
Instructions
Combine ingredients in blender and blend on high until smooth, around 1 minute. If mixture is too thick and not blending smoothly, add more liquid and pulse to combine until mixture blends smoothly.
* All nutrition information we provide are estimates based on third party calculators. We encourage you to calculate these on your own for accurate results.