Fresh homemade pasta is surprisingly easy to make. It requires just a few simple ingredients and only about 10 minutes to make the dough followed by a short 30 minute rest, then you can roll it out and shape it. Once you've got your pasta you can use it in all of your favorite pasta dishes.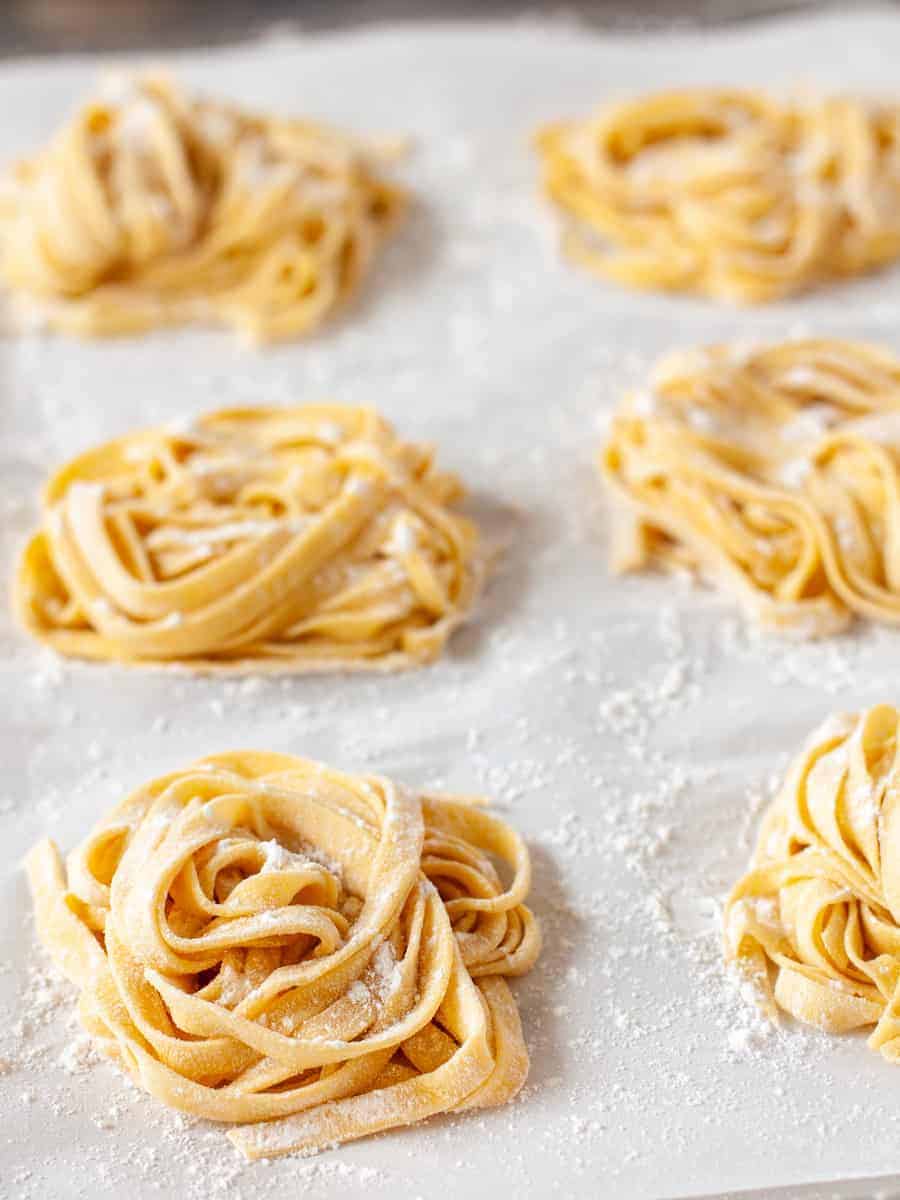 I'll admit, on occasion I still used boxed pasta. It's really convenient to throw together a quick meal in a pinch. But making fresh pasta is so quick and easy and definitely worth the extra effort. Whether you top it with tomato sauce, pesto, a slow cooked bolognese, a rich and creamy alfredo, or make a stuffed ravioli or tortellini, any way you use it, it's simply delicious.
Ingredient notes
Flour - I don't stock a lot of specialty flours in my pantry so I use all-purpose flour for my pasta. Italian "00" is a finer milled flour and it will produce a silkier pasta. Semolina is another common flour for pasta that is a bit grainier and produces a more textured pasta which helps the sauce cling to the noodles. Some recipes will call for a mixture of semolina and 00 to get the best of both worlds, but all-purpose works great too.
Eggs - With so few ingredients pasta recipes are all fairly similar, but one area you will see a big difference is with the eggs. Some call for only yolks and others use whole eggs. I like to use a combination of 3 whole and 1 yolk for every 2 cups of flour. This results in a rich flavorful pasta with a nice golden color.
Salt - You can use table salt or kosher salt in this recipe. I prefer to use Kosher salt. Just make sure not to use coarse sea salt.
Olive Oil - Adding olive oil will add a little flavor to the pasta and help hydrate the dough a little, but you can skip it if you want.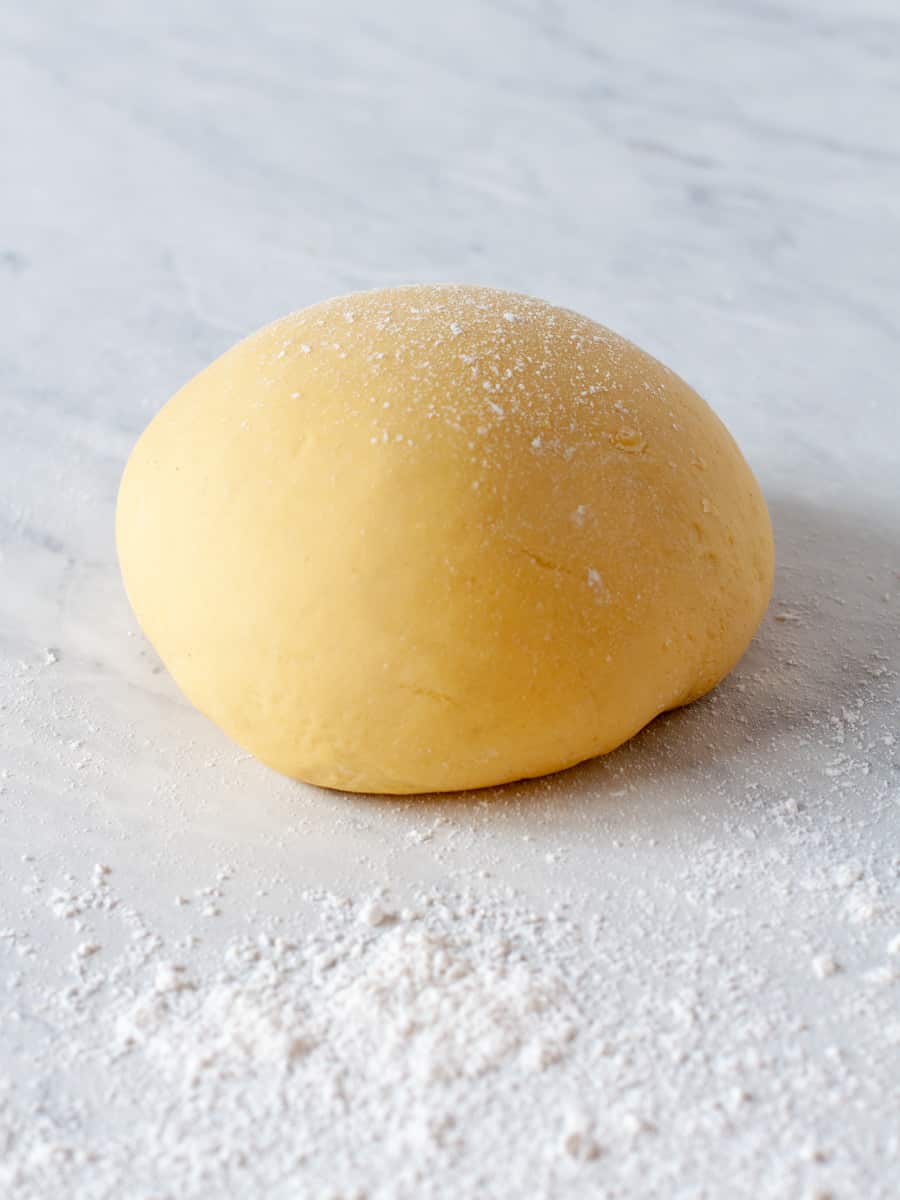 How to make the pasta dough
If you have a stand mixer the process is extremely easy, especially is you have the pasta roller attachment. You just add the flour , salt, and olive oil to the mixer fitted with the dough hook. Then add the eggs and mix on low until a rough, shaggy dough forms. Then increase to medium speed, it should form a ball.
Let the dough knead for about 5 minutes then remove to a lightly floured surface and knead by hand for another minute or two. Then wrap tightly with plastic wrap and let the dough rest for around 30 minutes at room temperature.
If you don't have a stand mixer fear not, it's easy to make by hand as well and you'll get a good workout kneading the dough by hand. Just put your flour in a mound on a smooth surface such as a marble counter top or large wooden cutting board.
Using a fork, make a large well in the center, about 3-4 inches wide. Add your salt and oil, then your eggs to the well. With your fork begin stirring the mixture gradually incorporating some of the flour until it's combined and forms a rough dough. You may need to use a bench scraper towards the end to work in the last bit of the flour
At this point you can flour your hands and form the dough into a ball. Then knead the dough by hand for 7-8 minutes. Wrap the dough with plastic wrap and let it rest for around 30 minutes.
If you don't plan to use your dough right away you can refrigerate the dough for up to a day. Just let it come up to room temperature before you roll it out. You can also freeze the dough for 2-3 weeks.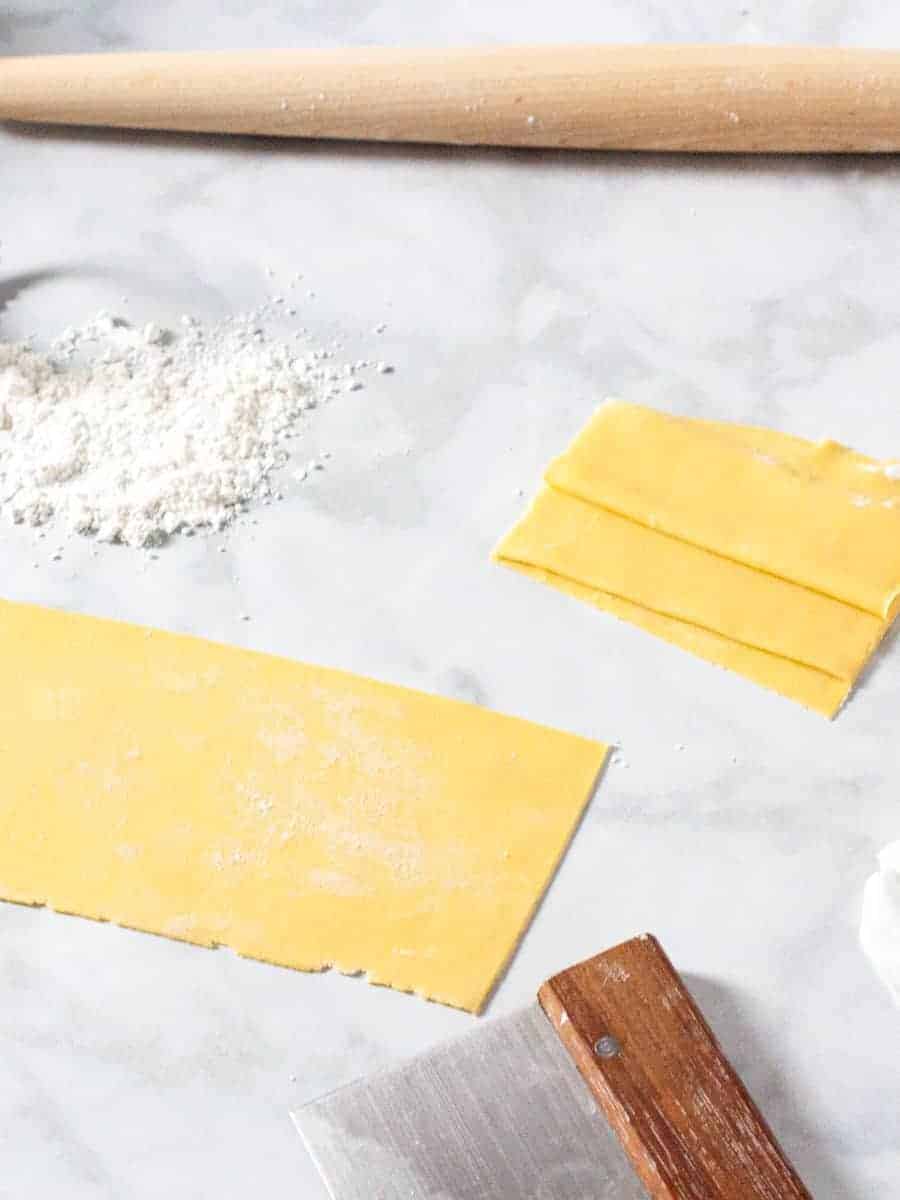 How to roll out the dough
Once you're ready to roll out the pasta cut the dough into fourths. You'll roll out each piece individually so keep the other pieces wrapped in plastic or covered with a slightly damp kitchen towel so they don't dry out while you work.
You'll want to make sure everything is very well floured. Your hands, the pasta machine, the working surface, and rolling pin should all be dusted to avoid any sticking. Take the first piece and roll it out with a rolling pin to around the with of your pasta machine.
Set your pasta machine to it's thickest setting and pass the dough through 2-3 times. Next you'll laminate the dough. This helps the gluten formation and gives a chewier texture to the finished pasta. Lay the pasta out and fold the rounded, elongated ends over onto the sheet, then fold the sheet in half. you should have a fairly rectangular shaped piece now. Feed this through the machine another two or three times.
Adjust the machine to the next thinnest setting and feed the sheet through two more times. Repeat this, stepping down a setting each time, until you reach your desired thickness. If the sheet gets too long you can cut it in half and continue. Just be sure to cover or wrap the piece you're not working with.
For a noodle pasta like fettuccini or lasagna I go to the third or fourth from the last setting on my machine. For a ravioli you'll want to go a bit thinner until it's almost translucent. On my machine that's the second to last setting.
Repeat this process with the other 3 pieces of your dough. You'll want to cut the sheets into noodle length pieces, around 12 inches. Lightly dust the rolled sheets and cover them until you're ready to cut them. It sounds like a lot of work, but it goes quickly and it's kind of fun. It's like rolling out play-doh as a kid!
If you don't have a pasta machine you can roll it out with a rolling pin. Just be sure to keep everything well floured to avoid sticking.
Cutting the pasta
Pasta machines typically have a roller attachment for cutting as well. On mine it has a section for fettuccini and another for spaghetti. The attachment hooks onto the base of the machine and the hand crank is inserted into the cutting attachment. You then feed the sheet of pasta through to cut it. After you've cut the pasta toss the noodles with flour to coat then shake off any excess. The noodles should appear dusty so they don't stick together. Then fold them or twist into little nests and set them on a parchment lined baking sheet.
If you want different widths such as lasagna or pappardelle or if don't have a pasta machine, you can roll up the sheet like a jelly roll and use a sharp knife to cut it into the desired size.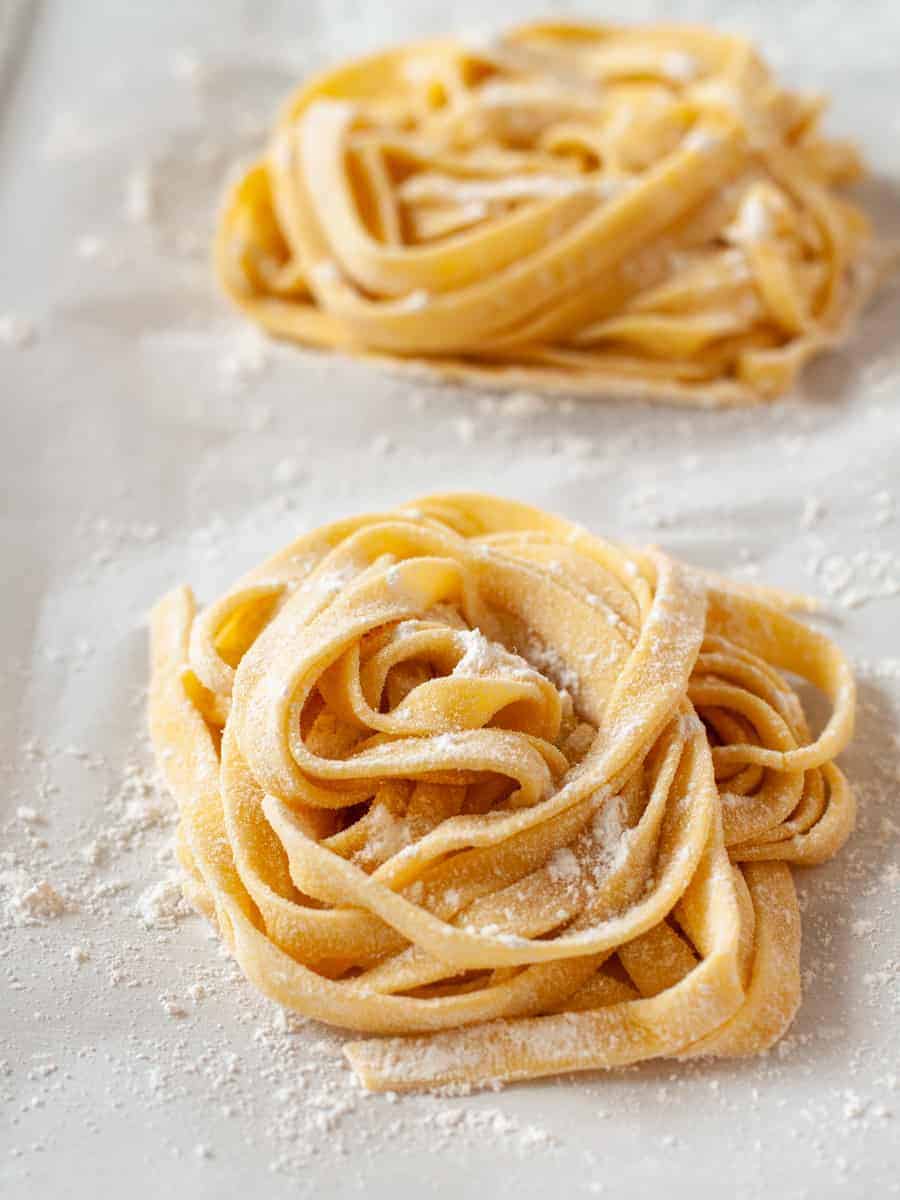 Cooking your finished pasta
Homemade fresh pasta cooks very quickly. Just bring a large pot of salted water to a rolling boil and add the pasta. Cook for around 2-3 minutes until al dente.
Storing fresh cut pasta
If you want to save the cut pasta for later, you can allow the noodles to dry for around 30 minutes then refrigerate in an airtight container. They will keep for 1 to 2 days. They may discolor a little but it will not effect the taste. You can also allow it to completely dry and it will keep for up to two weeks.
For longer storage the freezer is best. To freeze place the entire baking sheet with your arranged noodle folds or nests in the freezer and allow them to completely freeze. Place them in an airtight container or freezer bag and store for up to two months.
Frozen or fully dried pasta will take an extra 1 to 2 minutes to cook.
What to make with your fresh pasta
📖 Recipe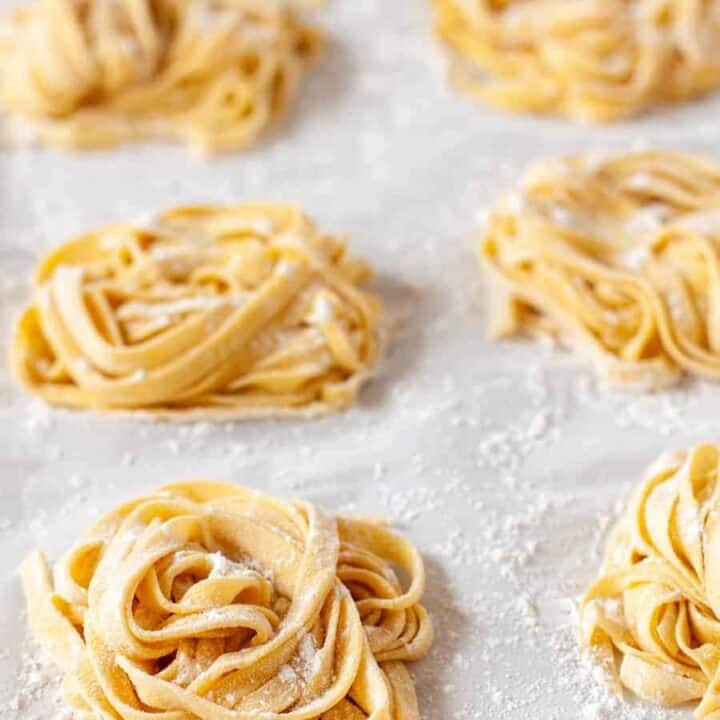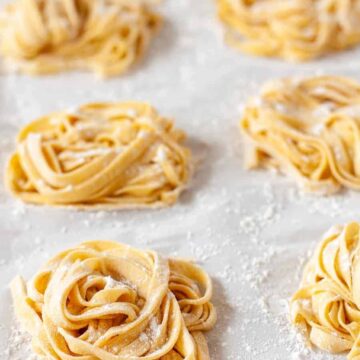 Homemade Fresh Pasta
With just a few simple ingredients homemade pasta is so simple to make and way better than boxed pasta.
Print
Pin
Rate
Ingredients
4

large

eggs

,

3 whole, 1 yolk only, lightly beaten

2

cups

all purpose flour

,

plus additional for dusting

1

tsp

olive oil

1

tsp

kosher salt
Instructions
Add the flour, salt, and olive oil to a stand mixer fitted with the dough hook. Then add the eggs. Mix on low speed until ingredients come together, scraping sides of bowl as needed. Once the dough has formed, increase the speed to medium and beat for around 4 to 5 minutes.

Remove the dough ball and knead by hand on a lightly floured surface for an additional 1-2 minutes.

Wrap the dough tightly in plastic wrap and allow it to rest at room temperature for around 30 minutes.

Use a pasta machine or rolling pin to roll the dough into sheets and cut into desired shape.
Notes
To make without a stand mixer
Put the flour on a smooth surface in a mound then make a well in the center. Add the oil and salt to the center then add the eggs and, using a fork, stir the eggs and gradually incorporate the flour to form a rough dough. Then flour your hands and form the dough into a ball. Knead on a lightly floured surface for around 7-8

minutes. Then wrap in plastic and let rest for 30 minutes.
Nutrition
Calories:
309
kcal
Carbohydrates:
48
g
Protein:
13
g
Fat:
6
g
Fiber:
2
g
* All nutrition information we provide are estimates based on third party calculators. We encourage you to calculate these on your own for accurate results.
Check out some of my other pasta dishes!