Everyone loves soft warm cinnamon rolls, but many people don't try making them at home because they are afraid of working with a yeast dough. This recipe will surely change your mind.
It's really easy to make and the results are outstanding! They're a perfect treat for a Sunday morning or when you have guests in town for the holidays.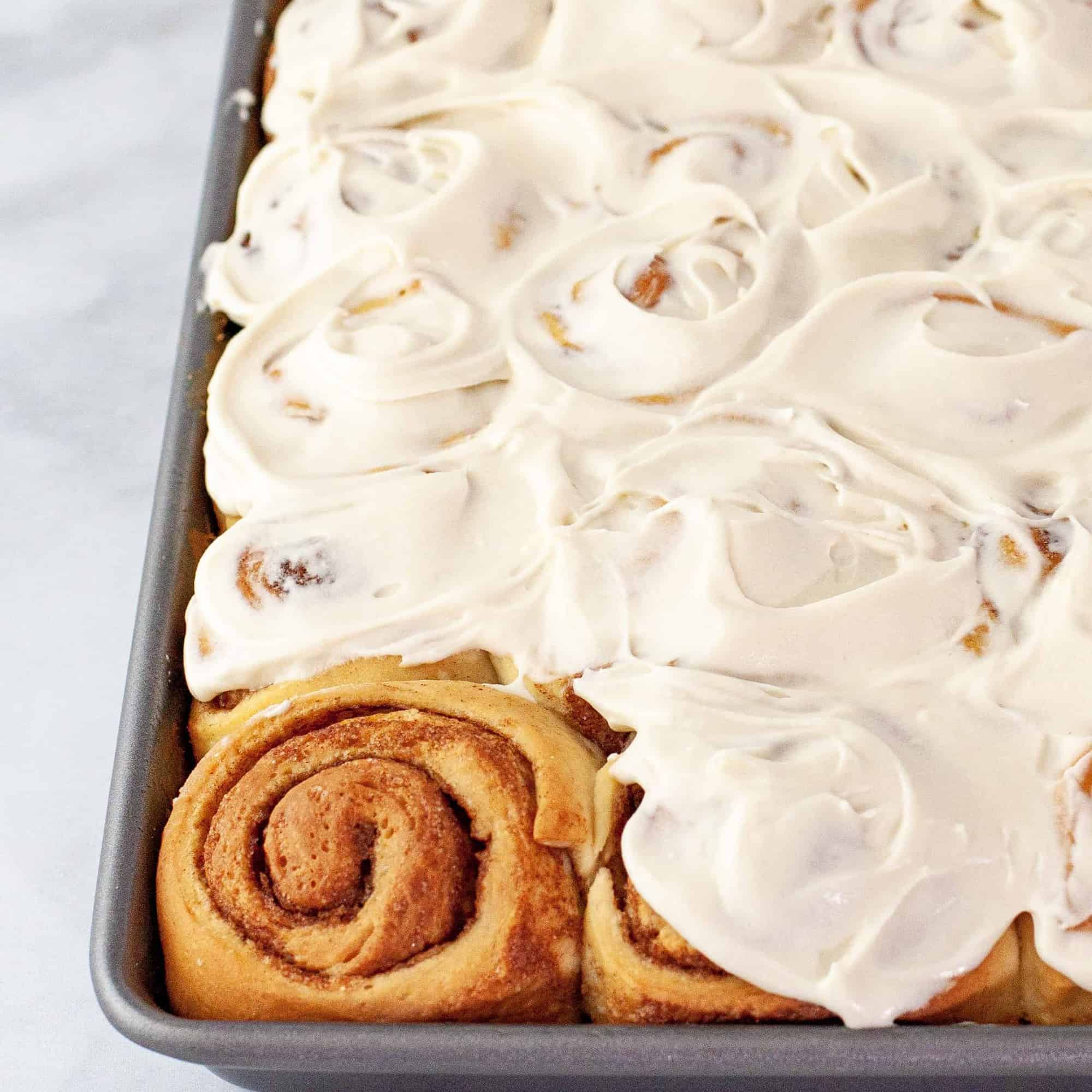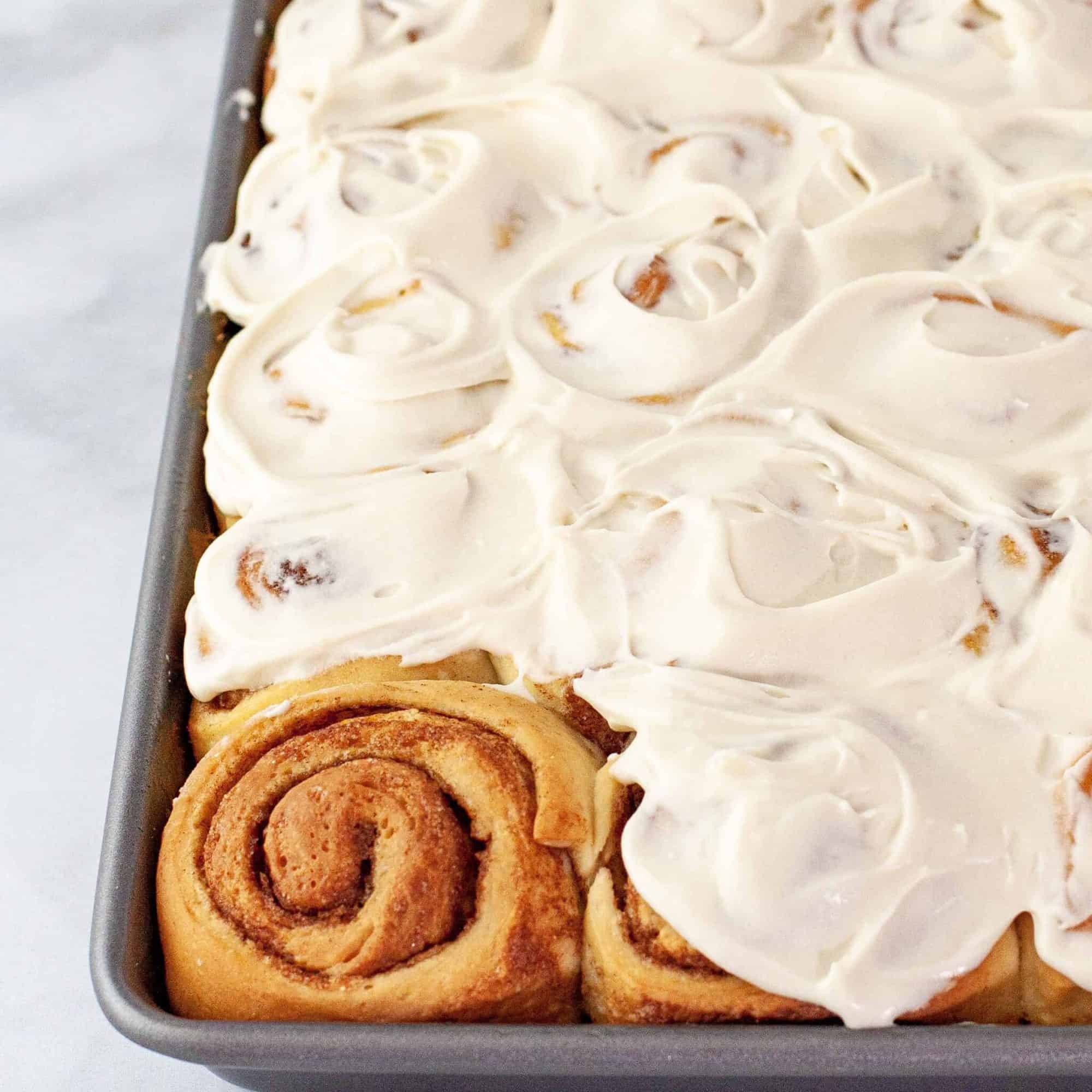 How to make homemade cinnamon rolls
If you're not a regular baker working with yeast can be a little intimidating. But it's actually pretty easy to use. There are really two keys, first make sure you use fresh yeast. I don't bake bread all that often and yeast is really cheap so I usually just buy a new pack when I want to bake something If you have some in your cabinet just make sure to check the expiration date before you start.
The second key is to make sure your liquids aren't too hot. Brands vary so check the package, but usually around 110 degrees F is about right. This recipe calls for instant yeast so you don't even have to proof it. Just sprinkle it in the mixer and get going.
It's also important that your other ingredients are room temperature so that the yeast doesn't get thrown off course. For the eggs the quickest way is to put them in a glass of room lukewarm water for a few minutes before you use them.
Kneading the dough
Another part of making cinnamon rolls that can intimidate some people is kneading the dough. But fear not, this recipe is really forgiving and hand kneading is not required. If you have a stand mixer you can let it do all of the work with the dough hook and if you have a bread machine, it's even easier using the dough setting.
If you don't have a stand mixer or bread machine you can hand knead these as well. Just stir with a wooden spoon until you can't stir anymore, then scrape the dough out onto a floured surface and knead for around 5 minutes. Be careful not to add too much additional flour if kneading by hand. You want a soft and slightly sticky dough.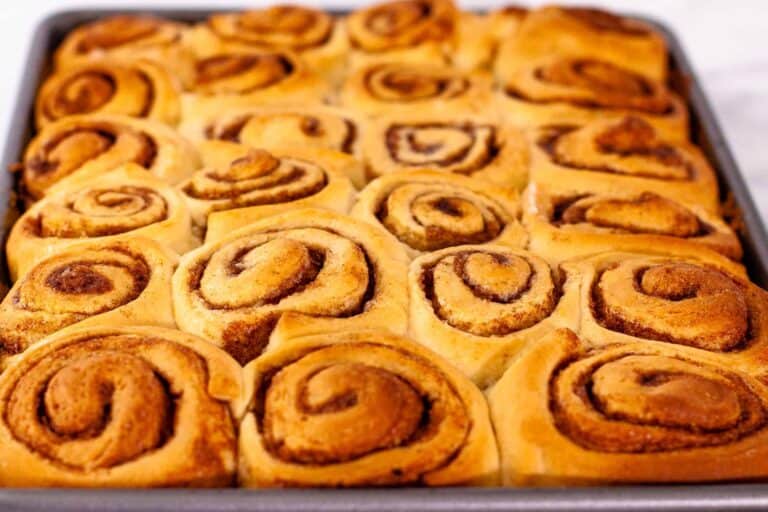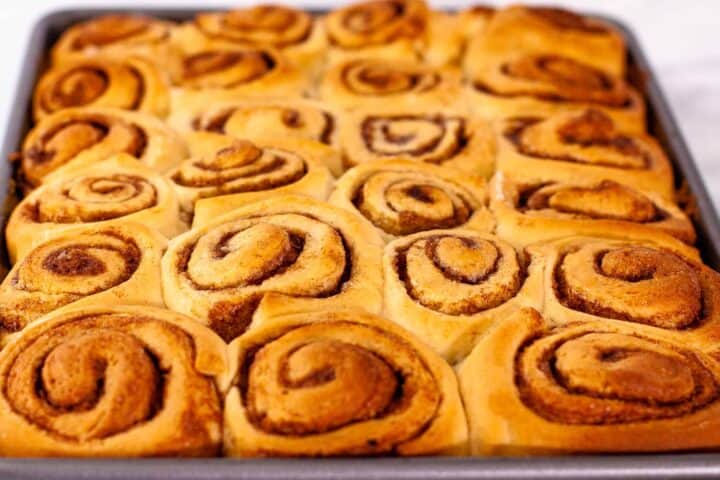 Let the dough Rise
This recipe calls for two separate but short rises. First you'll let the dough rise in a greased bowl in a warm spot in your kitchen for around 30-45 minutes. To prepare the bowl I use cooking spray. Then I like to turn the oven on at 200 degrees for about 1 minute then turn it off and put the dough bowl in.
Look for the dough to roughly double in size. Check it around 30 minutes but don't get worried if it's not done, it normally takes a little longer. You just don't want to let it go too long or the dough will be too airy.
The second rise will be in the pan after you've rolled and cut the dough. More on that later.
Cinnamon Roll filling
While the dough is rising you'll want to make your filling. There are a few ways you can go about it. One is to use softened butter and mix it with the cinnamon and sugar to form a thick paste. The second it to spread the softened butter over the dough and then sprinkle on the cinnamon and sugar, and the third is to use melted butter and pour that on the dough then sprinkle on the cinnamon and sugar.
I prefer the paste method. It's definitely a little more work to get it spread out on the dough but I think the results are better. Sometimes when you use the melted butter method the filling can leak out of your rolls while they bake.
If you do prefer the melted butter method and the filing leaks out, you can flip the pan over when removing them like you would with sticky buns so that the bottom becomes the top, then ice them as normal.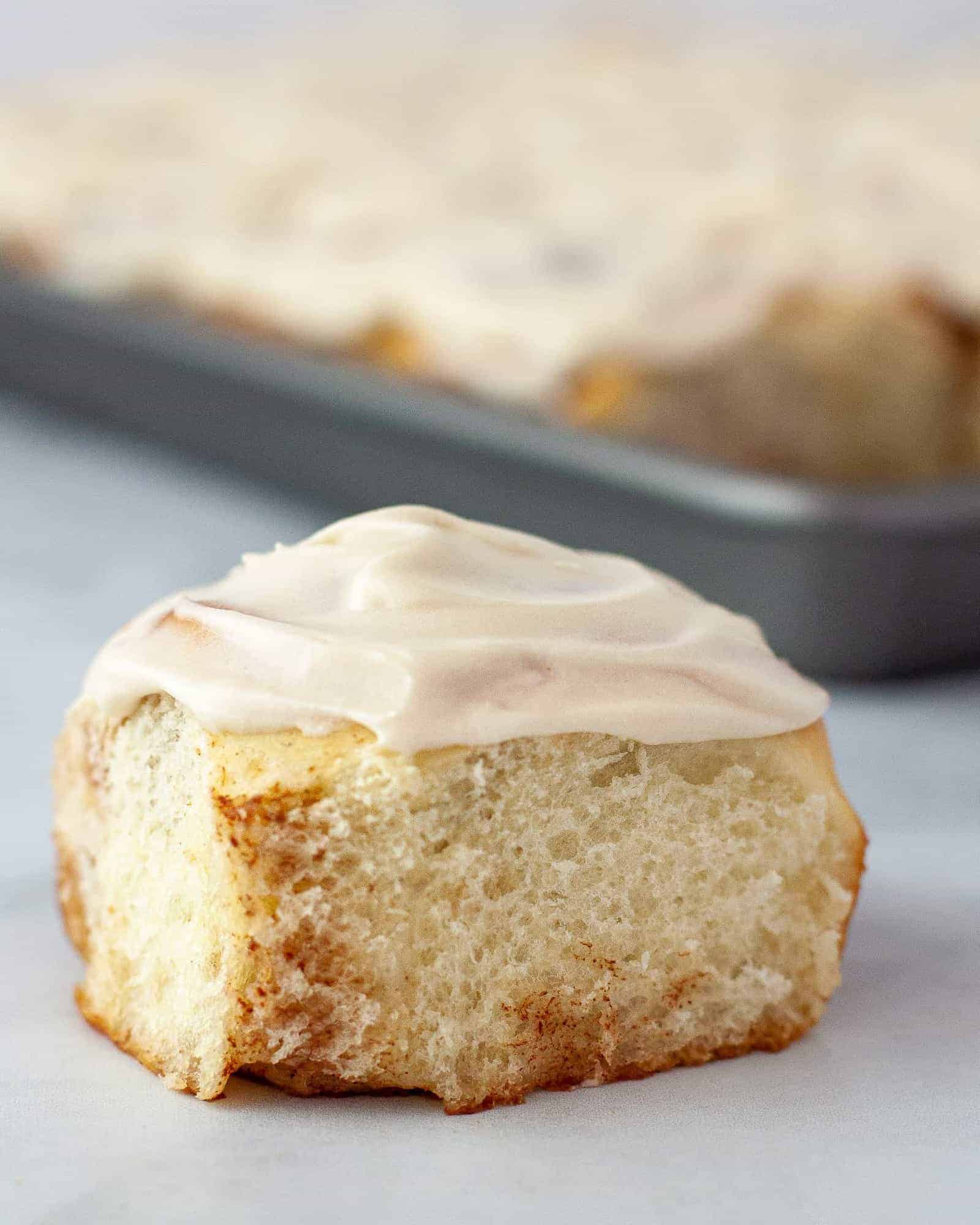 Shaping the cinnamon rolls
If you have a pastry mat this is a great time to get it out. Sprinkle the surface with flour and roll the dough out and aim for around a 24 by 15 rectangle to make 12 rolls. I usually make mine a bit smaller for the kids, so I go a little longer than that. The dough will be soft and slightly tacky so you will need to make sure the surface if floured and also sprinkle the top of your dough with flour but it should roll out easily.
Once you have the dough rolled out spread on your filling in an even coat to cover the dough and then beginning on the long end of the dough, roll it up tightly into a log.
To cut the rolls it's best to measure them out and use a very sharp knife. If you have them on a pastry mat that's marked it makes it really easy. If you can't measure them it's bet to halve the dough, into two sections, then halve those, etc. until you get them all cut. I wouldn't recommend starting at one end and eye balling them down the line.
After cutting the rolls put them into a greased 9 by 13 baking pan with a little room between them and let them rise again for around 30 minutes. If you want to make these ahead you can instead refrigerate them overnight. When you're ready to bake just remove and let them rise for around 1-2 hours until they're about to room temp then bake.
Baking the cinnamon rolls
After the second rise put the pan into a 375 degree oven for around 15-20 minutes until the rolls are lightly golden brown and cooked through but still soft.
If you want really gooey cinnamon rolls you can pour a half a cup or so of warmed heavy cream or half and half over the rolls before you put them into the oven.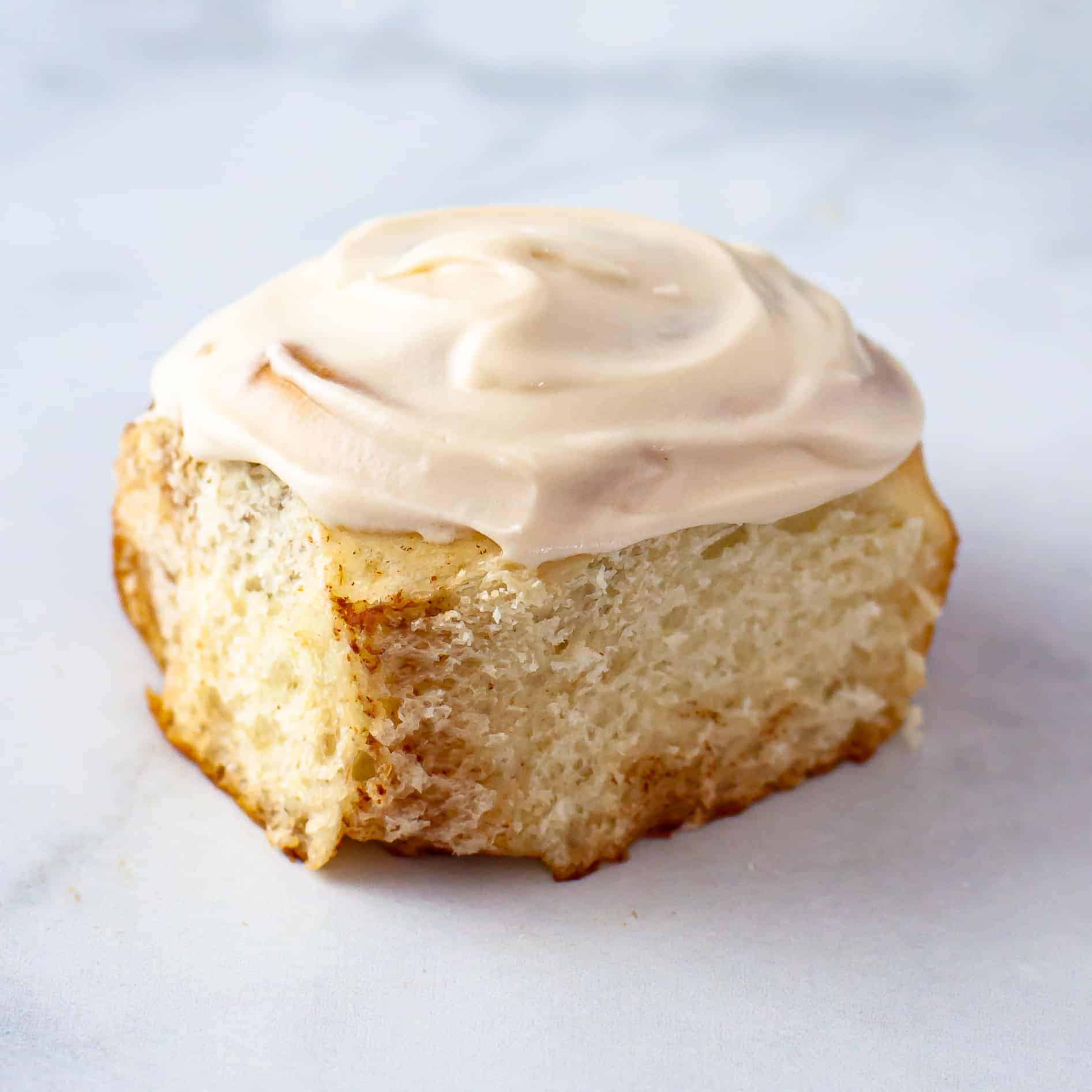 How to make cinnamon roll icing
I like to ice my cinnamon rolls with cream cheese frosting. To make the icing mix softened cream cheese and butter with vanilla and powdered sugar with a hand mixer or in a stand mixer. I like the icing to be fairly thick, but you can thin it with a tablespoon or two of milk if you prefer more of a glaze.
Other great options are butter cream icing, a powdered sugar glaze, or a glaze of coffee and powdered sugar.
I like to let the rolls cool a bit before icing. This way the icing doesn't melt and stays thick. If you prefer the icing to melt and glaze the rolls, and get in all the crevices, go ahead and ice them a couple of minutes after you take them out of the oven.
📖 Recipe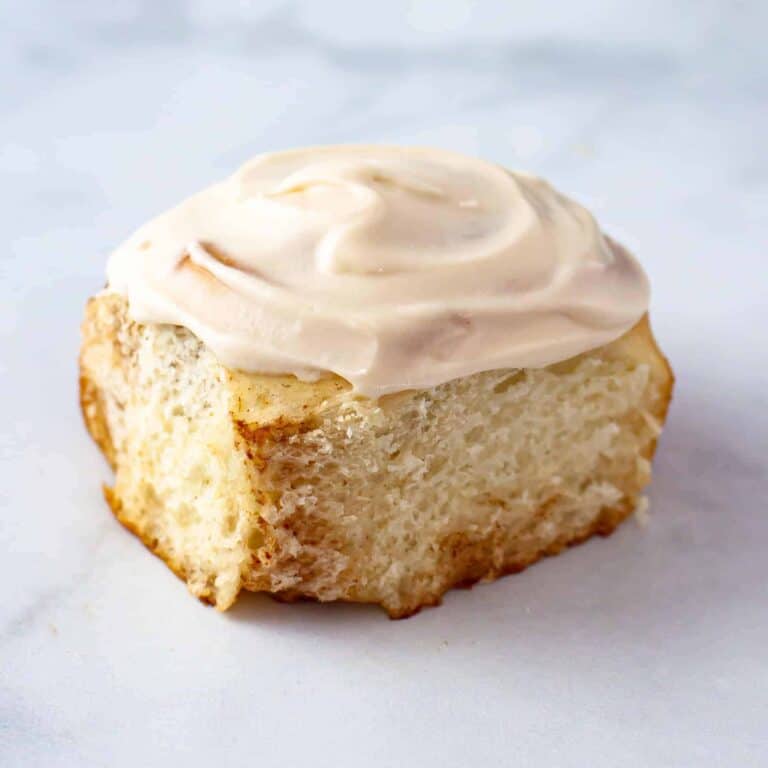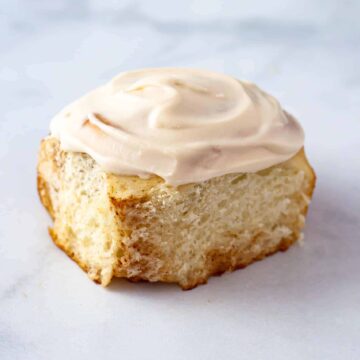 Cinnamon Rolls
Soft and gooey cinnamon rolls topped with cream cheese frosting.
Print
Pin
Rate
Ingredients
Dough:
1

cup

milk

⅓

cup

butter

1

package instant dry yeast

2

large eggs

,

room temperature

4

cups

all-purpose flour

1

tsp

salt

½

cup

granulated sugar
Filling:
½

cup

butter

1

cup

packed brown sugar

2

tablespoons

cinnamon
Cream Cheese Frosting:
4

ounces

½ cup cream cheese

,

softened

3

tablespoons

butter

,

softened

1

teaspoon

vanilla extract

1 ½

cups

powdered sugar

1-2

tablespoons

milk

,

optional
Instructions
Heat milk and butter in microwave or on stove until butter is melted. Let mixture cool to about 110-115 degrees F.

Add warm milk mixture to bowl of stand mixer with the dough-hook attached and sprinkle the yeast on top.

In a separate bowl, whisk together 3 ½ cups of the flour with the sugar and salt until combined.

Add flour mixture to the milk mixture long with the eggs and mix on low until just combined. Then let ingredients rest for a few minutes to allow the dry ingredients to combine with the wet ingredients.

Beat the dough on medium speed adding more flour a tablespoon at a time as needed until it begins to form a ball and pulls away from the sides. Continue for around 5 minutes.

Spray a large bowl with cooking spray and scrape the dough into the bowl and cover with a damp towel.

Let dough rise in a warm spot for until about doubled in size, around 30-45 minutes.

While the dough is rising, make the filing. In a small bowl, add butter, brown sugar and cinnamon and stir until combined then set aside

After the dough has risen, flour your work surface or pastry mat and turn out the dough. Sprinkle the top of the dough with a little flour and roll into a large rectangle. Aim for around 24 x 15.

Using a rubber spatula, spread the filling mixture evenly over the dough.

Starting on the long end roll the dough up tightly. Cut into 12 equal rolls and arrange in a greased 9 x 13 baking pan.

Cover the rolls and allow them to rise for around 20-30 minutes.

While the rolls rise, preheat the oven to 375 degrees.

Add the risen rolls to the oven and bake on the center rack for 15-20 minutes until golden brown. Remove from oven and allow to cool.

While rolls cool prepare the icing by combining cream cheese, butter, and vanilla in a large bowl and mix with a hand mixer until combined.

Add the powdered sugar 1 cup at a time and mix until combined. Add milk to thin if desired

After the rolls are cooled, spread the frosting over top to cover.
Nutrition
* All nutrition information we provide are estimates based on third party calculators. We encourage you to calculate these on your own for accurate results.
Check out my other breakfast recipes