This easy key lime pie recipe has the addition of Greek yogurt for a rich and creamy filling with a sweet-tart flavor in a homemade buttery graham cracker crust. It is the perfect refreshing dessert for a hot summer day.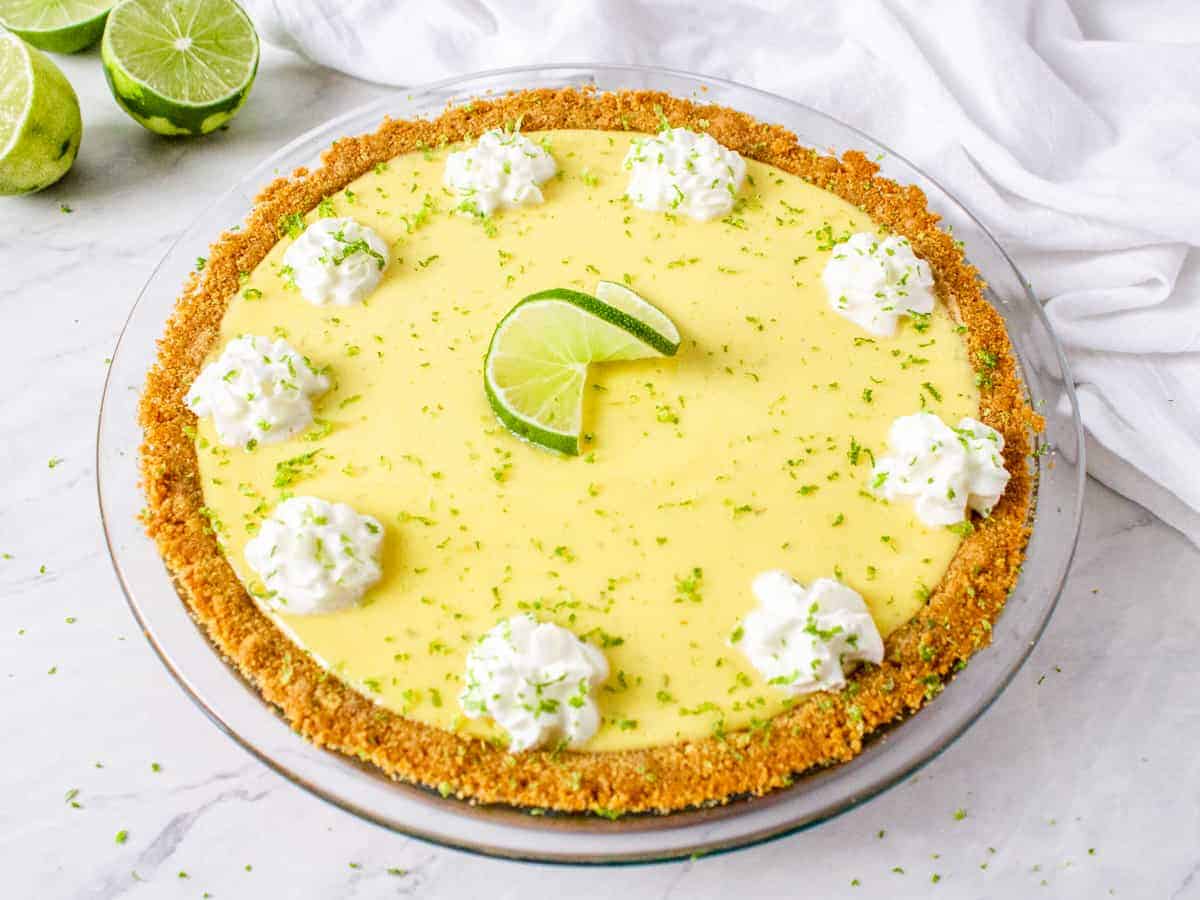 Jump to:
Why this recipe works
Key lime pie is a classic summer dessert that is simple and easy to make. I won't call it quick because it does require a few hours to chill before serving, but there are only about 15 minutes of hands-on time.
Some key lime pie can be mouth puckering tart, but in this key lime pie recipe, I've added Greek yogurt. This makes the filling creamier and helps reduce the tartness.
The tangy flavor of the Greek yogurt blends in really well with the other flavors in this pie so you won't really know it's there. I use the same trick in my Lemon Blueberry Pancakes too!
What lime juice to use for key lime pie?
I'm going for easy and am not really aiming for the most authentic key lime pie recipe here. So I use good quality store-bought lime juice. It's still every bit as delicious as a pie made with true key lime juice.
If you use store-bought juice but want true key lime juice, be wary of products labeled "Key West" lime juice. This typically isn't actually juice from key limes at all. It's often just regular Persian lime juice, from concentrate no less, and some creative marketing. So be sure to check the ingredients before you buy to be sure you're getting the real thing if that's what you're after.
Greek Yogurt Key Lime Pie Ingredients
Graham Cracker Crust
2 cups graham cracker crumbs
½ cup light brown sugar
½ cup melted butter
Filling
4 egg yolks
1 14 oz can sweetened condensed milk
½ cup Greek yogurt
½ cup key lime juice
1 tablespoon lime zest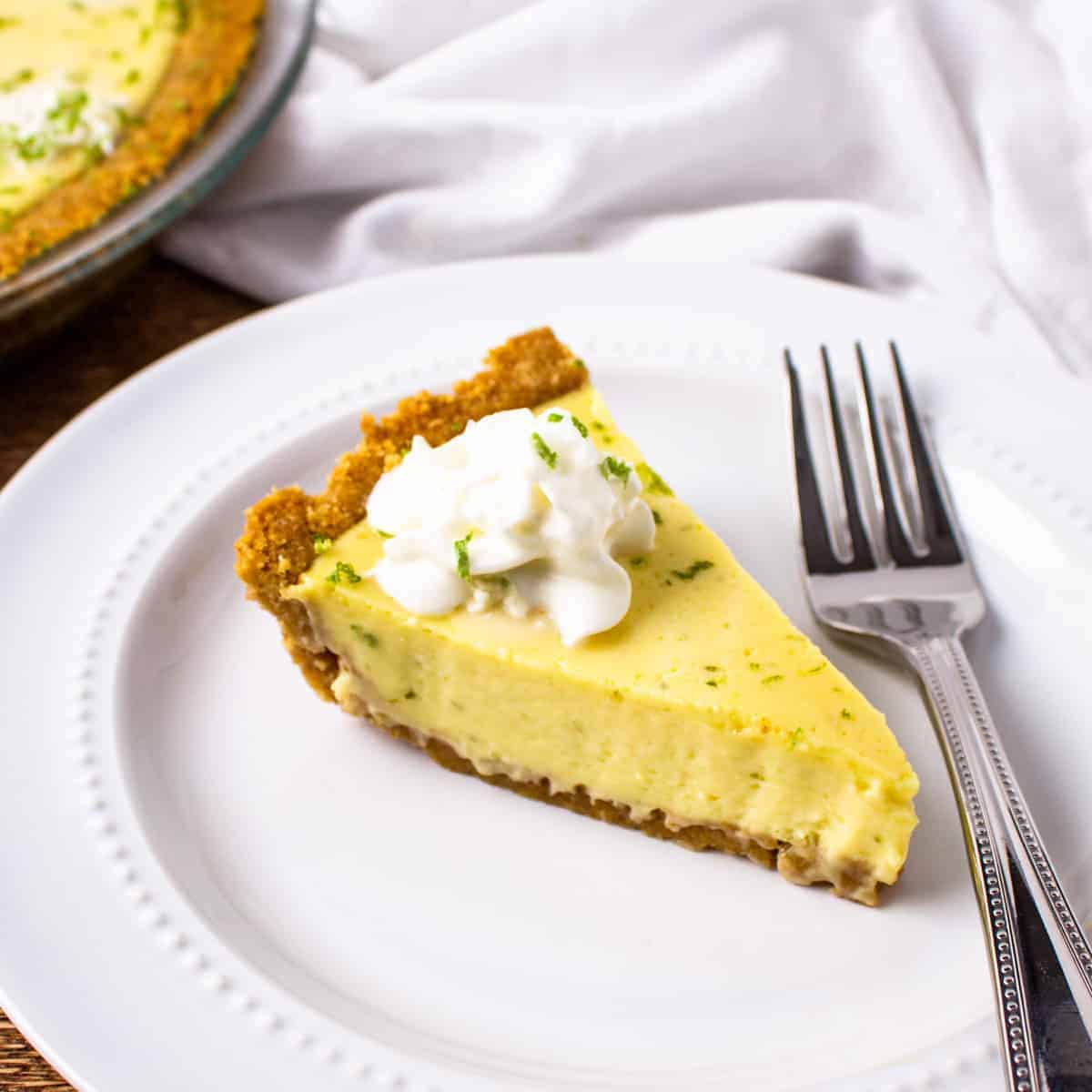 How to Make a Graham Cracker Crust
Crumble around 12 graham crackers into fine crumbs. There are two easy ways to do this, crush them yourself or in a food processor.

To crush by hand, put 6 graham crackers at a time in a plastic sandwich bag and lay them on a cutting board, then use a kitchen mallet to smash them up. Dump them in your bowl, then repeat again with the remaining 6 graham crackers. My kids love to do this, so it's my preferred method! Another bonus is there isn't any extra cleanup. Just toss the bag, and you're done.
To use a food processor, just break the graham crackers up into pieces and add them to your food processor, then pulse them until they are finely crumbled.

Add the crumbs to a mixing bowl and stir in the brown sugar. Then pour the melted butter over top and stir until the mixture is moistened and there are no more dry crumbs.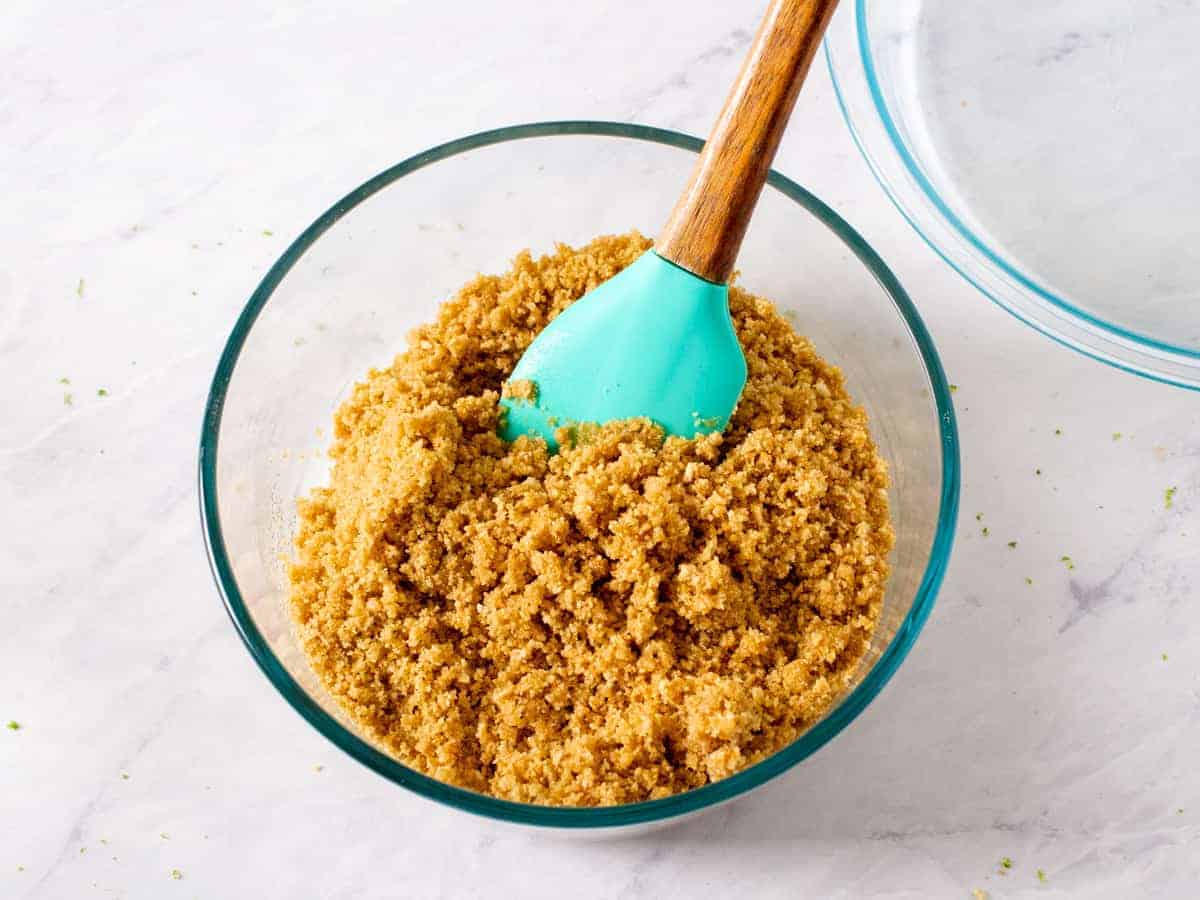 Dump your crust mixture into a pie dish and firmly press into an even crust in the bottom and up the sides. Use the back of a ½ cup sized dry measuring cup to help press the crust firmly and evenly into place. The extra surface area of the measuring cup works much better than trying to use your fingers.
After the crust is formed, bake it in a 350°F oven for 10 minutes. Remove the dish from the oven and place it on a wire rack. Let the crust cool to room temperature for around 30 minutes.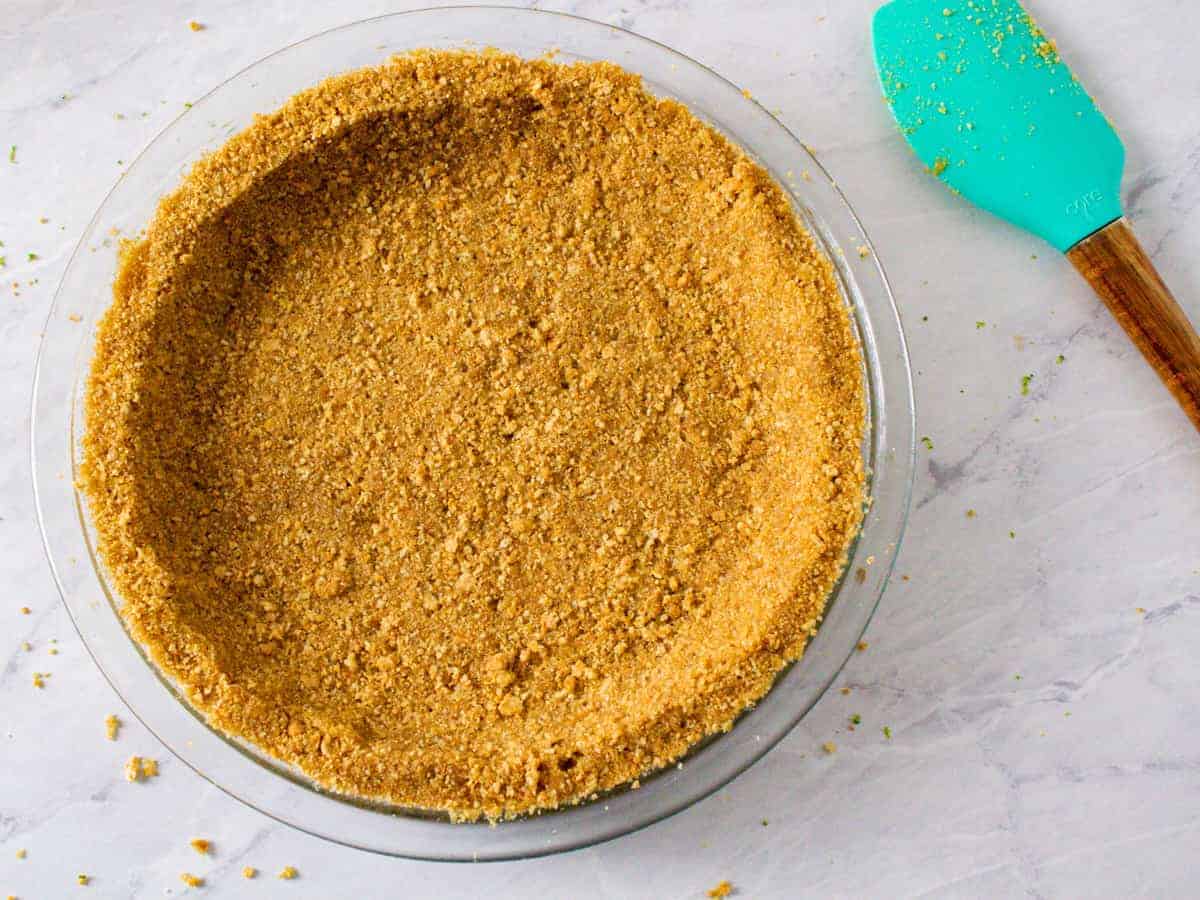 How to Make the Pie Filling
Add the egg yolks, key lime juice, lime zest, sweetened condensed milk, and Greek yogurt to a mixing bowl and whisk until well combined.
Let the mixture sit for around 5 minutes at room temperature after mixing. During this time the mixture will thicken due to a reaction between the acidity from the lime juice and the milk proteins in the sweetened condensed milk. The acidity also helps to chemically "cook" the egg, which is why you will sometimes see no-bake key lime pies that contain eggs.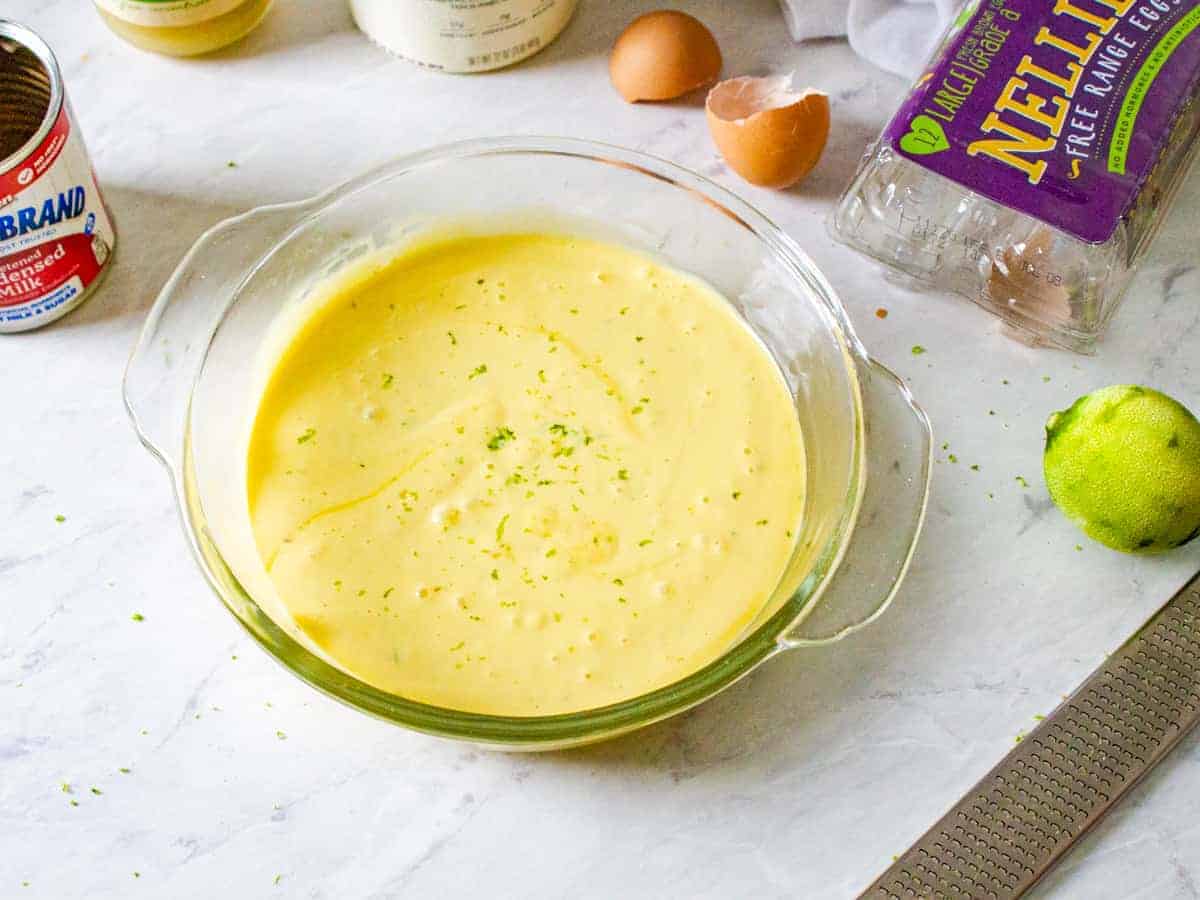 How to Bake Key Lime Pie
After the resting period, pour the mixture into your prepared crust. Bake at 350°F for 10 to 15 minutes. The filling should be set but still slightly jiggly.
Transfer the pie to a wire rack and let it cool to room temperature. Then cover with plastic wrap and refrigerate for at least 3 hours before serving.
The pie will keep for 3 to 4 days covered and refrigerated.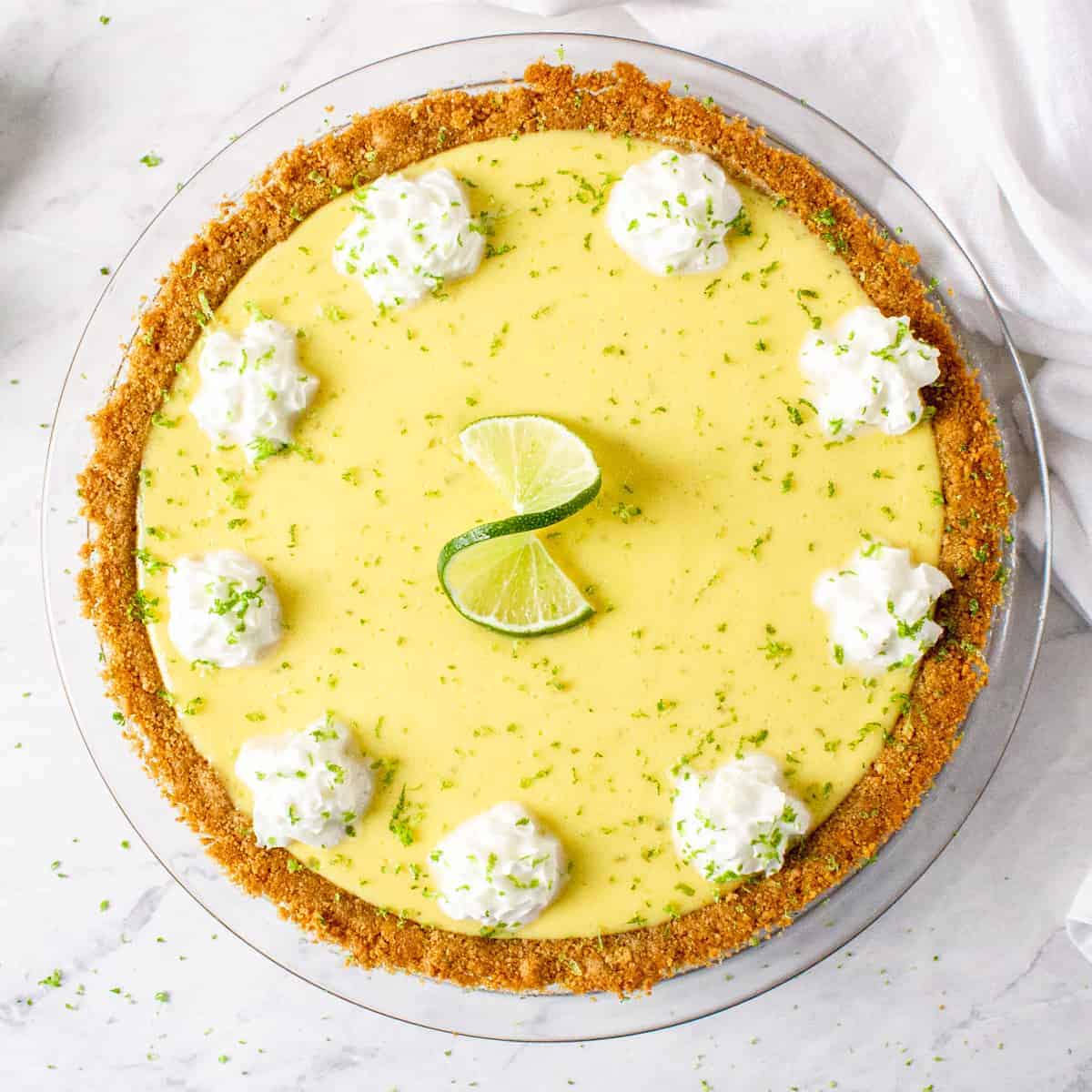 Key Lime Pie Tips and FAQs
Can I use a store-bought crust?
Yes, absolutely! Graham cracker crust is really easy to make at home, but if you're in a hurry, store-bought will work too.
How can I top my pie?
I like to keep it simple with a dusting of lime zest and a little bit of whipped cream, and a lime twist. You can also cover the whole pie with a thick layer of whipped cream or meringue if you prefer. Lime slices on each slice are also a nice touch if you don't want whipped cream.
How do I make a lime twist garnish?
To make a lime twist, just cut a thin slice of lime. Then cut from the center point of the lime to one edge of the peel. Then take the two free corners at the peel and pull them in opposite directions, being careful not to pull apart the uncut half of the lime slice.
Can I juice my own limes, and how many will I need?
Yes, this recipe will also work perfectly well if you want to use fresh squeezed lime juice. For key limes, you will need around 12-15. For Persian limes, you'll need around 4 or 5.
What type of pie dish should I use?
For this key lime pie, I recommend using a standard 9-inch glass pie dish. Metal will work, but you will get more even heating with a glass dish. Do not use a deep dish pie dish for this one.
More Summer Recipes
📖 Recipe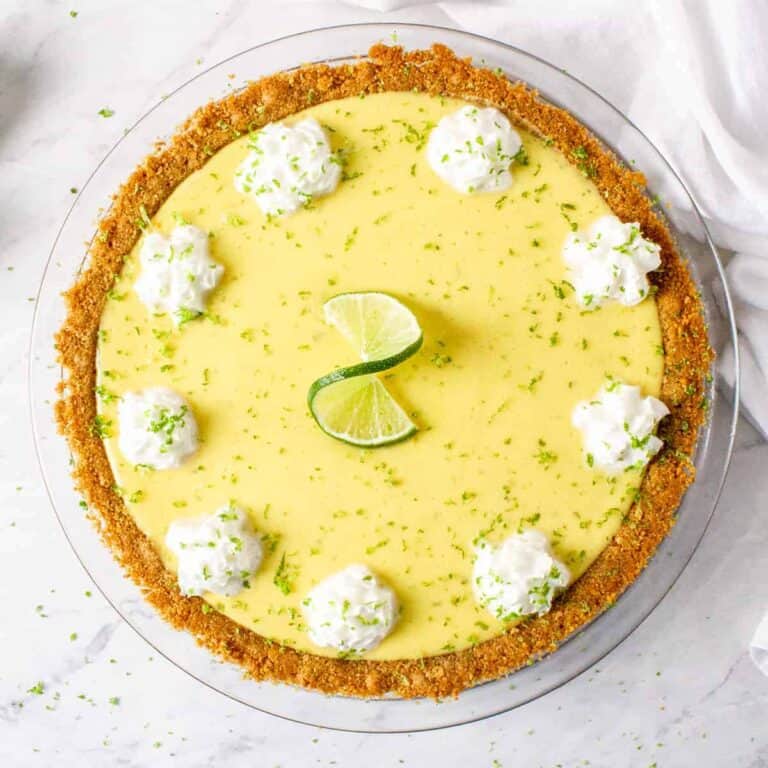 Key Lime Pie
Possibly the perfect dessert for a hot summer day this easy key lime pie is tart and refreshing and oh so delicious!
Print
Pin
Rate
Ingredients
Filling
4

egg yolks

1

14 oz can

sweetened condensed milk

½

cup

Greek yogurt

½

cup

lime juice

1

tablespoon

lime zest
Graham Cracker Crust
1½

cups

graham cracker crumbs

,

about 12 whole graham crackers

⅓

cup

light brown sugar

½

cup

melted butter
Instructions
Preheat your oven to 350°F.

Add the graham cracker crumbs and brown sugar to a mixing bowl and stir to combine then pour the melted butter over top and stir until combined and all of the crumbs are moistened.

Add the crust mixture to a pie dish and firmly press the mixture to form an even crust on the bottom and up the sides of your dish. Using the back of a measuring cup works well for this.

Bake the empty crust for 10 minutes then transfer to a wire rack to cool to room temperature.

While the crust cools prepare the filling by adding the egg yolks, lime juice, sweetened condensed milk, Greek yogurt, and lime zest to a bowl and whisk together.

Pour the filling into the cooled crust and bake for around 13-15 minutes until the filling is set but still slightly jiggly in the center. Transfer to a wire rack to cool to room temperature.

Refrigerate for at least 3 hours before serving.
Nutrition
Calories:
410
kcal
Carbohydrates:
50
g
Protein:
7
g
Fat:
21
g
Saturated Fat:
12
g
Polyunsaturated Fat:
2
g
Monounsaturated Fat:
4
g
Trans Fat:
1
g
Cholesterol:
125
mg
Sodium:
154
mg
Potassium:
13
mg
Fiber:
1
g
Sugar:
31
g
* All nutrition information we provide are estimates based on third party calculators. We encourage you to calculate these on your own for accurate results.
More dessert ideas